Mighty Grip is a magnetic mobile phone or tablet mount that is ideal for use in vehicles. Does it work as advertised? Here is our Mighty Grip review.
Sponsored Links
About Mighty Grip
Mighty Grip is a swiveling magnetic mount that secures your phone or tablet to flat surfaces. The official website is buymightygrip.com, with a registration date of March 2017. The screen capture below was taken of the product website in May 2017.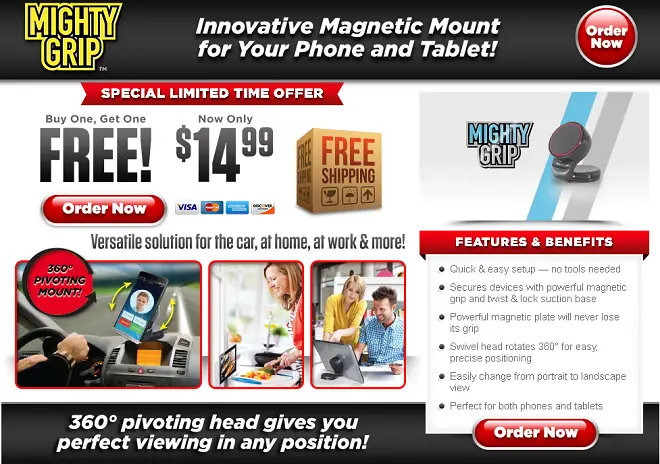 Claims & Features
Setup is fast & simple
Devices secured with magnetic plate & locking suction base
Position using the 360° swiveling head
Rotate to switch between landscape or portrait view
Ideal for tablets and/or phones
Cost
A set of 2 Mighty Grips costs $14.99. Shipping is free. Each unit comes with two magnetic plates. As of this writing, this item is not sold in stores.
Mighty Grip Review
I almost cringed when I saw the ad for Mighty Grip. Not that there was necessarily anything wrong with it, but that I've had pretty bad luck with As Seen on TV phone holders in the past.
Sponsored Links
In 2013, I nearly broke my phone testing out a product called Grip Go, and in 2017 I had similar luck testing out Handi Holder (see below). Now with Mighty Grip, we are told that this innovative magnetic mount can hold your phone or tablet on a dashboard, wall, or mirror. Does it work better than its predecessors?
Mighty Grip offers a twist-and-lock suction mount, which is different than most other suction devices in this category. To use Mighty Grip, you attach a metal plate to the back of your phone or other device. This will let you attach your device to the magnet on the base. Once the base is in place, you attach your device to it by means of magnetism. You can then swivel your phone 360 degrees.
I've had my share of these types of devices, and my problem with them has always been that they tend to fail on dashboards that are even slightly curved – in other words, almost all dashboards. In fact, I've found that those that include a vent clip seem to work better than the suction bases because the clip is a more foolproof design.
Textured surfaces also don't tend to fare well with suction devices like this, like cabinet doors or textured walls. Very smooth surfaces such as mirrors, windows, and counters seem to be the places where it is best suited. Tile on a bathroom shower wall could also work, although I don't think I'd trust my expensive phone to a suction cup hanging over a tub full of water.
If you want Mighty Grip for your car, expect the possibility that the suction may not hold if your dash is curved or textured. If, however, you want to use it on a smooth surface, it will probably get the job done.
Mighty Grip is a pretty new item, which means it could merely be a test marketed product. I've found that test marketed items sometimes change names, prices, or designs over time. If anything changes with Mighty Grip, I'll update this space.
Alternatives
There are numerous phone holders available in a wide variety of designs and prices. This Mpow car phone holder is an Amazon Best Seller, and costs about $9.
Mighty Grip is very familiar to a product called Handi Holder, which I reviewed in the video below.
Your Mighty Grip Reviews
What are your thoughts about Mighty Grip? Drop a comment below and a star rating above to let us know what you think about it.