Multi-Hanger is a three-bar hanger and organizer that maximizes closet space. Does it really work? Here is my Multi-Hanger review.
Sponsored Links
About Multi-Hanger
Multi-Hanger is an organizer with a three-tier design that hangs from your closet bar and has the potential to triple the space in your closet. The official product website is getmultihanger.com, which was registered in November 2017. The screenshot below shows how the product website looked in November 2017.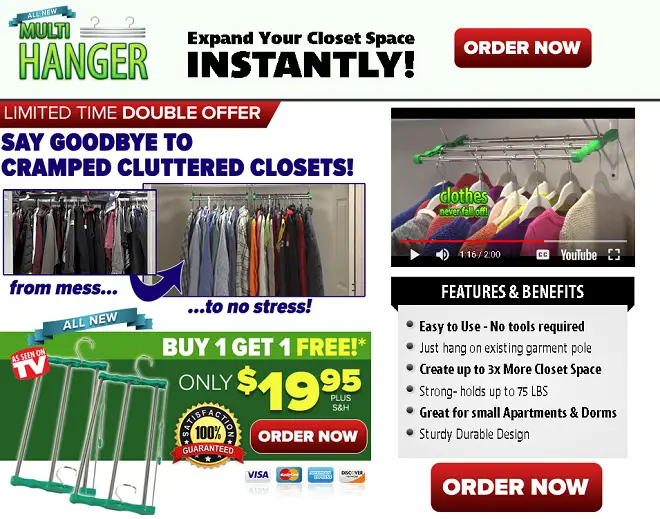 Claims & Features
User-friendly (does not require use of tools)
Simply hang on garment pole
Triples closet space
Capable of holding up to 75 LBS
Ideal for dorm rooms and small apartments
Solid design
Cost
Multi-Hanger costs $19.95 + $5.95 shipping for a total of $25.90. There is an optional double offer for a separate fee of $5.95 which would raise the total to $31.85. At the time of this writing, Multi-Hanger is not available in stores.
Multi-Hanger Review
Does the idea of creating more space in your closet sound appealing? If so, the makers of Multi-Hanger may have just the product for you. This is a new take on the classic closet hanger, in which you have three rows of bars onto which clothes are hung. This, we are told, can provide up to three times more closet space than using traditional hangers.
Multi-Hanger features three rows of garment poles that you hang on your existing closet pole. Once you place it in your closet, you simply hang clothes among the three rows. You can use the provided stabilizing bars in order to prevent a heavier row from tipping the balance of the Multi-Hanger and clothing falling onto the floor.
Sponsored Links
If you feel like you've seen something similar to this, you aren't mistaken. For years, an As Seen on TV product called Wonder Hanger has advertised in a similar manner. That item works by allowing you to use more vertical space, while Multi-Hanger allows you to use more closet depth. Be sure to watch my video review of Wonder Hanger Max (the most recent incarnation) in which I concluded that it was more of an optical illusion than a space-saving tool. That's because the width of the clothing would still demand the same amount of space.
With Multi-Hanger, I feel the same concerns that I had with Wonder Hanger Max will also apply. If you take a look at the before and after photos in the commercial, it appears that the clothing in the "before" photo is much more spaced apart to give the closet a "full" look. Then, when on the Multi-Hanger, they seem more densely packed, giving the closet the illusion of space savings. Even though there are three rows of clothes instead of one, the clothes still overlap, meaning you probably won't find a significant increase in space – if any. I just don't see how offsetting garments by a few inches will create any additional space.
The website for Multi-Hanger was only registered in November 2017, which tells me this is likely a new test-marketed item. You may want to watch my short video below about some of the issues around ordering a test marketed item.
Alternatives
There are quite a few different types of space-saving hangers to be found. I've found the thin velvet hangers actually save more space than some of the gimmicky As Seen on TV products. If you do want to try a gadget like this, Wonder Hanger Max is probably the best known, and one that I have reviewed on YouTube, which you can see below.
Television Commercial
Your Multi-Hanger Reviews
Have you used Multi-Hanger or something like it? Leave a comment below and a star rating above to let us know your thoughts.