My Fly Birdie is a wind-up flying bird for kids that can travel up to 150 feet. Here is our My Fly Birdie review plus additional product information.
Sponsored Links
About My Fly Birdie
My Fly Birdie is a lightweight wind-up flying toy bird which features flapping wings. The product website is myflybirdie.com, which was registered in December 2015. The screenshot below shows the official website in May 2016.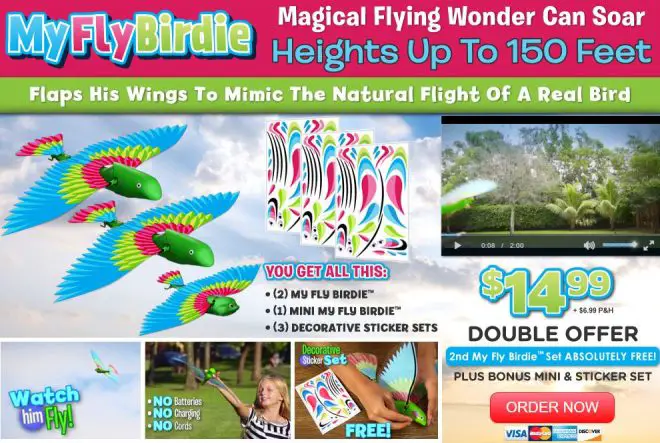 Claims and Features
Winds up, no batteries or electricity required
Flies up to 150 feet
Wings flap like a real bird
Adjustable tail feathers
Cost
My Fly Birdie costs $14.99 + $6.99 shipping. This includes two birds and two decorative sticker sets. There is also a mini bird and sticker set. The bonuses are included with no extra shipping.
Sponsored Links
My Fly Birdie Review
My Fly Birdie is a wind-up flying bird which requires no batteries. You simply wind it up and give it a gentle toss. It will flap its wings and fly like a real bird. When it is finished, it will coast until it reaches the ground.
In short, My Fly Birdie is a neat toy which kids will love. There are, however a few caveats when you may want to consider first.
Without the ability to steer or operate this toy in any way, it will behoove you to use it in a wide-open area where there are few (if any) trees, power lines, and buildings. Small kids may need some help from adults in order to properly wind and toss it. It is also possible to over-wind it, which can damage the unit. You may want to show your kids how to properly wind it before handing it over to them.
My Fly Birdie is lightweight, which is necessary in order for it to fly. Because of this, however, it is a bit fragile and you'll need to exercise caution while using it. Some kids may want to catch it in the air, and they will need to do this gently. Assertively grabbing it out of the air could damage the toy.
If you manage to keep it flying in a safe area and exercise caution, you'll likely find this to be a pleasing product. There are a number of things which can go wrong due to its un-guided flight and lightweight design, but proactive parents and careful kids should be able to stave off at least some of these concerns.
Some consumers may remember the famous Tim Bird, which has been around for decades, and sports a similar design. You can still find those for about $15, and they perform quite similarly to My Fly Birdie.
You get a total of three birds for about $21 when shipping is included, which isn't a bad deal overall.
Television Commercial
Your My Fly Birdie Reviews
Have you used My Fly Birdie? Let us know what you think by leaving a comment below and a star rating above.