NeatStax are closet and dresser organizers that help you stack, sort, and select clothing. How well does it work? Read our NeatStax review.
Sponsored Links
About NeatStax
NeatStax is a set of organizers with a hinge design that help stack and sort clothing in order to organize drawers and closets. They can also be used to sort papers and magazines in an office setting. The product website is neatstax.com, which was first registered in February 2017. The screen shot below shows how the product website looked in March 2017.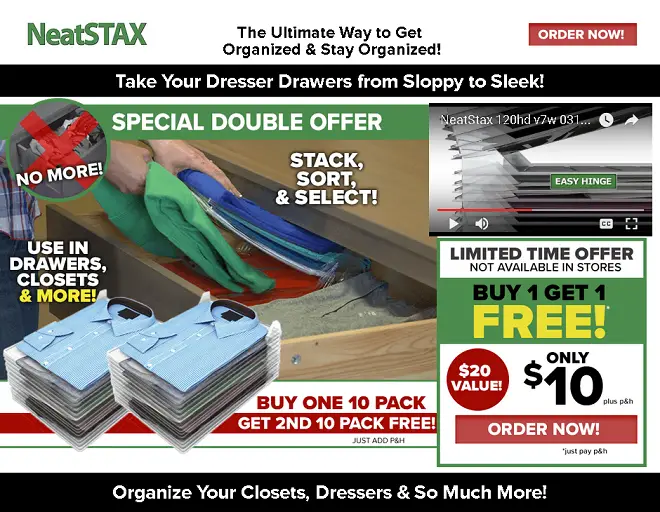 Claims & Features
Stack, sort, & select
Organize dressers & closets
Great for packing a suitcase during travel
Even organize office papers
Stack in the laundry room to save time
Cost
A 10 pack of Neat Stax costs $10.00 + $7.99 P&H for a total of $17.99. There is an optional double offer where another 10 stacks can be added for an additional $7.99 P&H fee. Choosing the double offer will bring the total to $25.98.
Sponsored Links
NeatStax isn't currently available in stores.
NeatStax Review
NeatStax appeals to both the neat freak and the recovering slob. It is a set of clear dividers used to keep clothing neat, wrinkle-free, and organized. It allows you to pull an item from the middle of the stack without toppling the rest of the pile, and can be used in a drawer, on a shelf, or in a suitcase.
When I first ran across NeatStax, I had two thoughts: I knew I had seen something similar to this before, and I'm not sure it really solves any problem. Does the reality of NeatStax live up to the advertising hype?
In most cases, your shirts will look more organized with NeatStax. This will depend on how organized your current folding and stacking skills are versus what NeatStax provides. One problem with these types of devices is that some people claim that clothing on top tends to slip toward the back if you repeatedly lift half of the stack to access items in the middle. Another potential area of concern is the thickness of the clothing being used. Thin t-shirts seem to work fine, but thicker items may actually increase the size of your stack of shirts when used with NeatStax.
I believe that consumer satisfaction with NeatStax will vary greatly, as so many variables can affect how well it works. Such variables include the thickness and type of material being stored, consumer expectations, and how neatly you normally stack your clothing. Be prepared to read as many 5 star reviews as 1 star opinions on this one.
NeatStax is a very new item as you can see from its February 2017 website registration. I believe it is only being test marketed to determine consumer interest. I'll update this space when I get more information.
Alternatives
NeatStax is certainly not the first item to try to tackle the problem of organizing clothes. A current Amazon best seller is EZStax, which looks remarkably similar to NeatStax, and sells for about $20 for a pack of 18.
Television Commercial
Your NeatStax Reviews
What do you think of NeatStax? Tell us what you think by leaving a comment below and a star rating above.