Nutri Ninja Blender Duo is a combination of a nutrient and vitamin extractor, as well as crushing blender. Does it work? Read our Nutri Ninja Blender Duo review.
Sponsored Links
About Nutri Ninja Blender Duo
Nutri Ninja Blender Duo is a nutrient & vitamin extractor and a total crushing blender that can be attached to a motor base. The official product website is ninjakitchen.com, which was first registered in December 2008. Below is a screen capture of the official website from February 2017.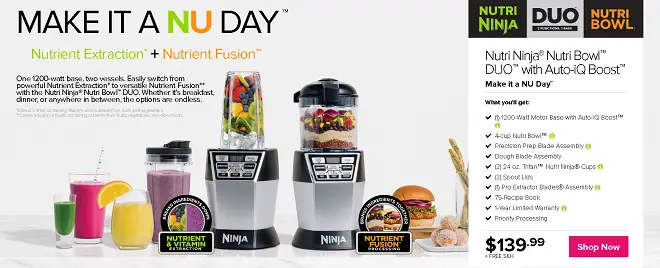 Claims & Features
1200-watt or 1500-watt motor base with two pitchers (Nutrient Extraction & Nutrient Fusion)
Digital touchscreen with presets and timer
4-cup Nutri Bowl
24 oz. Tritan Nutri Ninja Cups
Book with 75 recipes
Limited 1-year warranty
Cost
The Nutri Ninja Blender Duo can be purchased for $139.99 for the 1200-watt model, or $159.80 for the 1500-watt version. Shipping and handling is free.
You can find the Nutri Ninja Blender Duo in stores such as Bed Bath and Beyond.
Nutri Ninja Blender Duo Review
Nutri Ninja Blender DUO is not one, but two similar models of blenders under the Nutri Ninja name. Differences between the two are minimal, thus the information here largely combines the two into a single discussion. Ninja is a popular brand of kitchen appliances, and the Blender DUO adds to their popular line of blenders by offering presets, multiple cup sizes, and nutrient extraction or nutrient fusion.
Despite the "DUO" name, this item is not a double blender with two bases, but an appliance that creates different types of concoctions. It is touted for nutrient extraction and nutrient fusion, and can be used as a blender or food processor.
Sponsored Links
Perhaps the most prominent new feature of these DUO models is Auto-IQ technology, which provides a series of presets that will automatically pulse and pause based on the type of concoction you are making. Sometimes it seems easier to simply do it the old fashioned way, but this is a feature that some users will relish because you can simply select your setting and let it do it's job. Another benefit to the pulse program is that you don't have to stop and mix the contents, as the ingredients begin to settle just as the next pulse begins.
The primary difference between the two DUO models is the number of lids (2 vs 3), the addition of a smaller cup (1500 watt only), and wattage.
The base is sturdy and well made, and works with the included containers: a 72 ounce blender, 24 ounce cup, 32 ounce cup – and the 18 ounce cup in the 1500-watt version. The base is designed to prevent the unit from sliding or tipping over while blending, a minor feature that should not be overlooked. As with prior Ninja blenders, you can create a smoothie, for example, and take the cup off of the unit, attach a "sippy" lid, and take it with you or place it in the fridge. If I were taking a smoothie with me on the road, I would probably pour it into an insulated tumbler, but the option to go from blender to the car with a single container is still a nice touch.
The smaller containers have a blade attachment that can be used with them, so you can create drinks right in the container from which you'll drink.
The unit shines when crushing ice for use in smoothies and frozen drinks. You won't find large chunks of ice floating around like you do with so many other blenders. Not only does it crush ice, but it does so much faster than regular blenders. The blades are so efficient that you can completely puree vegetables in a matter of seconds.
You should expect some loudness to be associated with anything designed to crush ice. This particular unit is probably louder than my most standard blenders, but it also out-performs them at the same time. Most blender aficionados won't mind a few extra decibels, but I've heard a few complaints from weekend warriors who thought it should be quieter.
Cleanup is easy. You can easily remove the blade, and the containers are dishwasher safe. Other reviewers have also commented that they found cleaning the Nutri Ninja Blender DUO to be as easy, or easier, than expected.
Overall, the Nutri Ninja Blender DUO is a winner. It is well-made, highly rated, and delivers largely on its advertising promises.
I recommend perusing some of the hundreds of reader reviews on Amazon, where one model currently holds a 4.5 star rating. Other models boast similar ratings.
Alternatives
For a lower-end alternative, you may want to consider the perennial favorite Magic Bullet, which specializes in smoothies and smaller concoctions. Another option is the Ninja Professional Blender, which doesn't have the smaller cups, but offers a tremendous blending experience for the $70 price tag.
Television Commercial
Your Nutri Ninja Blender Duo Reviews
If you've used Nutri Ninja Blender Duo, let us know what you think by leaving a comment below and a star rating above.