Socket Shelf is a combination of a power strip with surge protection and a small shelf. Does it work as advertised? Here is our Socket Shelf review.
Sponsored Links
Where to Purchase
You can find Socket Shelf on Amazon or in stores such as Bed Bath and Beyond for about $30 (don't forget to use a 20% coupon!). It's also sold on the official website (discussed below) for $29.99 with free shipping. An interesting footnote is that this item was marketed in 2016 for $19.99 + $4.99 P&H + $4.99 mandatory bonus offer for a total of $29.97. I've seen a "Deluxe" model on Amazon for $40 with higher amperage and an additional shelf. The original deluxe model offered two USB ports, which now are included with the regular unit. At some point in 2019 the official website abandoned the mandatory double offer.
Other items mentioned in this review and my video below are the KMC Surge Protector (link) and the WALI outlet shelf (link).
About Socket Shelf
Socket Shelf is a power docking or charging station that provides 6 outlets, surge protection, and a storage shelf. The original website was buysocketshelf.com, with a registration date of October 2016. That now forwards to socketshelf.com, the official website as of 2019 (and still active as of this June 2020 update). The new site was registered in 2017. The screen captures below show the current website and the 2016 website which still featured the swivel design, no USB ports, and lower price.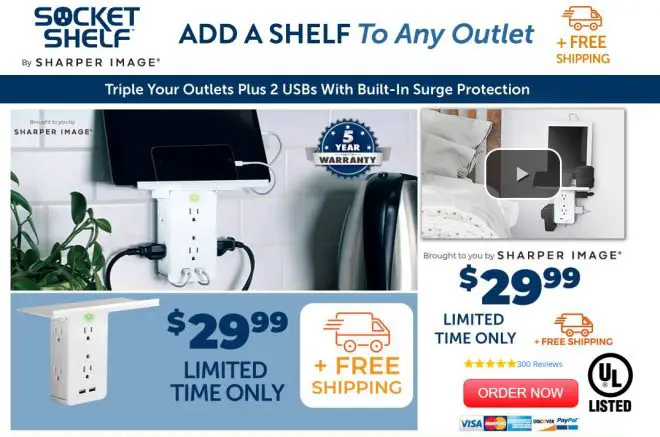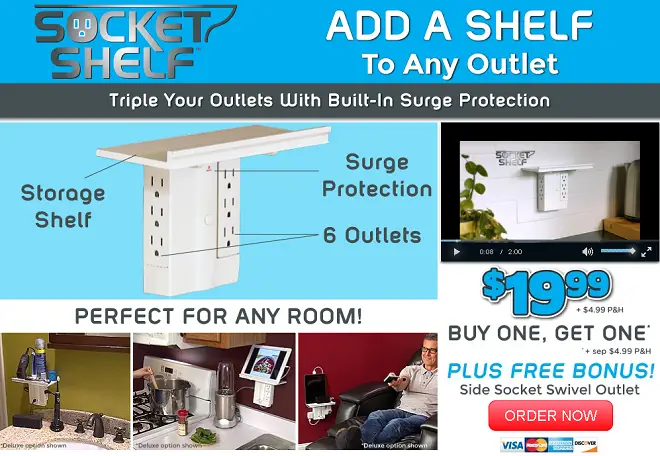 Claims & Features
Establishes additional shelf space near any outlet
Keep accessories organized & off counters
Creates 6 outlets from one outlet
Surge protection built-in
Installation not required
2 USB charging ports (2.1 amp)
15 amp surge protector
UL Listed
Socket Shelf Review
Socket Shelf is a product that combines several ideas into one. There is a small storage shelf than can hold a few items, along with 6 outlets to triple the number of standard outlets, and two USB ports. An earlier version swiveled like that of the Side Socket, although that feature has since been removed. The unit also offers surge protection.
To use Socket Shelf, you simply plug it into any existing outlet. Optionally, you can remove your existing outlet's face plate and screw Socket Shelf into place for a more secure installation. You'll then have access to six outlets, two USB ports, and a small shelf.
The shelf is wide enough to place a tablet or phone, or a few small items. I'm not sure I'd place bottles of liquid on the shelf, as depicted in the advertising, for fear that even a small leak could make its way down into the outlet, although my tests (see below) showed that it did hold numerous bathroom items with ease.
Sponsored Links
When I tested Socket Shelf in comparison with two Amazon alternatives for the video below, I found that Socket Shelf performed the best and offered the most useful design. I prefer to remove the original face plate in order to get a more secure installation, although it can still wiggle back and forth slightly while plugging in devices or placing heavy items on the shelf.
Perhaps the biggest problem with an outlet shelf is that many homes place outlets below cabinets, which limit the usefulness of the shelf. In my video below, you'll see that I was unable to use Socket Shelf in the kitchen or the bathroom due to the placement of my outlets. I did, however, find it quite useful in my bedroom where I tend to plug in and charge most of my electronics.
Overall, I actually think Socket Shelf is a worthy entrant in the As Seen on TV arena, despite a price that seems slightly higher than it should be. Watch my full video below where I compare Socket Shelf to a couple Amazon competitors.
Alternatives
There are other products out there that resemble Socket Shelf, which I compared to Socket Shelf in the video above. Take, for example, the KMC Surge Protector for about $12, or the WALI outlet shelf for about $8. I found the Socket Shelf to be superior to both of those, although they do offer significantly cheaper alternatives with a few design concessions.
10-Month Update
As of June 2020, my Socket Shelf is still in use in my bedroom. I use the shelf to hold a dual battery charger for my camera and a couple of charging plugs for my devices. It is certainly a hub for all of my devices to be charged, although I wouldn't say it's exactly an elegant-looking solution. Perhaps they should come out with a Socket Shelf organizer next? Overall, I would say I've found it more useful than I originally anticipated, and it has become an item I use on a daily basis.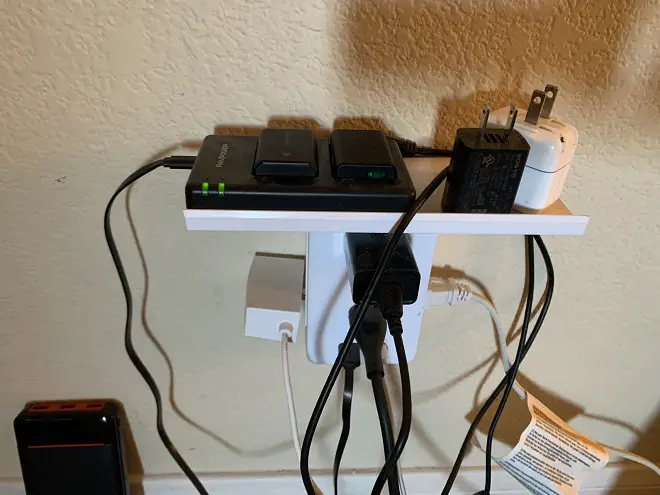 Your Socket Shelf Reviews
What are your thoughts about Socket Shelf? Drop a comment below to let me know what you think about it.
Updated June 2020.