NuWave Brio Air Fryer is a product that allows you to cook fried foods with little to no oil. Does it actually work? Read our NuWave Brio Air Fryer review.
Sponsored Links
About NuWave Brio Air Fryer
NuWave Brio Air Fryer is a device that allows you to create fried tasting food without oils. The official product website is mynuwavebrio.com, which was registered in February 2016. The screen shot below was taken of the product website in December 2016.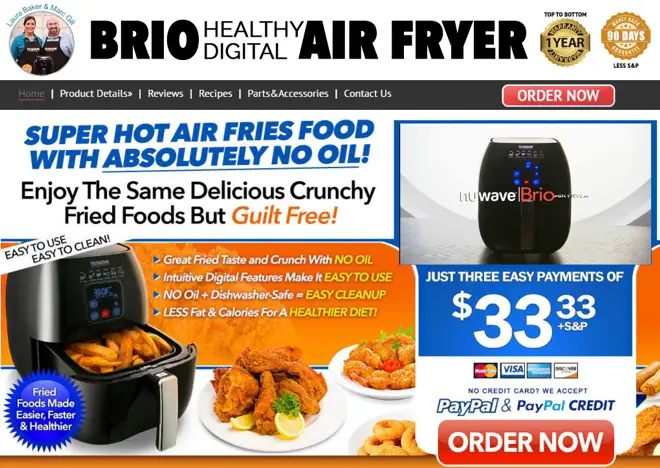 Claims & Features
Fried taste and crunch with no oil
Intuitive digital interface
Dishwasher safe
Makes foods with less fat and calories
Auto shut off
3 quart capacity basket
Temperature rage of 100F to 390F
Cost
From the official product website, you can get the NuWave Brio for three payments of $33.33 plus $19.95 shipping for a total cost of $119.94. If you leave the order screen open long enough, a coupon for reduced shipping may pop up.
You can also find NuWave Brio in some stores such as Bed Bath and Beyond for $99.99.
The online offer also includes your choice of bonuses, which include a 5 piece utensil set, knife/cutting board set, or 4 piece knife set. These bonuses are not included when you purchase it in stores.
NuWave Brio Air Fryer Review
The Brio Air Fryer by NuWave is an electric digital air fryer which can be seen advertised on television and online. Advertising for the product highlights the fact that you can make foods with fried taste and crunch but without the use of oils. This results in healthier "fried" options for the consumer.
Sponsored Links
The design of NuWave Brio allows food to be cooked from all angles, meaning you shouldn't have to flip or rotate during the cooking process. This is achieved via an inner basket which is enclosed in an outer basket. As food cooks, grease and fat will drip into the outer reservoir. Both baskets insert into the unit like a drawer, and are pulled out together with a handle.
Once removed from the unit, you can separate the inner basket by flipping up a small black protector to reveal a button that allows you to remove the inner basket. Some consumers have said that this small piece is flimsy and has snapped off, so you'll want to be careful when handling it.
A chart is given for cooking times, and we found it to be accurate, although you'll probably need to fine tune it to your own needs. Most food we tried turned out crispy in a relatively short amount of time.
Although you don't technically need any oil, we found that adding a small amount (maybe a teaspoon to a tablespoon) will help keep food moist and prevent it from drying out.
The Brio uses a digital display, so you can accurately set the time and temperature. It takes up about the same amount of counter space as a coffee pot, so it won't be a large and intrusive addition to your kitchen.
Depending on how many people you need to feed, the size may or may not be an issue. For two people, the Brio should produce more than enough food with one batch. If you have to feed a family, you'll probably have to cook in several batches.
Perhaps the biggest "con" with the NuWave Brio is that many of the highlighted examples include the use of optional accessories which cost extra. The reversible rack is another $25, while the grill pan will run you another $50, and the baking pan is $55. Many of the examples you see on television use these accessories, which could more than double your cost if you were to buy them all.
Overall, we think the NuWave Brio is a fine addition to the air fryer market. If you plan to use it primarily for one or two people, the capacity should be fine. For families, you may want to consider some larger alternatives.
Alternatives
There is no shortage of electric air fryers available in stores or online. A current best seller in this category is the $88 GoWise 3.7 qt air fryer. That model has a 4.3 star rating among over 200 reviews. It also comes in several colors and a larger 5.8 qt capacity.
NuWave Brio Instructional Video
Your NuWave Brio Air Fryer Reviews
Have you used NuWave Brio Air Fryer? Let us know what you think by leaving a comment below and a star rating above.