Flipazoo Chairs are children's bean bag chairs that resemble various animals. Do they really work? Here is my Flipazoo Chairs review.
Sponsored Links
About Flipazoo Chairs
Flipazoo Chairs are bean bag chairs for kids which have an outer covering that can be flipped to look like two different animals. The official product website was flipazoo.com, which was registered in November 2015. The screenshot below shows how the product website looked in November 2017. The domain flipazoochairs.com has also been used, and that domain was only recently registered in October 2017. As of this 2020 update, there does not appear to be a working website associated with this product, although it is still available online.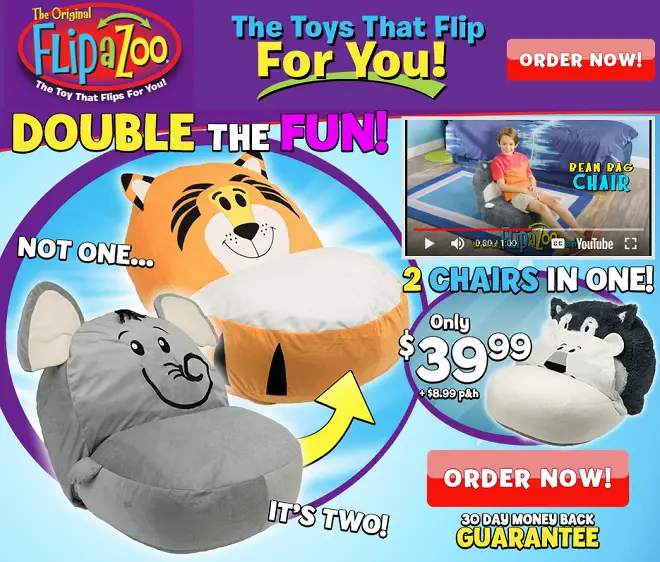 Claims & Features
Two bean bag chairs in one
4 different styles to choose from
30 day money back guarantee
Cost
A Flipazoo Chair costs $39.99 + $8.99 P&H for a total of $48.98. There are four different styles available: Polar Bear/Husky, Brown Dog/White Cat, Dragon/Unicorn, or Elephant/Tiger. You can still find FlipaZoo chairs on Amazon for about $40.
Flipazoo Chairs Review
You've probably seen the original FlipaZoo, a plush character pet which can be converted from one design into another. The popularity of that original design has spawned a number of other Flipazoo branded items, such as slippers, blankets, pillows, and now Flipazoo Chairs.
The basic concept of all Flipazoo products is the same: A plush character which has a layered design that allows you to pull one layer over the other, revealing a completely different character. Thus, with Flipazoo Chairs, you have a bean bag chair that can be converted from one character to another. For example, the brown dog chair can be converted easily to a white cat.
Sponsored Links
To achieve this effect, Flipazoo Chairs consist of two bean bag sections and a central two-sided material. If you pull the material over the seat portion, it will reveal one design, while if you pull it over the back rest portion, it will reveal another. It's actually a pretty clever design.
I've seen quite a few Jay at Play products over the years, and I've found them to be well-made and perform about as advertised. The material used for these products is soft and comfortable, and consumers generally express positive remarks about the brand as a whole.
Jay at Play is an established manufacturer of stuffed animals for kids. The company's BBB rating as of June 2020 is an F rating. Most of the complaints I've seen about Jay at Play are typically regarding shipping times for newer products. My guess is that such a situation occurs mainly with newer items that haven't made it to full production when they are first advertised. More established Jay at Play products are rarely accompanied by such complaints.
Although $40 may seem steep for a bean bag chair, this price falls in the upper normal range for similar chairs of its type. As of 2020, you can still find these chairs online but the official Jay at Play website only displays the original FlipaZoo pets and not the chairs.
Alternatives
If you're looking for more of a stuffed animal than a chair, you might want to look at the original FlipAZoo, which can be found on Amazon Prime. If the "flipping" aspect isn't worth waiting for this to arrive, you could take a look at the plethora of character bean bag chairs, which usually range from $25-$50.
Television Commercial
Your Flipazoo Chairs Reviews
Have you used Flipazoo Chairs or something like it? Leave me know what you think in the comments below.