One Minute Chiller is a device which can turn hot drinks cold almost instantly. Does it work? Read our One Minute Chiller review.
Sponsored Links
About One Minute Chiller
One Minute Chiller is a device with two freezing chambers that can turn hot drinks cold, without diluting your beverage with ice. The official product website is oneminutechiller.com, with a registration date of October 2016. Below is a screen shot of the official website taken in November 2016.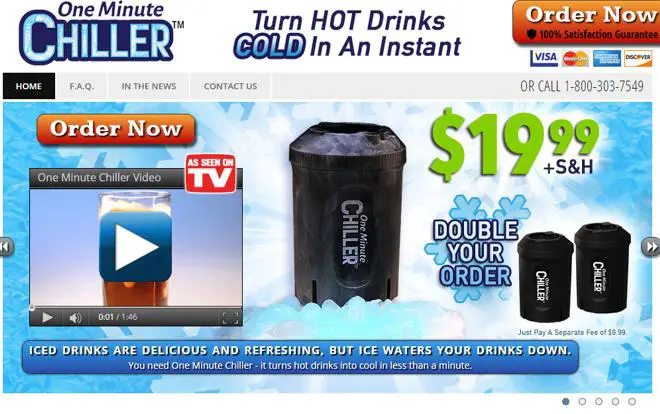 Sponsored Links
Claims & Features
Turns hot drinks cold in less than a minute
2 stainless steel freezing chambers
Ice never touches your drink
Chills 12 ounces
Cost
One Minute Chiller costs $19.99 + $7.99 shipping. You can get a second unit for another $9.99. This totals $27.98 for one, or $37.97 for two.
As of this writing, One Minute Chiller is not available in stores.
One Minute Chiller Review
One Minute Chiller is a device that you store in your freezer that can almost instantly chill a drink from warm to cold in about a minute. This allows you to concoct cold drinks without having to worry about diluting them with ice.
The idea of a device which can instantly cool beverages is not new, as discussed below. The science behind the most common way to achieve this uses ice, water, and salt. A saltwater concoction will help draw heat from the beverage faster than cold water or ice alone. You can see a video demonstrating this principle here.
The nice design feature of One Minute Chiller is that it doesn't require your beverage to be in a can or bottle, unlike many other drink chillers on the market. This allows you to chill such drinks as hot coffee or fresh brewed tea.
Overall, we think One Minute Chiller will work as advertised, and the fact that you can use it without the need for a can or bottle gives it a leg up over the competition. We'd probably skip the second unit, as it will still cost you about $10 for its non-refundable fee.
One Minute Chiller is relatively new, based on its October 2016 website registration date. Such new products tend to ship more slowly than more established items, although we can't say for sure that this will be the case for this product.
Alternatives
There are a number of videos on YouTube that show how to almost instantly cool beverages using water, ice, and salt. There are also several products on the market which can also cool drinks quickly, such as the Chill-O-Matic 60 Second Beverage Chiller.
Your One Minute Chiller Reviews
Have you used One Minute Chiller? Give us your thoughts by leaving a comment below and a star rating above.