The Party in the Tub light is a waterproof toy which is designed to make bath time fun. Here is our Party in the Tub review along with key product information.
Sponsored Links
The Party in the Tub light is a way to keep children occupied during bath time. It is a light-up plastic toy which children can spin or dunk in the water. It also offers several "light shows."
Light-up bath toys are not unique, but reviews for this product have been generally favorable. The price, however, is probably on the high end in comparison to similar products you may find at a local toy store.
Have you used the Party in the Tub light? Tells us about it.
Sponsored Links
Official Website
partyinthetub.com
Registered December 3, 2012
Contact
Phone: 1-866-587-1422
Hours: 8am to 10pm Eastern Time, Monday – Friday
Claims/Features
Makes bath time fun.
Three different light shows
Water tight and water safe
Durable plastic
Long lasting
30 day money back guarantee.
Includes 10 Tub Tizzies, which bubble and turn tub water different colors.
Cost
$14.95 plus $7.95 processing and handling = $22.90
Screenshot
This is a screen capture of the official website, taken in December 2013: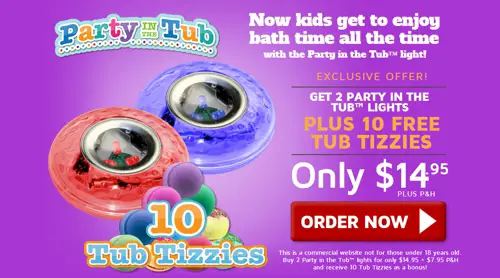 Television Commercial
This is a recent television commercial for Party in the Tub light:

Party in the Tub Reviews
Have you tried Party in the Tub light? Please give us your review in the comments below and give it a star rating above.