Perfect Cushion Review: Does it Relieve Back Pain?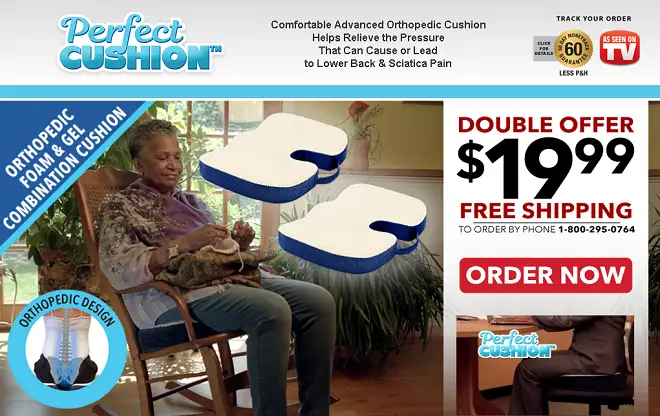 Perfect Cushion is an orthopedic cushion that soothes aches and pains related to prolonged sitting. Does it really work? Here is my Perfect Cushion review.
Sponsored Links
About Perfect Cushion
Perfect Cushion is an orthopedic seat cushion that is constructed of an inner layer of therapeutic comfort gel surrounded by high density foam. The official product website is buyperfectcushion.com, which was registered in October 2017. The screenshots below show how the product website looked in November 2017 and in September 2019.
Claims & Features
Combines therapeutic gel and orthopedic foam
Decrease pressure and stress with the cutaway orthopedic design
Gripping non-slip surface
Cozy fleece top
Relieves sciatica and lower back pain
Use anywhere (home, office, car, boat, etc.)
Ideal for use in wheelchairs
Cover is machine washable and hypoallergenic
Handles are built-in
Cost
In 2019, Perfect Cushion is being marketed for $29.99 + $4.99 shipping. Back in 2017 it was sold as a double offer for $19.99 with free shipping. As of this September 2019 update, it does not appear to be available in stores.
Perfect Cushion Review
Perfect Cushion is marketed as an orthopedic pillow with a tailbone cutout that allows you to sit more comfortably, while easing pressure on your back. It features a hybrid foam-gel filling, no-slip bottom, and fleece top. The outer cover can be removed and washed in a washing machine.
Sponsored Links
There really isn't much to using Perfect Cushion, other than placing it on your favorite seat and sitting on it. The key, however, is that you must sit straight with your tailbone directly over the cutout in order to receive any benefit. While that may sound easy enough, for a slouch-sitter like myself, it becomes a challenge. I tend to have my tailbone off to the side, or residing right in front of the cutout of my orthopedic cushion. Even if I start off in the right position, I often find myself inching off to the side or to the front as I work. I've found that the better I am about sitting directly over the cutout, the more relief I get from a cushion like this.
Perfect Cushion appears unremarkable compared to the many cushions I have used and reviewed (see below) over the years. Cushions like this tend to surprise some users at how hard they feel while seated on them compared to how they feel when simply squeezing them with your hand.
There are features about Perfect Cushion that I do prefer over my current cushion. The non-slip grip may seem like a minor design feature, but I've had these types of cushions slide around on my leather chair, which makes positioning myself over the cutout even more difficult. The fleece top also adds a layer of comfort that many of these cushions don't have.
Keep in mind that this will add several inches of height whenever you sit. For taller people, or those sitting on higher chairs, the extra height could be a bit awkward.
Alternatives
This $32 gel enhanced cushion by ComfiLife is currently an Amazon's Choice, and sports a 4.3 star rating out of an astonishing 12,000+ reviews. I have also reviewed this cushion, which you can see in the video below. And, of course, in the As Seen on TV genre is the Miracle Bamboo Cushion, which you can find in stores or on Amazon. You can also see my full review of that product below.
You may also be interested in this three-way comparison of the Purple cushion, a popular Amazon model (ComfiLife) and the As Seen on TV Egg Sitter.

Your Perfect Cushion Reviews
Have you used Perfect Cushion or something like it? Tell me what you think in the comments below.
Updated June 2020.