Shark IONFlex is a lightweight and cordless vacuum cleaner with versatile features. Does it really work? Here is my hands-on Shark IONFlex review.
Sponsored Links
Where to Purchase
The Shark IONFlex that I reviewed cost approximately $170 at the time that I purchased it, although it has gone up in price as its availability has diminished, as you can see at this Amazon link. Various models range up to $400, such as the IONFlex 2x model (found here) which includes a second battery. There is also a corded version, which I may have opted for if I could do it over again. Cheaper packages may only include a single battery while more expensive packages may include additional accessories such as a deep cleaning motorized pet tool, an anti-allergen dust brush, a flexible hose, and an accessory bag. Additional batteries and charging docks can be purchased separately.
About Shark IONFlex
Shark IONFlex is a battery powered vacuum cleaner that features a bendable handle and the ability to convert into a handheld version. The official product page is found at sharkclean.com. The screenshot below shows how the product website looked in November 2017, although that page is no longer there as of this June 2020 update.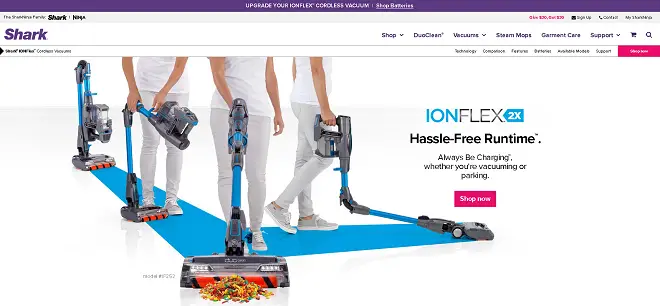 Claims & Features
Comes with removable and rechargeable lithium-ion battery pack
Vacuum hard to reach places with the MultiFLEX technology (flexible handle/wand)
DuoClean Technology (soft brush roll and bristle brush for deep cleaning carpets)
Transforms from upright mode to a handheld vacuum
Choose from a variety of power settings
Built-in LED headlights
Shark IONFlex Review
I had been keeping my eyes out for a new heavily-advertised vacuum to review, and I finally found just the product to fit the bill: the Shark IONFlex Cordless Ultra-Light Vacuum. When I first started researching the product, I wondered what the difference was between the "regular" and the "2X" models. Well, the answer is that there is no difference between the vacuums at all. The 2X designation merely includes an extra battery and charging dock.
Although the non-2X Shark IONFlex usually runs about $350, I used a special 30% coupon at Kohl's to get it for about $287. It seems a bit daunting at first when you unpack it, because there are quite a few pieces out of the box. Don't let it intimidate you, however, as it's actually not as much as it seems at first.
The main unit consists of three segments: the motorized base, the hand-held vac, and the "MultiFLEX" wand. When all of these are connected, it looks like an ordinary cordless vac. Once you separate the base from the rest, it becomes a handheld vac with an extension wand onto which you can place one of the attachments. If you remove the extension, you can then place attachments directly on the handheld vac.
I found that the battery took about 3.5 hours to charge (just as the directions stated) and lasted about 30 minutes of use. This will vary based on your use, and whether or not you use the "Max Power" setting. The infomercial highlights the fact that with the 2X model you can have continuous use because one battery is always charging. Keep in mind that with two batteries you can expect about an hour of use, which means you'll still need to wait for the 3.5 hour charge time. If you try to charge the battery right after extensive use, it may be too hot to charge (indicated by two flashing lights on the side of the battery).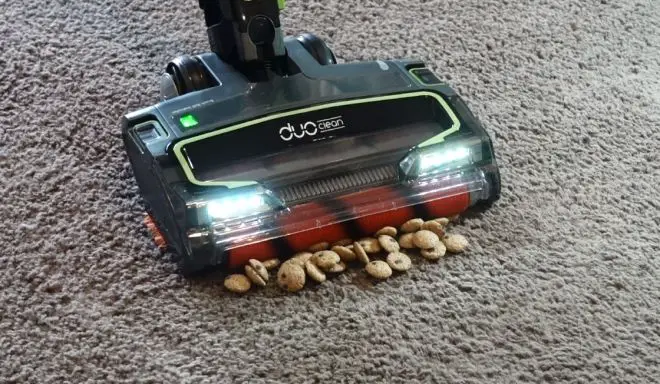 There are two buttons on the handle: carpet vs hard floor, and extended run time vs max power. When operating the vacuum, you can twist and turn the handle and the base will turn accordingly. I found that when the vac was on carpet, it seemed to pull forward, but I did not experience this when it was on tile.
Sponsored Links
The infomercial shows the vacuum picking up piles of large objects, and I tried to duplicate this a couple of times. My first test was cereal, and there were a few pieces leftover on the ground after the first pass, but those were easily picked up on the second pass. I also tried dry dog food on the carpet and tile, and it did pick up most of it, but again a few pieces were left over. I don't think that's a big deal, but it seems like maybe some of the demonstrations are a bit idealized vs what I experienced. Don't get me wrong – I think this is a great vacuum – but I think its ability to pick up piles of large objects in one pass may be a bit over-hyped. I'm also not sure that most consumers will use such a vac to pick up those kinds of messes, so it seems to just be a "wow" factor for the infomercials.
I think that many of its features are accurately portrayed in the infomercial. Its versatility as an upright or a cordless can't be overstated. Once you've used a vacuum of this design, you may find it hard to go back.
Another test I did was a comparison of the IONFlex against the EasyEdge hard floor sweeper and a cheap Dirt Devil vac to pick up coffee grounds. The IONFlex was the most efficient, picking up all of the grounds in a single pass, while the others needed multiple passes. Additionally, the IONFlex was far quieter than the cheap Dirt Devil.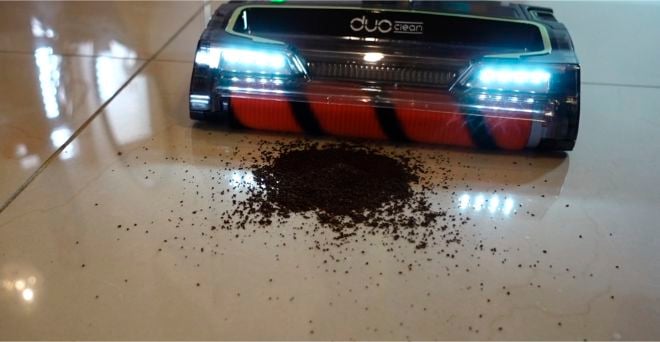 With the extension wand in place, I was able to vacuum dust high on my walls and the edges of my pot shelves, which normally I've had to use a chair to access. The other benefit of the extension wand is that it sports a flexible elbow that allows you to fold the handle in half in order to compactly store the unit. It will stand up on its own in this folded position, but it doesn't stand on its own when in an upright position.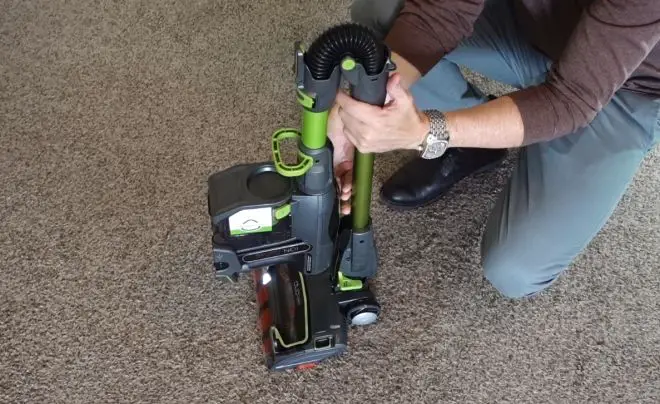 You can also press the button on the side of the handle to lower the vac in a way that allows you to reach under tables or chairs without having to bend. The dust cup doesn't hold as much as you'll find with a fully dedicated vacuum, but it is easy to remove and empty with the press of a button.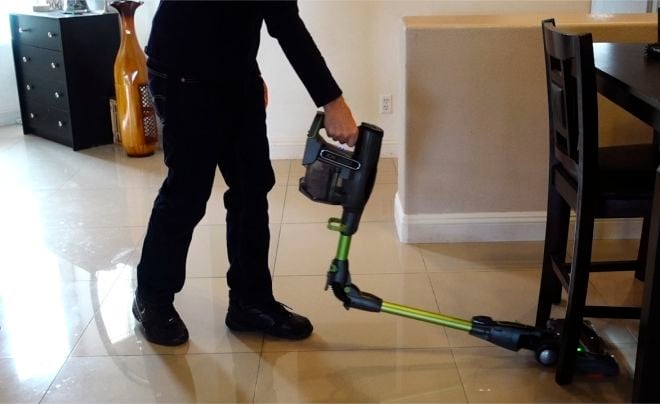 I found a couple of the attachments particularly useful. A pet multi-tool offers two functions, geared toward cleaning pet hair and lint from upholstery and other furniture. The dust brush is an effective way to remove dust without kicking it up into the room. The duster crevice tool has a sliding brush that can be used, or pulled back to expose a traditional crevice tool.
You may want to peruse Amazon comments on the IONFlex and the IONFlex 2X on Amazon to see what other consumers are saying about it. And be sure to watch my full Shark IONFlex review below, along with the six-week update below that.
I should confess that as of this June 2020 update, my primary vacuum is now the Shark Apex with Zero M technology, which you can find here. I will also link that full review below.
Alternatives
If price is a concern, you may be interested in this $120 cordless vac that offers many of the same features as the Shark. If money isn't a concern, you may want to peruse some of the Dyson cordless vacs to get a feel for the competition.
Your Shark IONFlex Reviews
Have you used Shark IONFlex or something like it? Tell me what you think in the comments below.
Updated September 2022.