Perfect Portions is a weight loss system that uses portion control containers.
Sponsored Links
About Perfect Portions
Perfect Portions is a system which determines the right portion sizes of different types of food required for healthy weight loss.
What They Claim
Portion control containers for each food group
Results in 3 weeks
No fasting needed
Eat foods you love
Perfect Portions Cost
$10.00 + $6.99 P&H, can opt out of bonus set for additional $6.99 P&H.
You can now find Perfect Portions in stores such as Bed Bath and Beyond for about $10.
Reviews
Despite the fact that there is no shortage of weight loss products, fads, foods, and machines on the market, Perfect Portions offers consumers a slightly different take on the subject.
Rather than offering low calorie foods or a fad workout device, Perfect Portions provides a set of containers, each designed to hold a day's portions of various types of foods.
Sponsored Links
Proteins, veggies, seeds & dressings, carbs, healthy fats, and fruits are all represented. The idea is to fill up the containers with your favorite food from each category. When you've finished a container, you are done with that category for the day.
This type of system is excellent for someone who has no idea how much of each type of food to eat, as it does put dietary habits into perspective. Some overeaters may be surprised how little food they actually need.
What is unclear, however, is how the user's weight is factored into the equation. A 100-pound woman and a 250-pound man may require vastly different amounts of food.
The product website is buyperfectportions.com, which was registered in November 2015. The screen capture below shows the official website in December 2015.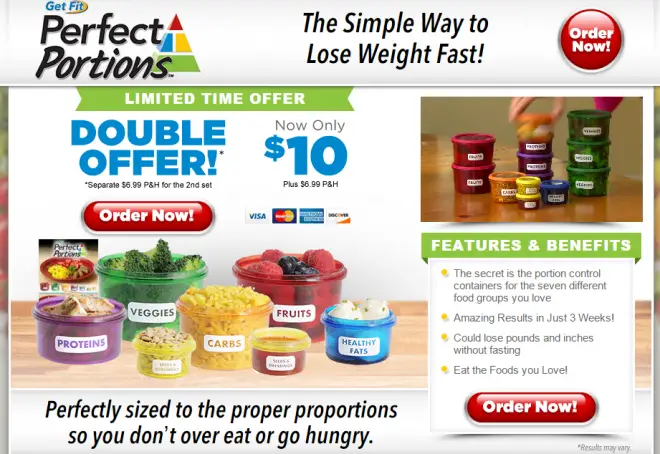 Perfect Portions was first marketed in late 2015, and reappeared in mid-2016 on store shelves for about $10, as seen in the photo below, taken at a Bed Bath an Beyond in Las Vegas in June 2016.
Overall, this is a well-conceived idea.
Your Perfect Portions Reviews
Let us know what you think of Perfect Portions by leaving a comment below and a star rating above.
Updated June 7, 2016