Go Belt is a sports belt that can carry multiple items in two expandable pockets. Read our Go Belt review plus additional information.
Sponsored Links
About Go Belt
Go Belt is a belt that keeps items secure and stores them hands-free with two expandable zippered pockets. The product website is getgobelt.com, which was registered in September 2013. The screen captures below shows the official website in December 2015  and January 2016 (note that pricing changed in January 2016). As of this June 2017 update, the official website no longer works.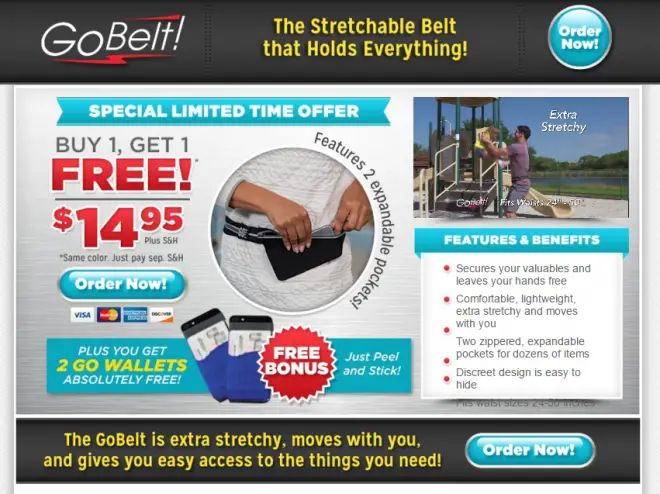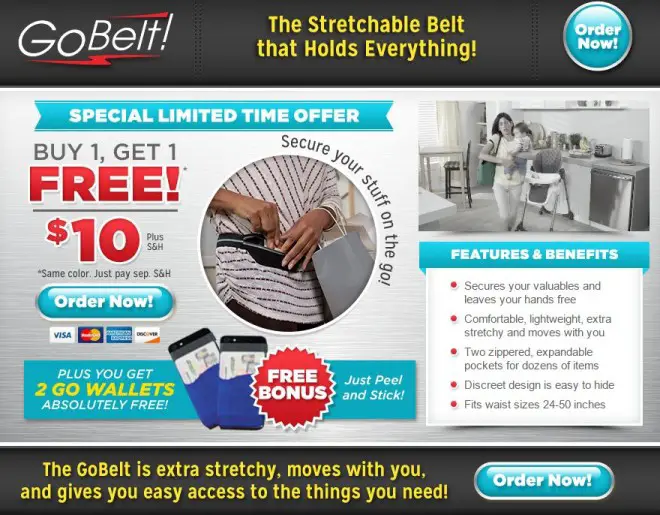 What They Claim
Secures valuable items
Completely hands free
Comfortable, lightweight, and stretchy
Moves with you
Expandable pockets for multiple items
Easy to hide under clothes
Go Belt Cost
As of this June 2017 update, Go Belt is only available on third party sites such as Amazon, or in stores. It typically runs about $10, which is how much I paid for it at a local Fry's.
Go Belt Review
Go Belt could be described as a next-gen fanny pack, which probably isn't what the makers would want to hear, but accurate nonetheless. Indeed, when Go Belt is loaded with items, it does take on the appearance and function of the infamous fanny pack, although with two pockets instead of one.
Sponsored Links
Where this product differs from its more popular cousin is that it is created from a flexible material, meaning that when it is not full of larger items, it takes on a more sporty and compact look. The zippered pouches contract and expand to fit your items, or will remain in their smaller sizes when not in use.
There are pockets of two different sizes: one for smaller items such as keys or cash, while the larger pocket will hold a phone or wallet. I found that an iPhone 7 Plus almost completely filled the larger pocket, while my wallet almost completely filled the smaller pouch. Thus, it's probably a better solution for small phones and items within a wallet, but not the wallet itself. Cash, keys, and cards all fit nicely.
I think Go Belt is best for a few small items, otherwise it can start to look like a double fanny pack. It can be worn over a shirt, but I prefer hiding it discreetly underneath. The addition of reflective material for nighttime use is also a nice touch – if you are wearing it over your shirt and not underneath it.
If you're the type who has always wanted to use a fanny pack but were too embarrassed, Go Belt may be worth checking out. If you already use a fanny pack, this could be seen as an upgrade to your existing collection.
Go Belt appears to be competing in some sense with the popular FlipBelt, which is marketed as a storage belt for fitness use.  Whereas FlipBelt offers a purely sports fashion look. Go Belt seems to bridge the gap between sports belt and fanny pack.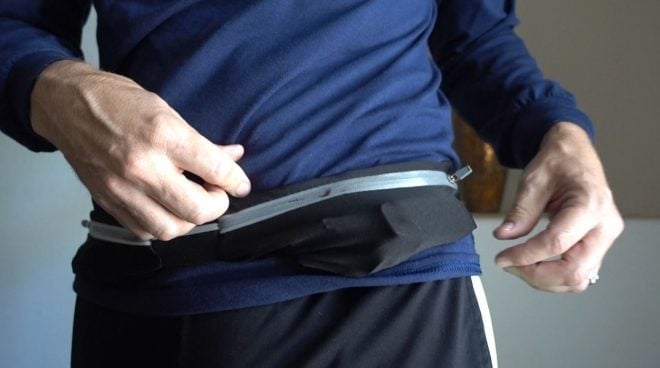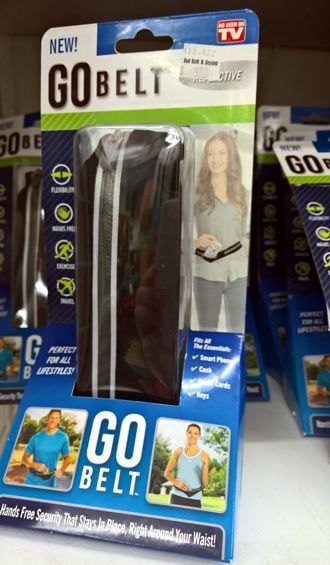 My Video Review
Below you can see my full review of Go Belt in the video below.
Your Go Belt Reviews
Let us know what you think of Go Belt by leaving a comment below and a star rating above.
Updated June 2017