Pocket Hose Silver Bullet is a retractable garden hose that expands when filled with water. Does it really work? Here is my Pocket Hose Silver Bullet review.
Sponsored Links
About Pocket Hose Silver Bullet
Pocket Hose Silver Bullet is an expandable garden hose that will not tear, kink, or burst. The official product website is bulbhead.com, which was registered in October 2013. The screenshot below shows how the product website looked in March 2019. You can also find the product at brassbullethose.com.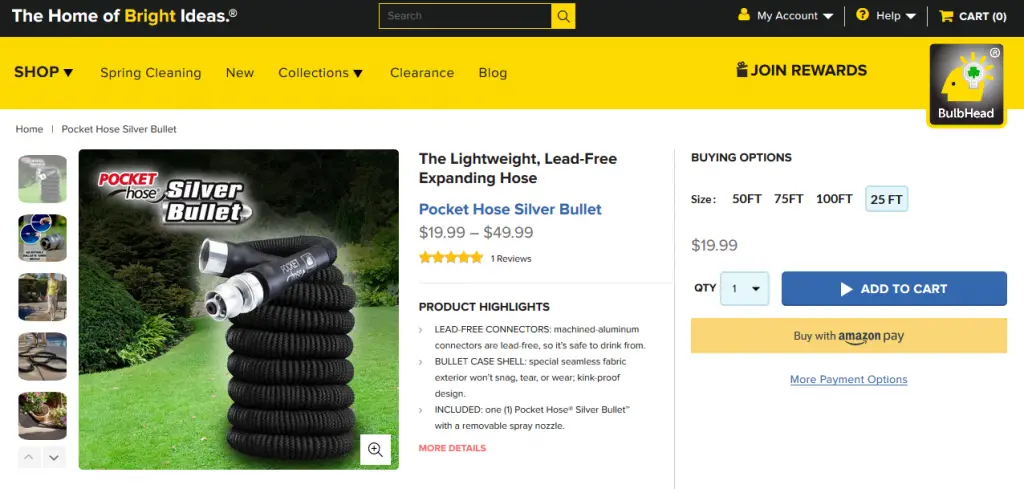 Claims & Features
Special bullet shell outer casing will not rip or deteriorate
Enhanced aluminum connectors compatible with outdoor spigots (lead free)
Seamless design that will not kink
Expandable and contractible
Compact when contracted for easy storage
Cost
The price of the Pocket Hose Silver Bullet ranges from around $20 to $50 depending on the length and where it is purchased. Available lengths include 25 ft, 50 ft, 75 ft, and 100 ft. It can be purchased online at the Bulbhead website and can also be found in stores such as Bed Bath & Beyond, Ace Hardware and Home Depot. I picked up a 50-foot hose at Bed Bath & Beyond for $29.99.
Pocket Hose Silver Bullet Review
Reviews for retractable hoses have generally been mixed since they first came out earlier this decade. People like that they are lightweight, yet they don't tend to not hold up well over time. This causes many people to have to buy a new one every year or two. One complaint many consumers have expressed about these hoses is that they must be drained after every use and stored indoors out of the sun or harsh weather conditions. For the record, I prefer the metal As Seen on TV hoses which seem to last longer (I've had the Metal Garden Hose and Hercules Hose for 2 years each).
Since expandable hoses came out in 2012, there have been many different versions released. In the Pocket Hose lineup alone, there have been at least 7 previous variants that I am aware of, and now I have the 50 ft Pocket Hose Silver Bullet which is the latest adaptation.
My main question about the Pocket Hose line is why they keep releasing new versions. Every year there seems to be a new retractable hose that is "stronger" than the last, yet consumer reviews have remained mixed. Comparing the Silver Bullet to prior Pocket Hoses, it seems to be the most lightweight, and the nozzle is similar to the Brass Bullet hose I picked up in 2017 – which was somewhat underwhelming.
I compared the Pocket Hose Silver Bullet to the 50-foot versions of Flexi Hose (Amazon's Choice) and the TBI pro (Amazon bestseller). I filled the Silver Bullet so that it expanded, and then sprayed it in my backyard to see how it worked. I then let it sit under pressure for 20-30 minutes before draining it. After it was drained and retracted, I coiled it up and placed it indoors for storage.
Tests for the Flexi Hose and the TBI Pro were carried out in the same manner. The Flexi Hose felt heavier and appeared to have a slightly better nozzle with several settings. My biggest gripe was that the on/off handle was very difficult to turn, and I actually had to use channel locks to loosen it. The TBI Pro was the most expensive ($40), but included the most impressive nozzle (made of zinc alloy), and had a very smooth on/off lever. It also came with a splitter, hose holder, and extra washers.
I measured each hose in the retracted state, and they all measured between 18-20 feet, with the Pocket Hose Silver Bullet being the longest. All the hoses passed the "kink test", thus claims that these hoses do not kink appear to be fairly accurate. The hoses varied in flexibility when under full water pressure. I was glad to see that the nozzles were interchangeable, so I used the TBI nozzle when running secondary tests on the other hoses.
Sponsored Links
There tend to be three types of complaints about retractable hoses in general. One complaint is that they sometimes burst after being used several times. The second common malfunction is that these hoses are stored for the season and then quickly degrade when put back into operation the following year. A third category of failure occurs when some people do not follow the instructions that come with the hoses and leave them outdoors or under pressure for a long period of time, which causes them to breakdown. To use a personal example, my Pocket Hose Brass Bullet burst after about 45 minutes of water pressure when left out on a hot, sunny day in 2017.
Overall, the three hoses have worked well so far, but based on past experience with retractable hoses I am under the assumption that they won't last beyond one full summer season. My favorite of these three hoses is the TBI Pro, as it seems to be better made than the others and includes the nicest accessories, even though it is the most expensive. The Pocket Hose Silver Bullet was my next favorite due to its lightweight design. Finally, the Flexi Hose was my least favorite due to the issue I had with manipulating the on/off switch. I will update this review and my social media accounts with new information about how long each of the hoses lasts.
Video Reviews
Below you can find my Pocket Hose Silver Bullet review (and comparison to two others). Below that you can find my older reviews of the Pocket Hose Brass Bullet and its follow-up later that year.
Alternatives
You can pick up the TBI Pro on Amazon, or this highly rated alternative.
Your Pocket Hose Silver Bullet Reviews
Have you used Pocket Hose Silver Bullet or something like it? Leave a comment below and let me know what you think!