Power Airfryer Oven is a multipurpose oven that fries food using super heated air. Does it really work? Here is my Power Airfryer Oven review.
Sponsored Links
About Power Airfryer Oven
Power Airfryer Oven is an air-frying oven that can also be used as a rotisserie and dehydrater. The official product website is powerairfryer.com, which was registered in January 2016. The screenshot below shows how the product website looked in October 2017.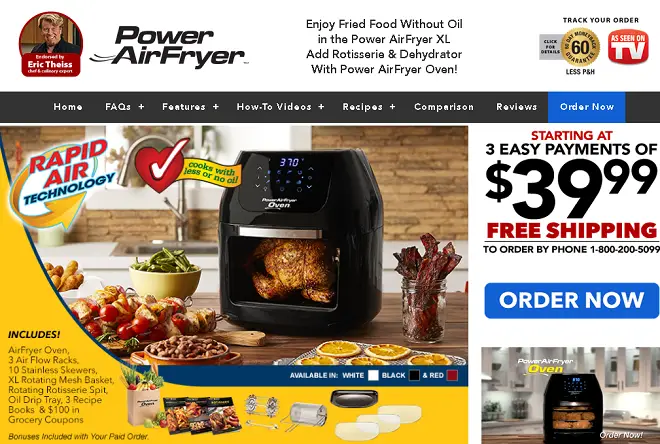 Claims & Features
7 cooking options including rotisserie and dehydrater
Digital display and touchscreen
8 one-touch presets
Reduce fat and calories by using the drip tray
Quick and simple to clean (dishwasher safe)
360 degree air circulation with air flow racks
Room for 3 internal racks (cook three things at once)
Cost
The Power Airfryer Oven costs $159.96. Payment can be made in full or split into 4 monthly installments of $39.99. Available color options include white, black, or red. There is an optional double offer for $40 off the second Power Airfryer Oven. In addition, there are several options to add accessories and a 6 year protection plan for additional costs.  Shipping is free on all offers. It comes with 3 air flow racks, 10 stainless skewers, an extra large rotating mesh basket, a rotating rotisserie spit, an oil drip tray, 3 recipe books, and $100 worth of grocery coupons. I spotted the Power AirFryer Oven at a local Bed Bath & Beyond for $160, and a 20% coupon dropped $32 off of that price.
Power Airfryer Oven Review
If you've had the pleasure of channel surfing late at night or early in the morning, you may have recently spotted Eric Theiss pitching his newest offering, the Power AirFryer Oven. This, we are told, is a next-gen air fryer that functions similarly to a standard oven.
Indeed, the typical air fryer uses a basket which is slid into place and then its contents are bathed in heated air. This appliance, however, uses either racks or a rotisserie to expose food to the heated air inside, thus the way the food comes into contact with the surfaces is not the same as a standard air fryer.
In my first round of tests, as you can see in the video below, I made Italian croutons, fried chicken, sausage and peppers, frozen french fries, and sun dried tomatoes. The croutons were listed in the recipe guide, and only required a loaf of Italian bread, salt, pepper, olive oil, and oregano. I cut the bread into cubes and covered them in the mix. It only took 8 minutes in the AirFryer Oven, and they turned out perfectly. In fact, the flavor and texture are so pleasing that I will probably make these my go-to croutons in the future.
For fried chicken, I followed the recipe, except that I substituted seasoned flour instead of using the coating in the booklet. After coating my chicken, I placed it in the oven and pressed the "chicken" button. That automatically set the temperature and the time to 40 minutes. I rotated the three trays after 10 minutes, and attempted to rotate them again after another 10 minutes, but found that the drumsticks were too thick to place on the bottom rack, so I had to leave them on the top. The top rack of chicken turned out much crispier than the other two racks, even though all of the chicken was cooked to the proper temperature.
Sponsored Links
I wanted to try out the rotisserie function, so I followed recipe for sausage and peppers. This required me to thread each sausage link with two different skewers and clip them onto the rotisserie device. After skewering a few baby peppers, I placed the rotisserie into the oven. There is a special tool included which allows you to insert and remove the rotisserie without burning your hands. On my first attempt, the skewer holding the peppers dislodged and fell to the bottom of the oven. After re-attaching, everything cooked to perfection without a hitch. The sausage had a nice crispy texture on the outside, while the inside was juicy and evenly cooked.
One of the advertised features of the Power AirFryer Oven is the ability to cook frozen foods, so I put a small batch of frozen french fries into the rotating mesh basket. There is a chart in the manual that gives suggested times and temperatures for various common foods, but I simply pressed the "fries" button and the oven automatically set the temperature to 400 degrees and the time to 15 minutes. I found that the fries required an additional 5 minutes, but they turned out crispy and perfectly heated. I liked the fact that I could simply set it and walk away without having to worry about flipping or hearing the oven timer.
My final attempt was sun dried tomatoes using the dehydrating function, according to the recipe guide. Despite following the instructions, I never really achieved the outcome I expected. The recipe called for 10 hours at 145 degrees, but they still weren't done over 16 hours later. I will attempt these again, but I'll modify the recipe until I get it right. Next time I will cut them into smaller pieces and remove some of the seeds. When I re-attempt that recipe, I'll update this space to let you know how it went.
There are numerous presets on the panel, which will give you a good ballpark setting for your food, but it may take some trial and error to fine tune the settings for your specific tastes.
One minor problem I found with the oven is that removing the bottom rack often forced my hand to move very closely – often touching – the hot oven door. I found that putting a second oven mitt flat on the door helped that, or using a product like Hot Hands also worked.
To clean the Power AirFryer Oven, I simply used a sponge and soapy water. The racks and the drip tray cleaned up nicely, although the fried chicken left a rather stubborn layer of crust that had to be scrubbed off.
I filmed a second batch of items for a follow-up video three weeks later (see below). Most items turned out nicely, including a frozen pizza, frozen wings, salmon, and shrimp. I wanted to do a whole chicken in the rotisserie, but I couldn't find one small enough to fit, so I did Cornish game hens instead. The only item I attempted which didn't really turn out well was cookies, as the parchment paper I put them on seemed to negatively affect airflow. They also did not cook evenly. Other than that, I have found it to be a solid product for a number of uses.
Overall, I think that the Power AirFryer Oven is a worthy entrant in the air fryer category, and it stands apart from the rest due to its unique design. It may not be perfect, but its benefits far outweigh its limitations.
As of this November 2017 writing, I have just spotted the Power AirFryer Oven on Amazon, although there aren't many comments. I'll be interested to see if other consumers share my opinion of the product.
Alternatives
There is no shortage of quality air fryers on the market, usually ranging from about $50 to $150. The Power AirFryer XL is the "other" Eric Theiss air fryer, with pretty solid consumer ratings. If cost isn't a factor, this $250 Philips model is a top of the line air fryer. On the flip side, this $70 air fryer by Avalon Bay seems to be more than sufficient for most users.
Video Reviews
Below you can watch my full 19-minute first-look review of the Power AirFryer Oven, along with my "viewer request" follow-up three weeks later.
Your Power Airfryer Oven Reviews
Have you used Power Airfryer Oven or something like it? Leave a comment below and a star rating above to let us know your thoughts.