Red Copper Mug is a spill-proof ceramic mug that keeps beverages fresh all day. Read our Red Copper Mug review.
Sponsored Links
About Red Copper Mug
Red Copper Mug is a ceramic mug advertised as a way to keep beverages fresh all day, and doesn't tip over. The official product website is redcoppermug.com, which was registered in March 2016. Below is a screen capture showing the official website as it appeared in August 2016.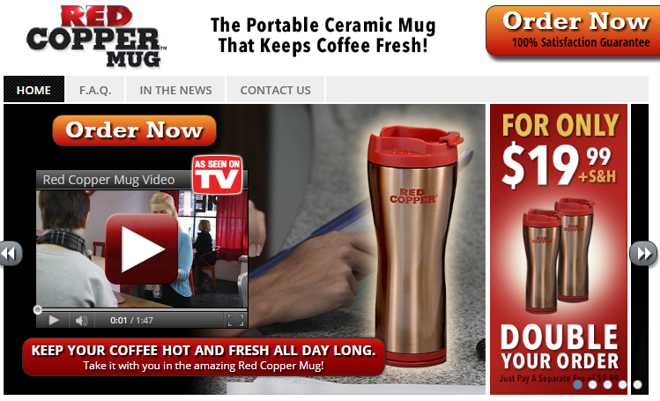 Claims & Features
Retains taste like a ceramic mug
No metallic taste
Keeps beverages hot or cold all day
Won't tip over unless lifted
Leak-proof lid
Cost
You can get Red Copper Mug for $19.99 + $7.99 shipping. You have the option of adding a second mug for another $7.99. This brings your total to $27.98 for one or $35.97 for two.
I found Red Copper Mug online at Bulbhead for about $20 with $5 shipping. I have yet to see it in stores as of this January 2017 update.
Red Copper Mug Review
Red Copper Mug at first glance appears to be a standard travel mug. The advertising for Red Copper Mug, however, points out that the interior of the mug uses a "red copper ceramic" which sidesteps the metallic or plastic tastes often found with generic travel mugs. It also sports a no-tip and no-spill design.
If the advertising looks familiar, Red Copper Mug is a re-branding of a product called the OrGreenic Mug, which advertised in early 2016. You can compare the advertising for the two products below, and see that the television commercials are identical, aside from the name and product images.
Touted features include keeping hot drinks hot and cold drinks cold for hours. This, of course, is no different in function than a standard ceramic-lined thermos or travel mug. Additional features include a no-spill lid and ceramic construction which is said to seal in flavors. Once again, there are already no-spill ceramic thermoses which can be readily purchased from online and local vendors (see below).
One feature which is only touched upon on the commercial is actually the most unique trait (although it too can be found in a few competing products), and that is the vacuum lock which prevents the mug from being tipped over. When you place Red Copper Mug on a flat surface, there is a seal which prevents it from being knocked over. When you pick it up vertically, however, it is un-sealed. It may be a novelty, but I found it to be a rather ingenious addition.
Sponsored Links
Aside from the cool vacuum lock feature, it isn't clear what discernible differences Red Copper Mug has over a regular thermos. The size is a bit smaller than other travel mug, which I measured to be 20 ounces.
$28 (with shipping) is a bit steep for what could be described as a travel mug or thermos, but I feel that the durability, vacuum lock feature, and no-spill lid combine to make this a respectable travel mug, despite its slightly smaller capacity.
It isn't clear why the product was re-branded from OrGreenic to Red Copper. There have been several "Red Copper" products to appear in recent months, and it would appear that the popularity of those items could be partially responsible for the re-branding of this one.
Overall, I actually kind of like Red Copper Mug, not because it holds any single advantage over the competition, but because it lives up to the advertising claims and functions as I hoped it would. Be sure to watch my full video review below for a hands-on demonstration.
Alternatives
If you are interested in competing products, you might want to take a look at the highly-rated  Contigo SnapSeal Vacuum Insulated stainless steel travel mug. That product can be purchased for under $15 and holds a 4.3 star rating out of nearly 3,000 reviews.
There are thousands of travel mugs and thermoses, covering about every price range and design you can imagine.
Video Reviews
Below is my video review of Red Copper Mug, where I put the advertising claims to the test. Below that is my hot car test, with the Red Copper Mug, Ozark Trail, and Rocky Mountain Tumbler, as my car hit over 130 degrees.
Television Commercials
Compare the Red Copper Mug commercial and the original OrGreenic Mug spot, and you'll find that they are virtually the same.
Your Red Copper Mug Reviews
What do you think of Red Copper Mug? Give us your opinion in the comments below and leave a star rating above.
Updated January 2017.