Restore 4 is advertised as a professional restorer that can removes stains and restore fixtures. Does it work? Read my preliminary Restore 4 review.
Sponsored Links:
About Restore 4
Restore 4 has returned for a new As Seen on TV campaign, promoting its virtues as a product than can remove stains and restore the luster of old fixtures around the home. The official website is restore4.com, which was first registered back in January 1998, although the website has been mostly dormant for the past decade. The screen shot below was taken of the product website in December 2016.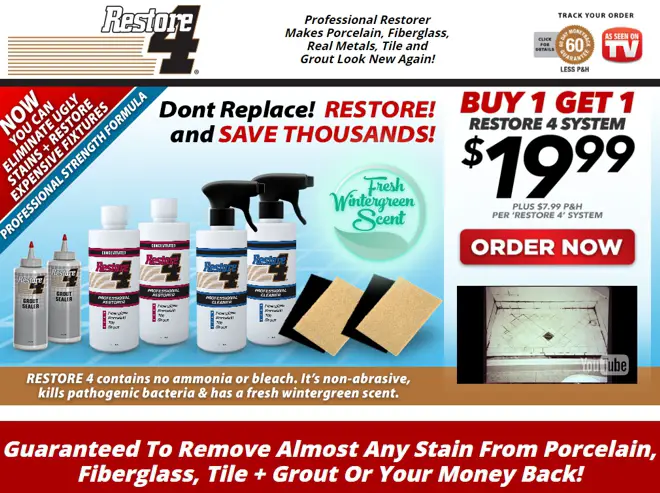 Claims & Features
Good for porcelain, fiberglass, tile, and grout
Restores metals
Removes rust, hard water stains, lime scale, and calcium deposits
Removes stains, scum, and tarnish
Penetrates below the surface
No ammonia or bleach
Wintergreen scent
Cost
You can get a Restore 4 set for $19.99 + $7.99 P&H. You have the option of adding a second set for another $7.99 P&H. As of this writing, it doesn't appear that you can purchase Restore 4 anywhere but from the website or by calling the direct number.
Restore 4 Review
You may recall the name Restore 4 from advertisements that ran over a decade ago, extolling its virtues as a powerful restorer. Along the way, it earned a small legion of fans, and you can still occasionally run across one of its former users in online forums, or even see old bottles for sale on eBay.
Sponsored Links:
Although it isn't clear why Restore 4 disappeared, it has been out of the limelight for a number of years and – as far as I can tell – has been completely unavailable for purchase. Some users have claimed that Restore 4 was re-branded as "Zap! Professional Restorer" which has advertised heavily in the past year. While I have no evidence that is the case, it is clear that Zap! Holdings does own trademarks for both Zap! and Restore 4, so there is at least some sort of relationship between the two products. Zap also emerged from the shadows for a renewed advertising campaign in 2016, but many users – including myself – felt that the new version wasn't as good as the original. I have yet to test the new Restore 4 to see if it has changed, but I can tell you that the original did work quite well.
Restore 4 was known as an effective cleaner for bathtubs, shower doors, tile, grout, grills, and more. The brand expanded to include a number of other specialty cleaners, but the original Restore 4 remained the most popular of the bunch.
It is not clear if the current Restore 4 contains the same ingredients as the original, which used urea monohydrochloride as its primary ingredient (according to this material safety data sheet from 2005). Urea monohydrochloride is an organic salt which performs much like an acid. Reviewers of that original product found it to be a superior cleaner.
Now that it has returned in 2016, I am attempting to find out if it still contains the same formula which earned it a small but dedicated fan base years ago. If the formula is unchanged, this could be a compelling choice for your cleaning needs.
I am keeping my fingers crossed that the Restore 4 being advertised in 2016 uses the same formula as the original that worked so well in years past. When I discover more information, I'll post it here.
Alternatives
Perhaps the best results I've achieved with similar products would be Flitz Metal, Plastic & Fiberglass Polish. It comes in a variety of sizes, and consumer reviews will back me up when I say it does a phenomenal job of polishing and restoring.
Television Commercial
Your Restore 4 Reviews
If you've used Restore 4, give me your thoughts by leaving a comment below and a star rating above.