Seatbelt Xtender is a device that safely extends the length of a seat belt for additional comfort. Does it really work? Here is my Seatbelt Xtender review.
Sponsored Links
About Seatbelt Xtender
Seatbelt Xtender is a portable seat belt extender that installs in seconds to comfortably and safely lengthen the safety belt. The official product website is seatbeltxtender.com, which was registered in October 2017. The screenshot below shows how the product website looked in December 2017.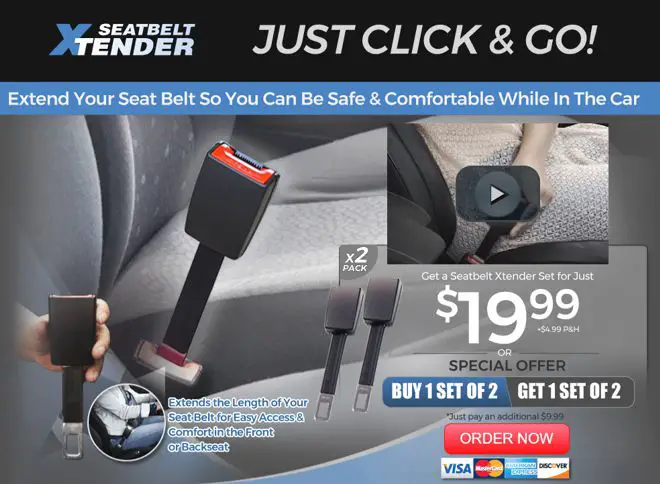 Claims & Features
Quick installation (takes seconds)
Compatible with any automobile
Compact and portable
Operates like a standard seat belt
Can be used in front or rear seats
Ideal for older kids who are too big for car-seats
100% safety guaranteed (E4 safety certified)
Cost
A single Seatbelt Xtender set (includes two) costs $19.99 + $4.99 P&H for a total of $24.98. There is an optional double offer (4 extenders) for a separate fee of $9.99 which will increase the total to $34.97. At the time of this writing, Seatbelt Xtender is not available in stores.
Sponsored Links
Seatbelt Xtender Review
If you've struggled to comfortably fasten your seatbelt, the makers of Seatbelt Xtender may have just the item for you. This simple device snaps into your existing seatbelt receptacle, offering you several more inches of room while wearing your seatbelt.
To use Seatbelt Xtender, you simply insert the device into your seatbelt. You can then fasten your buckle into this device, which is rigid and protrudes several inches upward, making it easier to find and easier to buckle. It's a simple and elegant solution to a common problem.
Although the commercial seems to highlight larger individuals who struggle to fasten their seatbelts, Seatbelt Xtender is also ideal for car seats or those autos where the buckle seems to be difficult to retrieve. I can also see this being beneficial during the winter months while wearing a large coat or for individuals with limited mobility.
Overall, this is a relatively proven device, which I believe will garner positive reviews by the majority of consumers who use it. Its simplistic design is easy to use and unlikely to fail under everyday rigors.
Where Seatbelt Xtender may falter is not with its function but with its availability. Price-wise, at a cost of about $25 for two, Seatbelt Xtender is about average when compared to the competition, but you can't buy just one unit. Furthermore, based on its October 2017 website registration date, it appears this could be a test marketed item, which means shipping could be slower than with more established items.
You may want to watch my short video below that explains some of the ways As Seen on TV items are test marketed, and why they are often so slow to ship.
Alternatives
You may be surprised to find that there are already quite a few seatbelt extenders on the market, ranging in price from about $10-$20. This $12 model, for example, is quite popular and boasts a positive consumer rating.
Your Seatbelt Xtender Reviews
Have you used Seatbelt Xtender or something like it? Leave a comment below and a star rating above to let us know your thoughts.