Shake N Egg is a nonstick cup that cooks scrambled eggs in the microwave. Does it work as advertised? Here is our Shake N Egg review.
Sponsored Links
About Shake N Egg
Shake N Egg is a plastic microwave egg cooker. It allows you to scramble and cook the egg all within the same unit. The official website is buyshakenegg.com, with a registration date of October 2016. The screen capture below was taken of the product website in September 2017.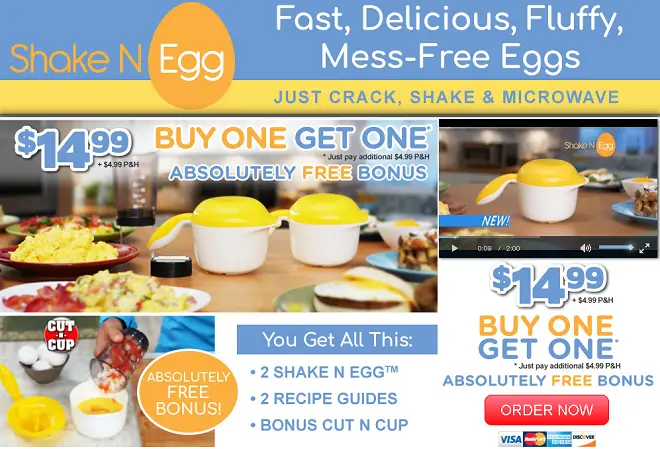 Claims & Features
Quickly make fluffy eggs with no mess
To make scrambled eggs just crack, shake cup, and microwave
Cook and serve design
Crack and scramble prongs on lid that also separate yolks from whites
Makes a variety of eggs (scrambled, over easy, poached, etc.)
Ergonomic handles will stay cool
Portable
Does not require oil or butter (nonstick)
Safe to use in microwave and free of BPA
Wash in dishwasher
Holds up to 4 eggs
Cost
There is a mandatory double offer when ordering Shake N Egg. The cost is $14.99 + $4.99 P&H + $4.99 double offer fee for a total of $24.97. Included are two Fast N Easy recipe guides and a Cut N Cup. At the time of this writing, Shake N Egg is not available in stores.
Shake N Egg Review
Shake N Egg is a plastic microwave cooker that allows you to scramble and cook eggs. To use Shake N Egg, you add up to four eggs into the cup, close the lid, and shake. You'll then place it in the microwave and cook to perfection. But is it really that simple?
Sponsored Links
I have a certain affinity for As Seen on TV microwave egg cookers. It was only a few months ago that I posted a comparison video on YouTube of several such devices, which I've embedded below. As you can see, these types of microwave devices all work about the same, provided you don't have a hangup about cooking eggs in a microwave. Additionally, all of these microwave cookers seem to work pretty well because it's really not very hard to cook an egg in a microwave. In fact, a simple coffee mug with a paper towel on top can also effectively cook eggs in this manner.
Design-wise, Shake N Egg resides somewhere between the Easy Eggwich and the Eggtastic, both of which are still sold in stores (I found the Eggtastic at a dollar store, but it's still available for $5-$10 at most places). It sports a plastic body and lid like the Easy Eggwhich, but Shake N Egg is taller and can hold up to four eggs like the Eggtastic.
Although there is a four-egg capacity, if you plan to add any other ingredients, you'll have to use less eggs or it could overflow.
Perhaps the only new features Shake N Egg offers over the others is that it allows you to mix the egg without the need for a utensil, along with the ability to separate egg whites. There are some people who may find those to be compelling enough reasons to buy Shake N Egg, and I believe those consumers will be happy with their purchase. If you don't mind using a fork or whisk to beat your eggs, and you have no intent to separate egg whites, then you may want to investigate other options which will deliver the same results, as discussed below.
What I've found with virtually every microwave cooker, and with every microwave oven, is that you'll need to cook for about a minute (per egg), then mix or flip the eggs, and cook for about another 20 seconds. Otherwise you'll find liquid at the bottom, which can make your eggs far less appealing.
Alternatives
As noted earlier, you can find Easy Eggwich for about $5 and it performs about the same. The only difference is that it only holds one egg. I personally prefer the Stone Wave Microwave Cooker for eggs in the microwave, although the Eggtastic has the most capacity.
Microwave Egg Cookoff
Below is a video in which I compare three As Seen on TV egg cookers and two other methods of making eggs in the microwave.
Your Shake N Egg Reviews
What are your thoughts about Shake N Egg? Drop a comment below and a star rating above to let us know what you think about it.