Sink Side Strainer is a countertop colander which drains into the sink. Does it work? Read our Sink Side Strainer review.
Sponsored Links
About Sink Side Strainer
Sink Side Strainer is a colander which rests on the countertop and drains into the sink. The official product website is sinksidestrainer.com, with a registration date of November 2016. Below is a screen shot of the official website taken in November 2016.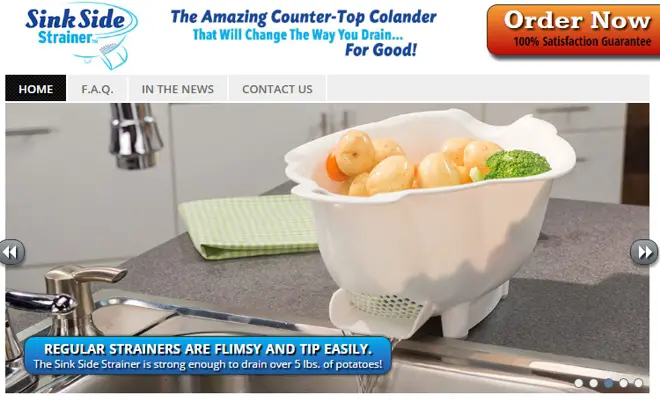 Claims & Features
Food doesn't touch the sink
BPA free, dishwasher safe
Ergonomic design
Can hold 5 lbs of potatoes
Cost
Sink Side Strainer costs $14.99 + $7.99 shipping. You can add a second unit for another $7.99. This brings your total to $22.98 for one, or $30.97 for two. Keep in mind that shipping isn't refundable.
Sponsored Links
As of this writing, Sink Side Strainer isn't available in stores.
Sink Side Strainer Review
The sheer number of As Seen on TV colanders that have been advertised in recent years is evidence that consumers continue to search for the ultimate straining device. You may recall such products as Flat Fold Colander or Better Strainer in years past. Now we have Sink Side Strainer, a device which resides next to your sink and drains liquids via an opening on the bottom of one side.
If you've often cringed at a colander full of noodles touching the bottom of your sink, Sink Side Strainer could be a perfect fit for you.
The ability to strain food into the sink without actually being in the sink is a nice feature. You can easily pour cans of vegetables or a pot of noodles into Sink Side Strainer, and watch the liquid drain out of the bottom and into the sink. We think that Sink Side Strainer should hold up to most everyday straining jobs.
There are of course limitations. For example, if you don't pour your food into a regular colander properly, you may have a little extra food go down the drain. If that happens with Sink Side Strainer, however, you'll probably have to clean a mess on your countertop. You'll also probably have to tilt the device a little in order to drain the last of the liquid in the bottom.
Overall, we like the design and feel that Sink Side Strainer should work generally as advertised, especially for those with realistic expectations. It would be a nice price at $15, but currently you're forced to drop another $8 in nonrefundable shipping. When it becomes available in stores, it will be a worthy competitor to your current straining device.
Alternatives
You can find numerous over-the-sink colanders, which range in price from about $15 – $20. To its credit, Sink Side Colander is a design we haven't encountered before.
Your Sink Side Strainer Reviews
Have you used Sink Side Strainer? Give us your thoughts by leaving a comment below and a star rating above.