Slushy cups are supposed to be a fun and easy way to make frozen slushy drinks right in the cups. I tried out two different versions to see how they really worked.
Sponsored Links
Where to Purchase
The two cups I tried were Slush and Shake Maker and Frozen Magic, both of which were purchased from Amazon. You can purchase them at the following links, which is where I bought them in June 2020: Frozen Magic (I paid $30) and Zoku Slush & Shake Maker (I paid $23).  I also have a nearly identical version in my store which you can view here.
About Slushy Cups
I don't know if there is an official name for this type of product. The Frozen Magic description lists it as a "Slushy maker ice cup" while the Zoku refers to it as a "Make and serve cup with freezer core." It is not a new technology, but I have noticed several vendors marketing these on social media heading into the summer of 2020.
Features
Dual-layer cup with freezer gel
Use any sweetened drink
Artificial sweeteners may not work
Creates slushy in minutes
Slushy Cups Review
In May 2020, I received a message on Instagram suggesting that I try out an unusual cup that had been advertising there. This ad featured a flexible cup that was being squeezed with two hands. Almost miraculously, the ad showed a liquid quickly turning into a delicious frozen drink. I had been aware of such cups in the past but never paid close attention to them. After receiving this message, however, I took a closer look and found a couple of different designs, so I decided it would be fun to compare two different styles side by side to see if one is better.
On June 5, 2020 I ordered the Frozen Magic and the Zoku Slush & Shake Maker from Amazon. The Frozen Magic's Amazon listing did not refer to it by that name. It showed a generic slushy cup (likely from Alibaba) that appears to have been branded "Frozen Magic" after the fact. I saw numerous other listings for nearly identical cups, further bolstering my theory that these are Alibaba items being sold by several vendors online. The fact that most of these cups only have a few reviews also bolsters my theory that this is a relatively new item.
Zoku, on the other hand, does not appear to be an Alibaba creation. That listing has over 1300 reviews, and I didn't see any other products of the same design. I noticed that the Zoku I purchased has been out of stock since I bought it, but they do offer a Coke-branded option for the same price which is identical to the original other than the design on the cup.
What I find interesting is that these two cups yield about the same results, but with significant design differences. Frozen Magic is made almost entirely of a soft silicone material, both inside and outside, and feels quite flimsy when it's not frozen. Inside the dual layer there is a gel material that freezes but does not turn completely solid. After freezing the cup, you then add any sweet liquid (no artificial sweeteners) and repeatedly squeeze the sides. After about 2-3 minutes, you will have the consistency of a slushy. I noticed that even after the desired consistency was reached, it continues to freeze the liquid.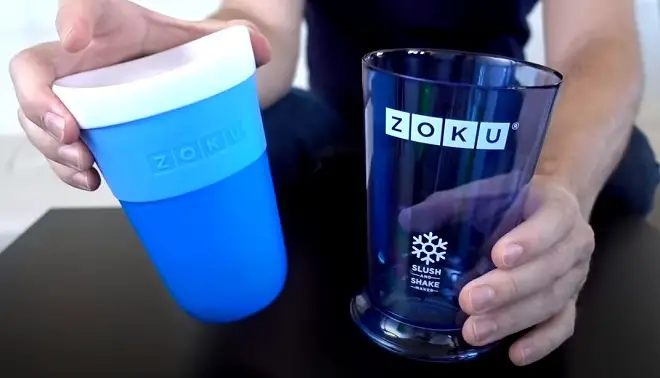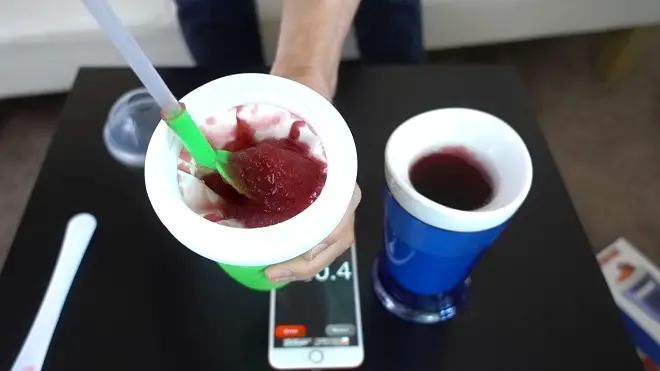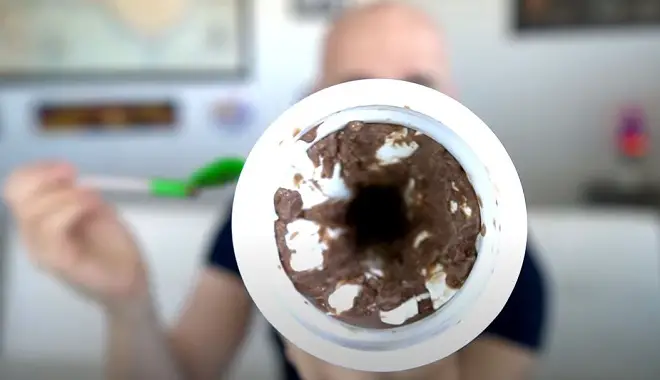 Frozen Magic comes with a combo spoon/straw that is sufficient, although I have not found much use for the straw portion. There is also a lid, which helps prevent spillage while squeezing. Frozen Magic's best feature is that it is fast. In most cases, I had a perfect slushy in only a couple minutes. The primary cons with Frozen Magic are that it is not easy to clean due to the numerous cracks and crevices and I found my hands getting quite cold because I had to spend several minutes squeezing the ice-cold cup. The straw/spoon was also problematic to clean.
Zoku's Slush & Shake Maker offers a significantly different set of pros and cons. Unlike the squeezing required with Frozen Magic, the Zoku's instructions tells you to let it sit for a minute or two and then scrape the edges every 60 seconds with the included spoon. The final result is virtually identical to that of the Frozen Magic, but the process varies along the way. For example, my hands didn't get cold with Zoku because the frozen portion of the cup rests in an outer plastic sleeve. Whereas Frozen Magic would typically take about 2-3 minutes, the Slush & Shake Maker took closer to 8 minutes. I believe this is because the Frozen Magic's cracks and crevices provide more surface area, thus more direct contact with the liquid in the cup.
That surface difference may make Frozen Magic work faster, but it also makes it much more problematic to clean compared to the Zoku, which is completely smooth and very easy to clean.
Sponsored Links
In the end, I found that both types of slushy cups worked, but their different pros and cons make it difficult to pick a clear winner. With Frozen Magic, I worry that its soft material could be easily punctured. Other cons include a higher price tag, cold hands while squeezing, and difficulty cleaning. Those are, of course, offset by its significantly faster freeze time. Zoku bosts durable construction, an outer sleeve to prevent frozen fingers, cheaper price, and ease of cleaning. It's freezing time is 2-3x that of the Frozen Magic, which could be compelling enough for some users to take pause.
Your Thoughts
Have you used a slushy cup like one of the two I tried? Tell me what you think in the comments below.