Smooth Away is a hair-removal device.
Sponsored Links
About Smooth Away
Smooth Away is a hand-sized pad that both removes hair and exfoliates skin.
The product website is trysmoothaway.com, which was registered in August 2008. The screen capture below shows the official website in September 2015.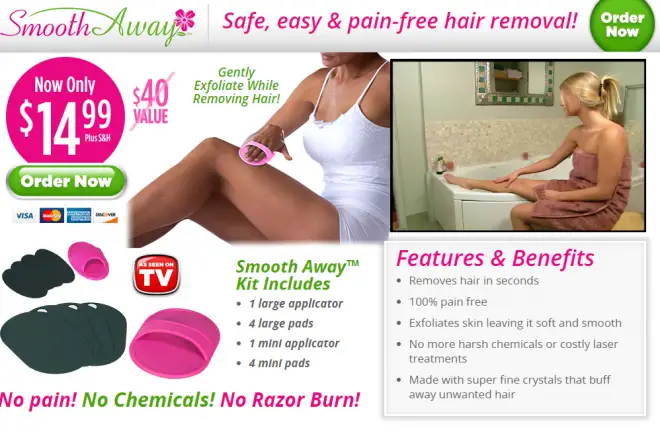 Sponsored Links
What They Claim
Painless
No chemicals
No razor burn
Removes hair in seconds
Exfoliates skin
Smooth Away Cost
$14.99 + $4.99 S&H
Reviews
Smooth Away is one of the oldest As Seen on TV products still marketed. The idea of Smooth Away is that you rub the product on the desired areas in order to remove hair without shaving or chemicals.
It does appear that some consumers have experienced success in using this product. How well it works seems to depend on many factors, especially the technique involved.
Smooth Away is essentially a very fine sandpaper with a handle. For this reason, some consumers have pressed it too hard and reported burned or irritated skin. The idea is to rub it very gently, which will exfoliate skin and remove hair.
You can find knockoffs online for as low as $5, so it may pay to shop around. If you do wish pick up the Smooth Away brand, look for it in stores to avoid shipping costs.
Overall more people seem to think it works than those who don't. If you don't have sensitive skin, it could be a good item to try.
Your Smooth Away Reviews
Let us know what you think of Smooth Away by leaving a comment below and a star rating above.