Sonic Zapper is a combined ultrasonic pest repeller and bug zapper. Does it work as advertised? Here is our Sonic Zapper review.
Sponsored Links
About Sonic Zapper
Sonic Zapper is a bug zapper that also uses sound waves to repel rodents and insects. The official website is soniczapper.com, with a registration date of June 2017. The screen capture below was taken of the product website in July 2017.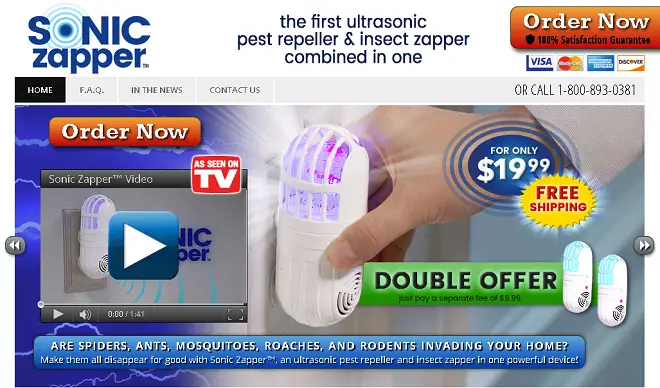 Claims & Features
Repels mice, rats, spiders, ants, mosquitoes, roaches, etc.
Uses high frequency sound waves that cannot be heard by most humans and house pets
Attracts and zaps flying bugs with blue light technology
Installs simply by plugging into a standard electric outlet
Each unit covers an average sized room
Cost
Sonic Zapper costs $19.99. There is an optional double offer which costs $19.99 + $9.99 fee for a total of $29.98. Shipping is free on both offers.
Sonic Zapper Review
In the world of As Seen on TV marketing, the warmer months often bring a slew of products geared toward this time of year, such as garden hoses, water toys, and bug zappers. Sonic Zapper is one of several bug zappers that have been marketed in mid-2017, and offers a slightly different design than its competition. This item combines an ultrasonic pest repeller and bug zapper into a single unit. The commercial makes the a bold claim that "The Sonic Zapper completely rids your home of irritating insects and disease-carrying rodents."
On the good side of things, Sonic Zapper does combine two popular methods of pest control into a single unit. It can also be plugged in about anywhere, and gives off an attractive soft glow which means it can double as a nightlight.
Despite their long-standing place on pest control shelves, however, ultrasonic pest control devices are mostly unproven, with some studies showing some results, but no studies showing impressive results. The FTC had to warn makers of these products to back up their claims in 2001, which led manufacturers to change much of the wording on packaging and in commercials. Ultrasonic devices are also basically line-of-sight due to weak sound waves, so it needs to be out in the open to have any chance to work effectively. The sound waves don't really work through walls or furniture. This is why I doubt their claim that it can completely rid your home of insects, unless maybe you have one in every outlet in your home. The FTC has said flatly that "ultrasound devices do not control insects."
Sponsored Links
There have also been a few studies on bug zappers, noting that they do kill bugs attracted to light, but may lead to a increase in mosquito bites. That's because mosquitoes are attracted to people more than light, so they may follow the light until they get a whiff of carbon dioxide, and then change course toward you.
The website todayshomeowner.com points out that if you have an ultrasonic device to repel pests, it may be best to put traps nearby, as some pests will "scurry around" and (hopefully) land in one of your traps, rather than in your bedroom.
I think Sonic Zapper may play a small role in your pest control plan, but I highly doubt that it will be a comprehensive solution. As a bug zapper it is quite small, and any ultrasonic benefit will have to be within the device's line of sight. Studies for both ultrasonic pest control devices and bug zappers are mixed.
The June 2017 product website registration date means this is a very new item, and could merely be a test marketed product. I'll keep an eye on Sonic Zapper and update this space if anything changes.
Alternatives
There aren't many products which combine ultrasonic pest control with bug zapping technology. This two-pack is a poplar option on Amazon for under $20. If you're looking for the highest rated in either category, this $43 bug zapper is a best seller, while this $21 pest repeller is the highest rated in its category.
You may be interested in watching my review of ZappLight, which is a bug zapper light bulb.
Your Sonic Zapper Reviews
What are your thoughts about Sonic Zapper? Drop a comment below and a star rating above to let us know what you think about it.