Tarn Away is an As Seen on TV tarnish remover which is said to remove years of wear and tear without damage. Read our Tarn Away review.
Sponsored Links
About Tarn Away
Tarn Away is a Simonize tarnish remover that allows you to easily wipe away years of tarnish in seconds. The official product website is tarnaway.com, which was registered in August 2015. The screen capture below shows the how the official website looked in July 2016.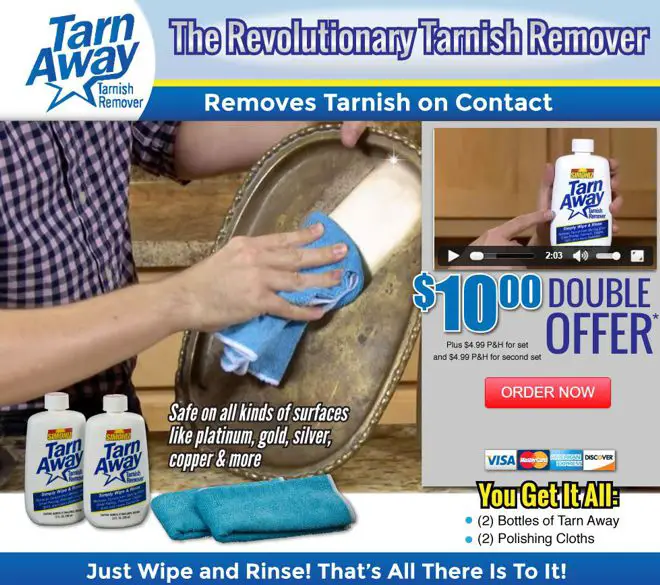 Claims and Features
Removes tarnish in seconds
Take off years of wear and tear
Does not damage items
Can be used on coins and other metals
Cost
Tarn Away costs $10 + $4.99 P&H for a 12 ounce bottle. A second "free" bottle is included for another $4.99 and you cannot opt out of this double offer. That brings your total to $19.98 for two bottles.
Tarn Away Review
Tarn Away is a proprietary formula tarnish remover which is said to quickly and easily restore metal items to their original luster.
Sponsored Links
Perhaps the biggest name in this industry right now is Tarn-X, which has amassed rather positive reviews for its ability to clean and remove tarnish instantly. A minority of users have warned that it could be too harsh for valuable metals.
Although chemical cleaners such as Tarn Away and Tarn-X do a fine job of removing tarnish, you may want to think twice before using them on valuable items. As noted by expert Jeffrey Herman, "Chemical dips including Tarn-X are some of the most destructive tarnish removers. They not only remove tarnish, they continue to etch the object itself!" Using these corrosive chemicals can degrade the metal over time.
While we wouldn't suggest using it on family heirlooms, it could be a good fit for something like an old set of copper pots that you might otherwise throw away.
It should also be noted that the commercial shows coins being cleaned with Tarn Away, which is not recommended by coin collectors, and will actually lower the value of a coin.
Overall, Tarn Away does a fantastic job of removing tarnish, but these results come at a price. We don't recommend using it on valuable items such as silver or antiques. Everyday items, or those with no significant value, may be ideal for Tarn Away.
Although the product has only appeared in television ads in 2016, you may be interested to know that there was another "Tarn-Away" which was advertised back in the early 1970s. That product was promoted by Ronco, and its trademark expired in 1983. Below is an ad which ran for the original Tarn-Away back in 1971.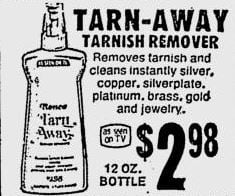 It isn't clear if the new formula is related in any way to the original version. In both cases, however, we have a proprietary formula (meaning, we don't really know what's in it) that is said to immediately remove tarnish.
Your Tarn Away Reviews
If you've used Tarn Away, please give us your opinion by leaving a comment below and a star rating above.