ThinOptics are portable reading glasses. Read our ThinOptics review plus additional product information.
Sponsored Links
About ThinOptics
ThinOptics are replacements for reading glasses and can be easily stored and attached to your phone, to assure that they won't get lost or misplaced. There have been two product websites advertised: buythinoptics.com, which was registered in May 2015, was advertised in late 2015. In 2016 the domain getthinoptics.com was also used. The screen captures below show the official website in October 2015 and in July 2016.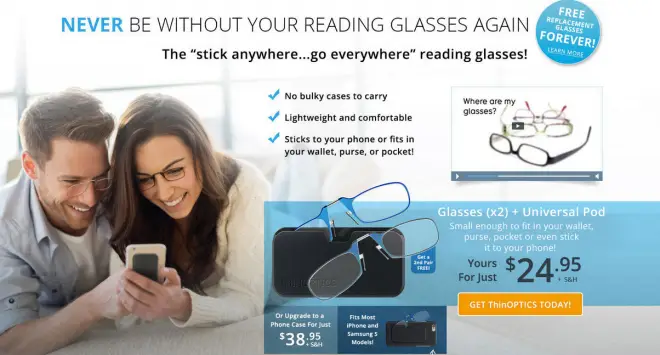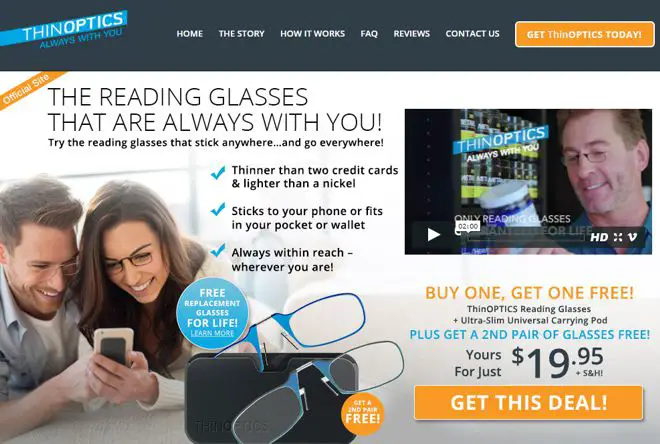 What They Claim
No need to carry cases
Lightweight and comfortable
Sticks to your phone, fits in your wallet, purse, or pocket
Comes in a variety of colors ("crystal clear, jet black, azure blue, ruby red, amethyst purple, & espresso brown")
Super thin
Ultra-flexible
Comes in 3 strengths: Low Range (+ 1.50), Mid Range (+ 2.00), and High Range (+ 2.50)
ThinOptics Cost
The pricing has changed since we first posted this review in late 2015. The original pricing structure was as follows:
$24.95 + $5.00 S&H (Glasses + Case) or $38.95 + $5.00 S&H (Glasses & Phone Case). 
By mid-2016, the pricing had changed to:
$19.95 + $5.00 shipping. This includes two pair plus a case.
Reviews
ThinOptics offers the solution of bulky and easy-to-lose reading glasses by providing a product that is ultra thin yet durable, and can be easily carried on a person.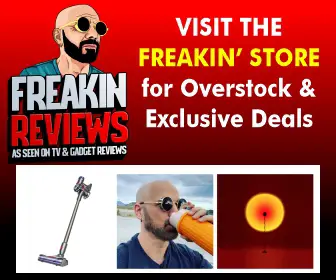 While standard reading glasses are often cheap – and sometimes cheaply made – ThinOptics provides a more durable solution in a fraction of the space. You can get it in three strengths, and the accompanying case can attach to a smart phone or fit in a purse or wallet.
The cost may be higher than most consumers expect from reading glasses, but when the durability and portability are factored in, ThinOptics looks to be a pretty good deal.
They may not be as indestructible as the advertising implies (some users have posted pictures online of broken glasses), but they do hold up quite well. The ability to fit them into an iPhone-sized case cannot be understated. If your expectations are realistic, you will likely find ThinTopics to be a worthy investment.
I took ThinOptics with me on vacation to Maui in April/May 2017, and used them extensively. I found them to be well-made, the glass was clear, and the size convenient.
The convenience of being able to attach ThinOptics to my phone was immediately realized. Whereas I would typically avoid digging through my bag to find my reading glasses, with ThinOptics, I merely had to fish my phone out of my pocket to access my glasses.
Even though the instructions state that ThinOptics isn't for rubberized or matte cases, I've found it to work on that type of material. Even though attaching the small case to the back of your phone adds slight amount of additional thickness (less than a quarter inch), to me the trade-off is worth it.
ThinOptics can now be found on Amazon, where it sports about a 4.2  star rating among thousands of consumer reviews.
Video Reviews
You can view my video review of ThinOptics below, along with a comparison with Dial Vision and Big Vision in the second video.
Television Commercial
Your ThinOptics Reviews
Let us know what you think of ThinOptics by leaving a comment below and a star rating above.
Updated May 2017.