Townew is a next-gen trash can that self-seals and automatically changes the bag. I picked one up and here is my review.
Be sure to read my 2022 update below!
Sponsored Links
Cost
You can find Townew on Amazon for about $100-$120, with refills costing $20-$30 for 75 refills (link to buy). The recyclable refills are less expensive than the biodegradable option. In addition to Amazon, you can also purchase this product direct at the product website townew.us, which was registered in November 2019.
About Townew
Townew first came to prominence on Indiegogo, where it quickly met its goal in 2019. It is described as "the self-sealing, self-changing trash can."
Claims & Features
Thermoplastic sealing technology
One touch operation
Infrared sensing
Overload feature
Odor protection
4 gallon capacity
Rechargeable 2000 mAh battery
Townew Review
Nothing grabs my attention more than a high-tech version of a standard household item. With Townew, the claims are pretty bold and the marketing materials quite impressive. Of course I've seen my share of impressive marketing videos, only to be sorely disappointed when trying those items myself. So when I saw a self-changing trash can with a somewhat hefty price tag, I knew this was right up my alley.
When I first opened my Townew, I thought there might be a learning curve involved, but I found that it's quite simple to use. The instructions state that you are to charge it first for about 10 hours, and that charge will last you about a month. I was surprised that there were no external charging indicators, but instead there are three small blue lights inside the trash can that indicate when a charging is necessary. That was about the only strange feature I found, and certainly not a significant issue for me.
Sponsored Links
To use Townew, you simply wave your hand over the infrared sensor for the lid to open. The makers suggest that it has a range of 35cm (14 inches), but in my experience it was less than that. Because the can is small, I had to slightly bend over in order to get my hand within range. I still wonder if a foot-activated system would be better on such a small can. Alternatively, you can quickly press the button on the front of the can which will keep the lid open until it is pressed again. When activated by the sensor, the lid does not stay open very long, so if you have multiple items to throw away, you may have to engage the sensor a few times (or simply press the button for it to stay open).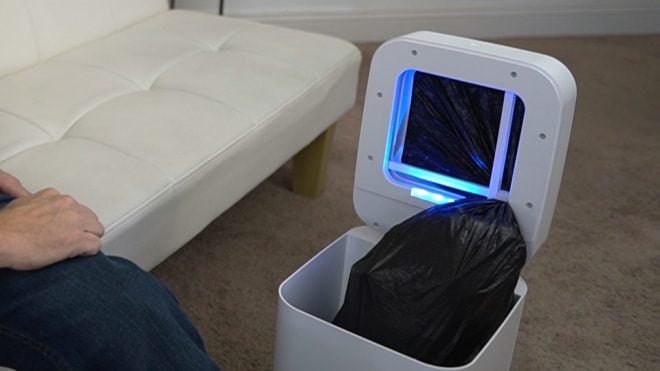 Once the Townew is full, you press and hold the button on the front, and it will do the rest. Depending on how full the can is, you may see one of two different scenarios. If the can is not overloaded, you'll hear some activity going on in the can, and the lid will pop open to reveal a sealed bag of trash. Once you remove it and close the lid, the can will make a few more noises as it puts a new bag in place. If the can is overloaded, Townew will detect this and open the lid while it seals the trash in order to ensure nothing is spilled.
Townew uses a replacement ring that holds 25 bags which are automatically placed when a bag has been removed.
My only real complains about Townew are that it is expensive at $120, and that it's small at only 4 gallons. If they can get the price down and the size up (a full-sized can is supposedly in the works), I think they could potentially have a big hit with consumers. As it stands now, Townew is a great trash can for bathrooms, albeit with a price tag that will make most consumers balk.
Three Month Update
After posting this review and the video below, I have continued to use the Townew trash can on a daily basis. At first I put it in my kitchen next to our regular-sized trash can, but no one used it. After a few weeks of being ignored, it was moved next to my desk in my home office and I've found it to be the perfect size for that setting. Others have stated that it might be well-suited for a bathroom, too. I'm happy to report after three months and several bags later that I have not had any issues with this item. My dog Bailey occasionally trips the sensor which scares her as the can opens, but otherwise I am happy with it. I did notice that the price has been lowered from $120 to $99 both on Amazon and on the main website. I also see that there is a teal option on Amazon that as of this writing is not shown on the website.
I'm still waiting for a full-sized model, but I cringe at the thought of what that might cost.
2022 Update
A little over two years after first using the Townew, the battery stopped holding a charge enough to properly function. The lid struggles to open and it will not seal the bag at all. If I leave it plugged in, the lid does not struggle to open, but the sealing still doesn't work and I literally have to cut the bag out to remove it, and tie the bottom so there isn't a hole. Then I use my hand to push the bag to the bottom of the can. I reached out to the company to see if a replacement battery is available and I was told that the battery is not replaceable and informed me that "Your current T1 is phased out and stopped production." They encouraged me to buy their newer T1S model that is more expensive than the original.
It is disappointing to see them drop support for a product only two years old. I did find a YouTube video in which someone rather easily replaced the battery, so I may try that and see what happens.
Video Review
Below you can watch my full Townew review.
Your Townew Reviews
Have you used Townew or something like it? Tell me what you think about it in the comments below.