Sink N' Spin is a kitchen brush that attaches to the bottom of your sink and allows you to clean dishes in an entirely new way. Does it really work? I've used it and today I present my Sink N Spin review.
Sponsored Links
Where to Purchase
As of this update, you can only find Sink N Spin at the official website (discussed below), for about $40. When I first reviewed this product in early 2020, the cost was about half of what it is at this July 2020 update. If Sink N Spin is unavailable, you may want to check out this less expensive similar alternative.
There is a new version out as of late 2020, although I have not yet tested it out.
About Sink N Spin
Sink N Spin is a suction cup mounted kitchen brush with a variety of bristles that is ideal for bowls, plates, and silverware. The official product websites are sinknspin.com or getsinknspin.com.
Claims & Features
Detachable handle
Antimicrobial bristles
Cutlery cleaning slot
Sink N' Spin Review
I first noticed Sink N Spin with an advertising push in late 2019, along with a number of viewer requests for it. It's an interesting gadget that doesn't look like anything I've seen before, and I hadn't seen any other reviews for it before I obtained a sample. It features four suction cups to stick the device to the side or bottom of your sink. Bristles protrude from the top and sides, as well as inward to create a cutlery slot for knives, forks, and spoons. To use Sink N Spin, you simply stick it to your sink, cover the bristles with soap, and start scrubbing.
There is a detachable handle that comes with two screws, although I found these confusing to attach, so I decided to just press the handle into place without messing with the screws. The handle also fits into the opening of most garbage disposals or kitchen drains, unless there is a stopper in place (in my sink at least).
In order to give this a real-world test, I cleaned a sink full of dishes left by my family. I noticed that the website showed Sink N Spin being used with running water in some photos, but with a sink half-full of soapy water in other photos, so I decided to try using it both ways.
Sponsored Links
The first item I tried was a spoon which fed into the cutlery slot, and I found that the bristles did a pretty good job of quickly cleaning it off. Next was a plastic container, which I was able to place face-down onto the Sink N Spin. I used a spinning motion and once again the bristles did a competent job of removing debris. The lip of the container required a slightly different technique, but was nonetheless effortless. For a ceramic bowl, I was pleased that I could spin while pressing down quite firmly. The Sink N Spin didn't move even with considerable force being used, and the bowl cleaned up nicely.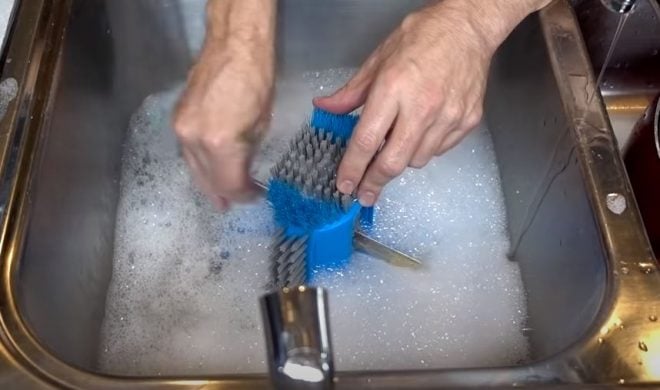 At this point I became aware of the first "con" regarding the product, and that is of visibility. Because you are facing your dinnerware away from you, it's impossible (unless the item is glass) to see if you've missed any spots, or how effectively you are cleaning the item. This is in comparison to simply using a kitchen brush or sponge, in which you look at the surface while cleaning it. That could be a minor issue to some, but it became apparent to me that I would need to constantly stop to check my bowl to see where I needed to focus my attention.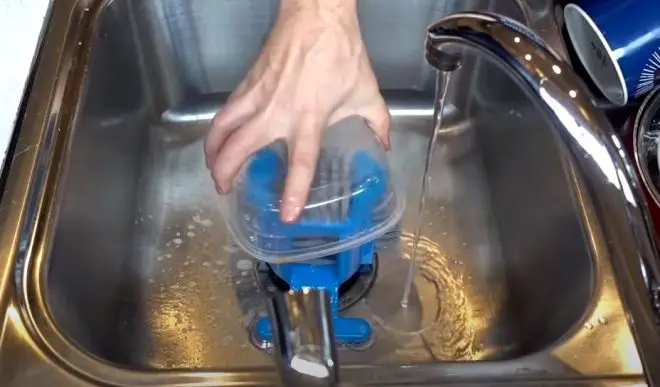 Plates and saucers cleaned up similarly to the bowl with a face-down spinning technique. I was satisfied with the results at this point, although I'm not sure it was faster or more efficient than a simple kitchen brush.
My next test revealed what is perhaps the biggest flaw of Sink N Spin, and that is the ability to clean cups and glasses, which simply don't fit around any area of the gadget. If you have a sink full of dishes to clean, you will have to skip the cups and glasses and clean them another way if you plan to use the Sink N Spin.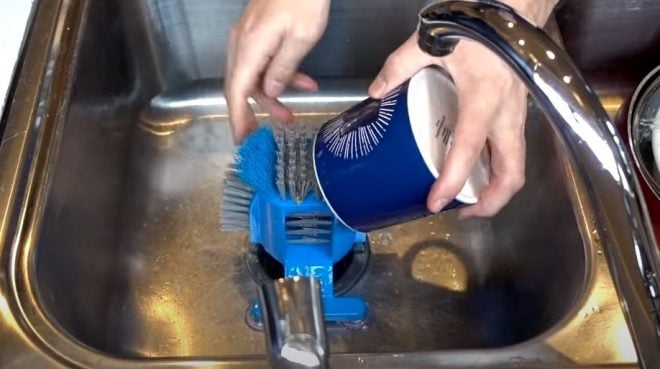 For my final test, I detached the Sink N Spin from the bottom of the sink and used the handle to clean a large pot. It worked about on par with a large kitchen brush. Because the handle wasn't screwed into the unit, I had to take care to prevent it from detaching while in use.
Overall, I believe this is one of those products that will appeal to some people, but not everyone. Those who are comfortable wielding a kitchen brush will likely see no reason to make the move to a device like this, especially given that it cannot clean glasses and cups. For those who have any type of strength issue or simply haven't found a way to clean dishes by hand they find palatable, Sink N Spin is worthy of consideration.
You can buy Sink N Spin at sinknspin.com. or Amazon. It is worthy to note that the cost has doubled since my review was originally published, which is reflected in my star rating below.
Video Review
Below you can watch my full Sink N' Spin review.

Social
Read some of the discussion about Sink N Spin in the tweet below.
Currently trying out Sink N Spin. It definitely looks interesting, but does it work? I'm trying to find out now! pic.twitter.com/OEGnzBlFgU

— Freakin' Reviews (@freakinreviews) April 7, 2020
Your Sink N Spin Reviews
Have you used Sink N Spin? Leave a comment below to let me know your thoughts.
Updated November 2020.