Twinkle Play Tents is a tent for kids that contains an interactive LED which projects a light show. Does it really work? Here is my Twinkle Play Tents review.
Sponsored Links
About Twinkle Play Tents
Twinkle Play Tents is a children's tent that includes a star-shaped LED that fluctuates colorful light patterns to the sound of vocals and music. The official product website is twinkleplaytents.com, which was registered in July 2017. The screenshot below shows how the product website looked in December 2017.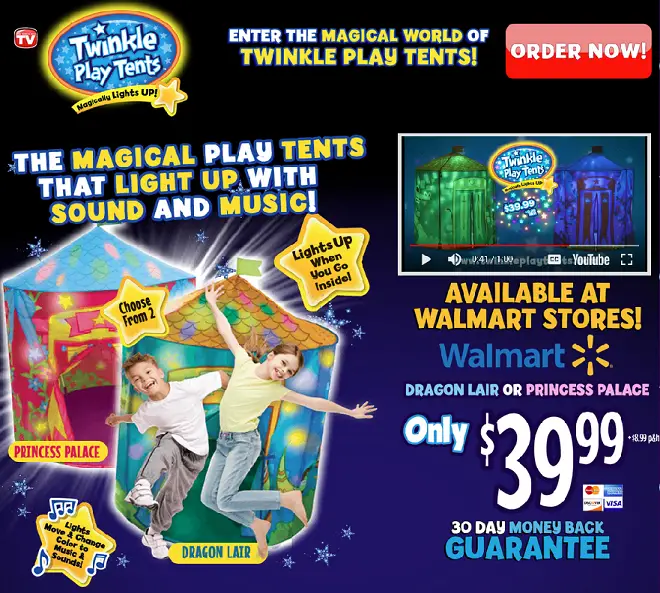 Claims & Features
Children can dance along to a light show and music
Tents lights up when entered
Sound and motion sensor automatically shuts off with inactivity
Battery operated LED light (3 AAA batteries which are not included with purchase)
Comes in two different styles
Convenient storage case included
Requires some assembly
Cost
Twinkle Play Tents costs $39.99 + $8.99 P&H for a total of $48.98. According to the product website, they are currently sold out of Twinkle Play Tents, but the website also states they are available for purchase at Walmart. There are two different style options: Princess Palace or Dragon Lair.
Twinkle Play Tents Review
If your kids love tents (and what kids don't?), Twinkle Play Tents may the perfect item for them. This product comes in designs for boys or girls and includes a light-up star that provides dancing lights.
Sponsored Links
To use Twinkle Play Tents, you first assemble the tent, which is comprised of a plastic frame and thin fabric that makes up the outer shell. Next, you'll hang the electric star (powered by three AAA batteries, which aren't included) in the center of the tent. This star is sound and motion activated, so it will immediately begin its light show as soon as you enter the tent, and it will automatically shut off when no sound or motion is detected. The star will also react to sounds, so it could help enhance music playing in the background.
It's a rather simple design, and aside from the star, it offers little over less expensive indoor tents (like this $18 model, without a star). Thus it appears to me that you're paying roughly $25 for the star along with $25 for a standard tent. I'm sure some consumers will have no problem with the price, but others may seek out less expensive alternatives or create a DIY version with a cheap tent and a disco ball.
Advertising for kids' products tend to idealize the manner in which toys are used, so you may want to consider the reality of Twinkle Play Tents versus how it appears in the commercial. For example, when my twins were little, my daughter probably would have sat in something like this for hours, but my son would have quickly bored and moved onto something else. If you think your kids will like this, it's probably a safe bet. If you're on the fence, I'm not sure it's worth a $50 gamble to find out.
The website for Twinkle Play Tents notes that it is available at Walmart, but as of this writing it does not appear anywhere on Walmart's website, nor is it shown as available in any nearby stores. My guess is that such availability is forthcoming. That said, I'd suggest waiting until this arrives in Walmart to sidestep shipping costs and delays.
Alternatives
It may come as no surprise that there are a couple of alternatives you can get on Amazon. Perhaps the best option for girls is this pink castle with glowing stars, which runs about $22. Boys may be interested in this castle that includes a "torch projector". That item costs about $25 and shipped via Amazon Prime, which is half of Twinkle Play Tents when shipping is included.
The closest I've seen in the As Seen on TV universe is DreamTents, which advertised heavily throughout 2017 but had lukewarm consumer reviews. You can see my video review of that product below.
Television Commercial
Your Twinkle Play Tents Reviews
Have you used Twinkle Play Tents or something like it? Leave a comment below and a star rating above to let us know your thoughts.