UpCart is an all-terrain stair climbing cart. Does it actually work? Read our UpCart review.
Sponsored Links
About UpCart
UpCart is a cart that can climb stairs and traverse a wide variety of terrains. The official product website is upcart.com, which was registered in January 2005. The screen shot below was taken of the product website in January 2017.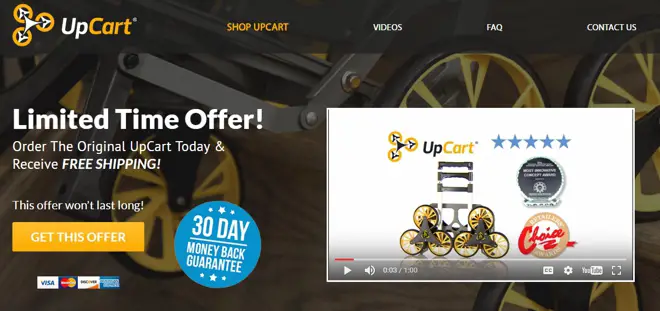 Claims & Features
Easily move bulky items
Can go from trunk to pantry
Reduces effort going up and down stairs
Cost
There are several models of UpCart available. The original sells for about $90, while a pro version costs about $130. Shipping is usually free to the continental US.
You can find UpCart in stores, for about the same prices listed above.
UpCart Review
You may have seen advertisements for other stair climbing carts in recent months, but those products could best be described as knockoffs of UpCart.
Sponsored Links
The idea of an all-terrain cart may seem like an obvious choice when shopping for carts to move items up or down stairs, although most consumers still use standard two-wheel carts to haul their belonging around. UpCart features a six-wheel design in which four wheels are always on the ground at the same time, while two others rotate while "walking over" curbs, stairs, and other obstacles. It is an elegant design which makes the chore of hauling items upstairs easier.
The solid rubber wheels are durable enough to handle repeated use, but gentle enough on floors to avoid leaving scuff marks behind.
We have found that stair climbing carts of this design do an excellent job of moving up stairs, but they don't work as well going downstairs – as you may still need to bend over in order to hold the handle below you.
The handle is one potential area of concern, as its length may not be suitable for some people. Although it has a telescoping handle which can be customized to each individual's height, some consumers have suggested that it still could be longer. Taller individuals may have to bend over while pulling the cart up stairs.
Despite a few minor issues, UpCart has amassed about a 4.0 star rating online, which we think is about right. For everyday use, it should fit the bill nicely for most people. It won't replace a dolly for heavy duty moving jobs, but it should do a fine job for laundry, groceries, and other lighter jobs of this nature. There will, of course, be a minority of consumers who feel this product does not live up to the advertising hype.
If your expectations are realistic, you may find UpCart to have a place among your household accessories.
Alternatives
Although UpCart is the original stair-climbing cart, there are numerous competitors that have cropped up in recent years. ROYI, for example, makes a best-selling version which costs about $60.
TV Commercial
Your UpCart Reviews
Have you used UpCart? Let us know what you think by leaving a comment below and a star rating above.