Vibrarazer Renovating Tool is a hand-held multi-purpose power tool. Read our Vibrarazer review.
Sponsored Links
About Vibrarazer
Vibrarazer is a multi-purpose, high frequency tool that can be used for various tasks and jobs.
What They Claim
Cuts, sands, scrapes, and grinds
Works on wood, plastic, carpet, ceramic tile, and stone
Remove caulk from tubs and sinks
Slice through water lines
Lightweight and powerful
Fully adjustable blades
Cuts through the hardest materials
Made in the USA
Vibrarazer Cost
1 payment of $99.99 + $19.99 S&P or 3 payments of $33.99 + $19..99 S&P; can't opt out of additional items for another $19.99 S&P
Sponsored Links
Vibrarazer Review
Vibrarazer Renovating Tool is a multipurpose handheld tool which offers a variety of attachments to fulfill a multitude of home improvement jobs.
Included attachments are: scraping blade, carbide blade, E-cut blade, Delta sanding pad, buffer pad, dust removal attachment, and hex wrench. It is lightweight, comfortable to hold, and includes variable speed control.
Indeed, with this single tool you can cut, grind, sand, scrape, and more. It does the work of several tools, and is competitively priced.
Whereas the typical As Seen on TV tool tends to be cheaply made and over-hyped, our researchers have found Vibrarazer to be of high quality and functions on par with that demonstrated in product advertising.
The flexibility, durability, and wide array of uses will make the Vibrarazor a vital part of the typical DIYer's toolbox.
A comparison of the Vibrarazer with the popular Fein multi-tool products demonstrates this product's competitive price versus its popular competition, although the Fein products are perhaps a bit more comprehensive.
The product website is vibrarazer.com, which was registered in September 2012. The screen capture below shows the official website in December 2015.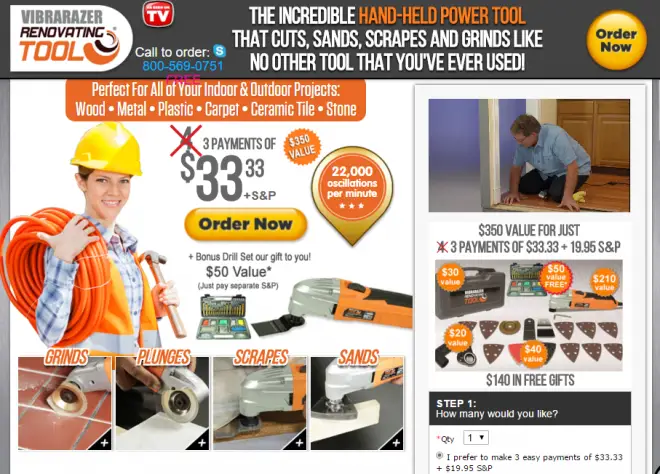 Your Vibrarazer Reviews
Let us know what you think of Vibrarazer by leaving a comment below and a star rating above.