Flex Core 8 is a weight loss exercise machine. Read our Flex Core 8 review.
Sponsored Links
About Flex Core 8
Flex Core 8 is a body sculpting and fat burning system which combines various workout methods to provide weight loss results.
What They Claim
Tones and sculpts your upper and lower body
Combines cardio and strength training for fat burning results
Fully adjustable for any strength level
Made of gym quality, heavy gauge steel
Compact and portable
Folds for storage
Flex Core 8 Cost
4 payments of $19.99 + $12.99 S&H or 1 payment of $59.99 + $12.99 S&H
Reviews
Flex Core 8 is an exercise machine which focuses on fat burning and core exercises. It includes a circular base with two resistance pedals. There are a variety of exercises which can be performed, from crunches to cardio. Target areas include legs, core, and upper body.
Sponsored Links
Exercises can be performed while laying across the device, seated in a chair, or leaning onto it from the front or back. Resistance is adjustable. There are 8 muscle building exercises, plus cardio, which is perhaps where the number 8 in the name originates.
The number of exercise devices released in any given year is staggering, and short television commercials must be convincing enough to persuade consumers to pick this device over the others. With Flex Core 8, we have an exercise machine which is moderately priced at about $55-$60 and is able to work upper, mid, and lower body muscles. In that respect, Flex Core 8 is a competitively priced product.
Keep in mind that no exercise machine will provide maximum benefits unless a proper diet is followed as well. With Flex Core 8, you also receive a 21 day meal plan that may be helpful in following a proper diet.
The product website is buyflexcore8.com, which was registered in December 2015. The screen capture below shows the official website in December 2015.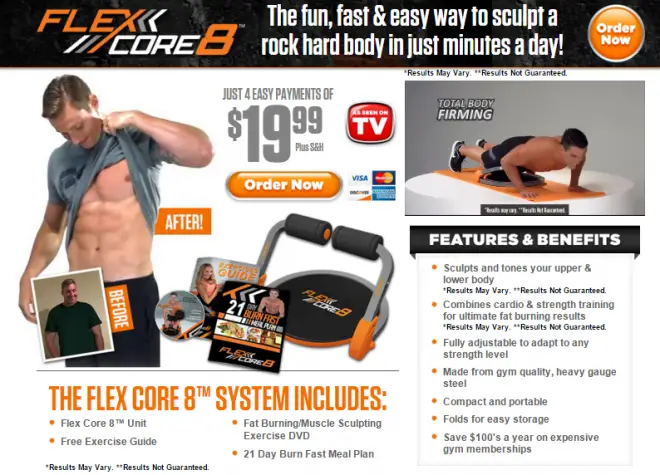 Flex Core 8 is compact, offers a wide array of muscle building and cardio options, and is competitively priced. Our researchers feel that most consumers will be satisfied with this product.
Your Reviews
Let us know what you think of Flex Core 8 by leaving a comment below and a star rating above.