Whirly Pets are flying toys for kids that fly, hover, and react to objects or people below. Do they really work? Here is my Whirly Pets review.
Sponsored Links
About Whirly Pets
Whirly Pets are character toys that fly or hover and can be used indoors. The official product website is buywhirlypets.com, which was registered in August 2017. The screenshot below shows how the product website looked in January 2018.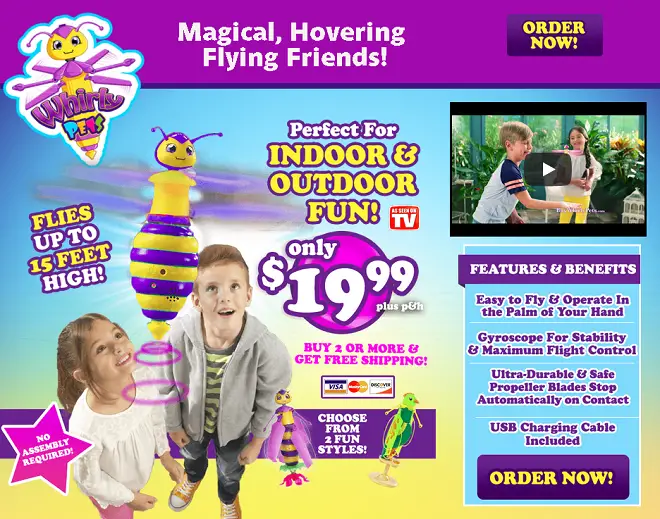 Claims & Features
Simple to use (toy launches from the palm of the hand)
Built-in gyroscope for flight balance and control
Propeller blades safely stop spinning with contact
Comes with USB charging cable (recharges in minutes)
Cost
Whirly Pets cost $19.99 + $7.99 P&H for a total of $27.98. If you order two or more, shipping is free. There are two available styles: Hummingbird and Bumble Bee.
Whirly Pets Review
When I first saw the commercial for Whirly Pets, I was reminded of another "Whirly" product I had reviewed before. It was Spring 2017 that I took several products to Maui with me, including Whirly Ball, a hovering ball that will fly upward if it detects any objects below. Now we have a new breed of "Whirly" toys in Whirly Pets, which come in two designs: Hummingbird and Bumblebee.
Sponsored Links
In addition to adding character designs, it also appears that the makers included a number of improvements over the original Whirly Ball, while leaving all of its key features intact. It also seems that Whirly Pets are marketed to a slightly younger demographic than Whirly Ball.
With this new version, kids have the option of launching their Whirly Pet hands-free from its base by tapping on the head three times. A singing feature has also been added, which is engaged by tapping the head once. As with the original, you can expect Whirly Pets to fly up to about 15 feet in the air before it begins to float downward. If the sensor detects any objects below, the motor will ramp up and send it back into the air.
Having played extensively with the original Whirly Ball, I'm happy to report that the blades are safe and will stop rotating upon any contact. Catching Whirly Ball was difficult because of its small size, but the elongated design of Whirly Pets should make it easier to snatch them out of the air.
You can expect roughly 10 minutes of use per charge (which takes around 15 minutes). If you were to purchase two Whirly Pets, you could essentially play with them continuously, with one charging and one flying at all times.
Overall, Whirly Pets seem to be a logical evolution of Whirly Ball, at least for younger consumers. Older kids may still prefer the regular Whirly Ball for aesthetic reasons (a 12-year old boy would probably not want to be seen playing with a bumblebee toy, for example).
As of this January 2018 writing, it doesn't appear that Whirly Pets are available in stores, so you may be looking at a wait of several weeks to receive them in the mail. While you wait, you may want to pick up Whirly Ball which is readily available in stores for about $10. There are also virtually identical versions by lesser-known brands that are even cheaper and can be shipped in a day or two via Amazon Prime.
Below is my full video of Whirly Ball, which should give you an idea of how Whirly Pets will operate.
Television Commercial
Your Whirly Pets Reviews
Have you used Whirly Pets or something like it? Leave a comment below and a star rating above to let us know your thoughts.