Wonder Arms Review: Resistance Arm Band System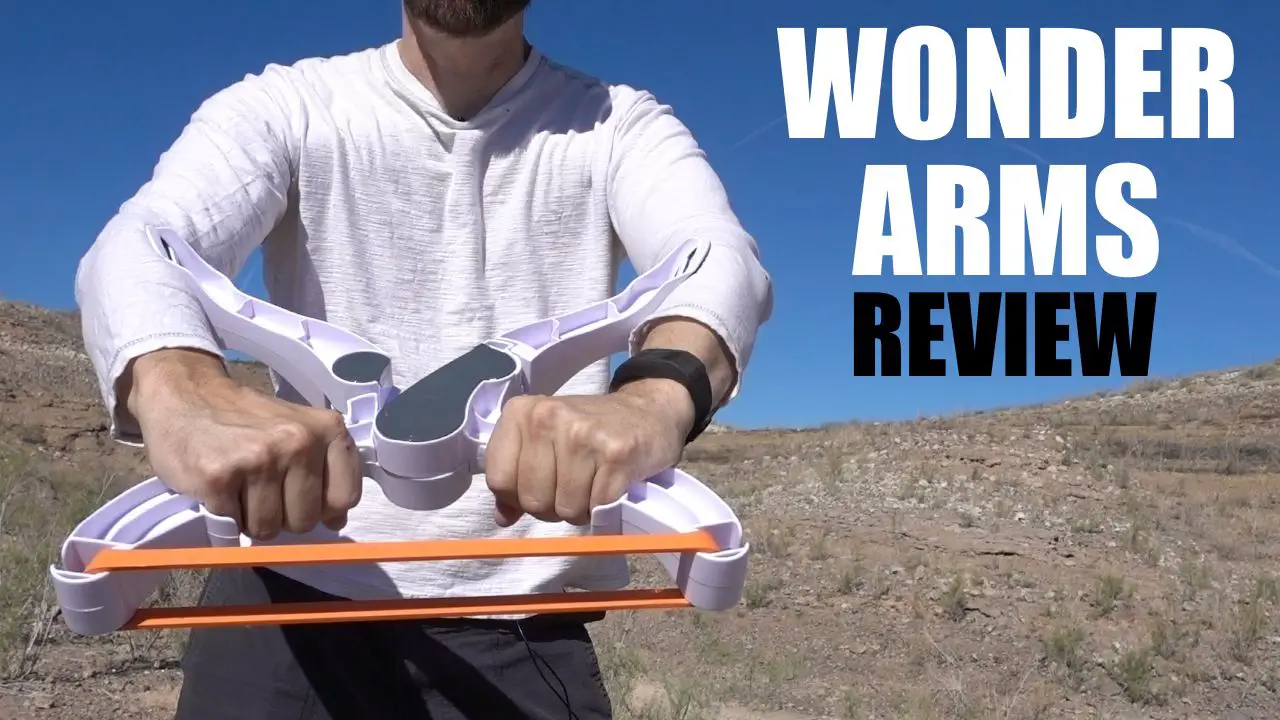 Wonder Arms is an exercise device that targets the biceps, triceps, chest, and shoulders. Does it work? Read our Wonder Arms review.
Sponsored Links
About Wonder Arms
Wonder Arms is a resistance arm band system that works arms, shoulders, and chest muscles. The official product website is wonderarms.com, with a registration date of October 2016. Below is a screen shot of the official website taken in November 2016.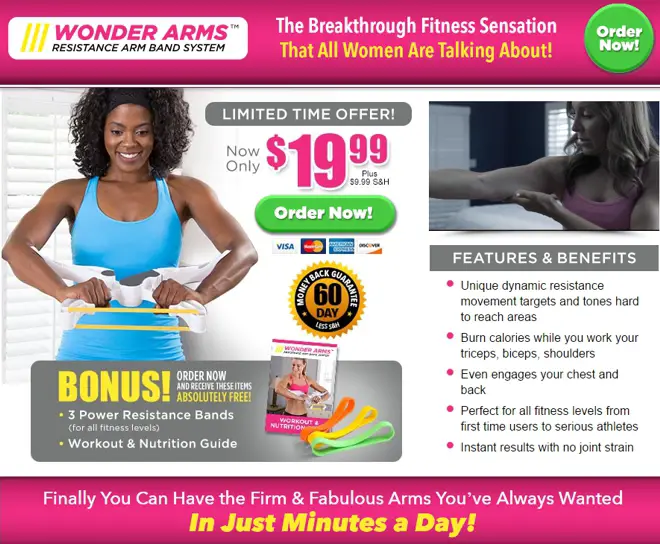 Claims & Features
Works triceps, biceps, chest, back, and shoulders
Good for all levels of fitness
No joint strain
Dynamic resistance
Cost
Wonder Arms costs $19.99 + $9.99 shipping. This includes the Wonder Arms, 3 resistance bands, and a workout/nutrition guide. A $1 "web service fee" is also added to every order. I found Wonder Arms at a local As Seen on TV store here in Las Vegas for about $25.
Wonder Arms Review
Wonder Arms is an exercise device that uses resistance bands. It allows you to perform a variety of upper body exercises for toning and burning calories.
When unfolded, Wonder Arms is a sort of X-shaped device that can hold one of three resistance bands. The most common exercise shown in the advertising mimics that of push-ups. Two of the device's "arms" press inside your elbow while you grasp the handles. There are padded arm rests to help prevent discomfort. You then push the handles in and out, similar to that of a push-up, in order to target your arms and chest. Changing the angle can also help target muscles in the shoulders and back.
What I found somewhat surprising is that using Wonder Arms doesn't feel like pushing, but more like squeezing your arms together. You don't really get a full range of motion exercise as you would with a traditional push-up, however.
Sponsored Links
After you've completed your exercise, Wonder Arms will fold into a compact design for easy storage. The ability to adjust resistance by using one of three different resistance bands is a nice feature. The bands are color coded, with Blue for Level 1 (15 pounds), Yellow for Level 2 (25 pounds), and Orange for Level 3 (35 pounds). You can also use up to two bands at once, meaning you can achieve a total of 60 pounds of resistance if you use Level 2 & 3 together.
It could be argued that the exercises performed while using Wonder Arms can be duplicated by doing simple push-ups. Additionally, although there are padded arm rests, it may take some time to adjust the sensation of pressure in that area of the arm while the device is in use. On the other hand, push-ups can cause strain to your wrist joints, whereas this does not occur with Wonder Arms.
One potential drawback of any device which uses resistance bands is that resistance is not constant. When you first push on the device, the bands provide little resistance. As you continue through the motion, the bands become tighter and offer more resistance.  This "variable tension" is typically seen as a minor drawback to resistance bands.
Overall, I'm a little surprised (in a good way) at how much resistance is offered with Wonder Arms. The instructions state that you can buy 45 pound and 55 pound bands, although I couldn't locate them at the Wonder Arms store website as of this writing.
Alternatives
The variety of chest/arm exercisers on the market is daunting. Many of the exercises achieved with Wonder Arms can be duplicated with a simple training band device, such as this $9 set.
Video Review
Below is my full review of Wonder Arms.
Your Wonder Arms Reviews
Have you used Wonder Arms? Give us your thoughts by leaving a comment below and a star rating above.
Updated June 2017.