Wonder Wallet Ultra Light is a durable wallet that has double the capacity of regular wallet, but is five times thinner. Does it work? Read our Wonder Wallet Ultra Light review.
Sponsored Links
About Wonder Wallet Ultra Light
Wonder Wallet Ultra Light is a thin billfold made of woven Tyvek fibers. It features a patented wide design that holds twice as much as a traditional wallet. The product website is wonderwalletultra.com, which was first registered in February 2017. The screen shot below shows how the product website looked in March 2017.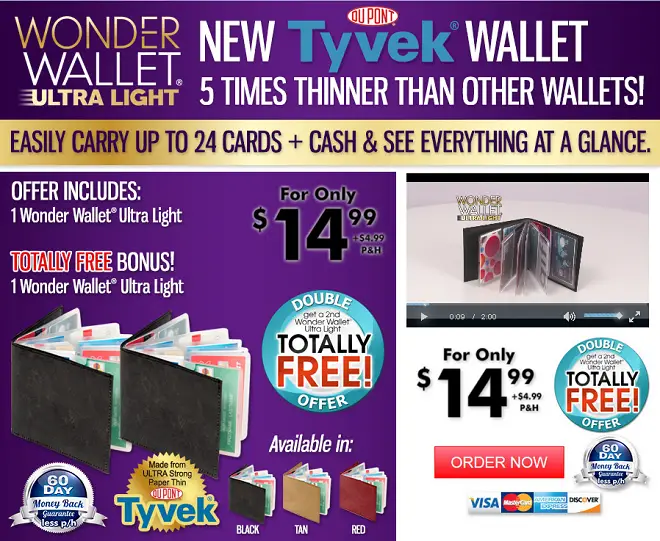 Claims & Features
5X slimmer than ordinary wallets
Make of sturdy woven fiber Tyvek
Looks like real leather
Holds cash & up to 24 cards
See everything at a glance with patented wide design
Built-in RFID blocking
Can be used by males or females
Comes in three colors: black, tan, or red
Cost
Wonder Wallet Ultra Light costs $14.99 + $4.99 P&H for a total of $19.98. This is a mandatory free double offer which includes two wallets. As of this writing, this offer is not available in stores.
Wonder Wallet Ultra Light Review
If the name "Wonder Wallet" sounds familiar, you have probably seen ads for the original Wonder Wallet which was heavily advertised a few years ago. That product was met with mostly positive reviews, and now we have its follow-up: Wonder Wallet Ultra Light. Is this an improvement over the original?
It was only a couple of years ago that the As Seen on TV world was inundated with wallets such as Lock Wallet and Dura Wallet. Many of these jumped on the RFID-blocking bandwagon, while others offered more space, as was the case with Wonder Wallet. That item was advertised as two times thinner than a regular wallet. The problem with that item was that it was thinner, but also wider. It was a compromise not all consumers liked.
Sponsored Links
Now with Wonder Wallet Ultra Light, we are told to have a wallet five times thinner. Oddly enough, both the original Wonder Wallet and the new Wonder Wallet Ultra Light are stated to hold 24 cards. I'm not sure if the new Tyvek material is significantly thinner than the original, or how they can account for much of a difference between the two.
The screen shots below are taken from the original Wonder Wallet commercial, and the Wonder Wallet Ultra Light commercial. You can see that both use a similar demonstration, and claim that each holds 24 cards.
The thinness of the original Wonder Wallet wasn't the problem, so I'm not sure they needed to make an even thinner version. The primary complaint with Wonder Wallet was that it was simply too large. Because of the way it is designed, the dimensions of Wonder Wallet Ultra Light may save space in thickness, but the other dimensions are larger than standard wallets. It can feel more like having a small paperback book in your back pocket.
I believe that some consumers will love the fold-out design, especially those who carry a lot of cards on them. If you're expecting a more compact wallet, however, you may be disappointed. It is thin, but not necessarily compact in all dimensions.
It does appear that the original Wonder Wallet is being phased out in favor of this item. I recently saw the original Wonder Wallet marked down at a Kmart here in Las Vegas for $5, and the original product website now forwards to the newer version.
Alternatives
You can still find the original Wonder Wallet online for about $14, and it holds mostly positive reviews. This Aprince wallet sports a similar design and even higher consumer ratings.
Your Wonder Wallet Ultra Light Reviews
What do you think of Wonder Wallet Ultra Light? Tell us what you think by leaving a comment below and a star rating above.