Znapeez are design tiles which can be used to create anything you can imagine. Do they work? Read our Znapeez review.
Sponsored Links
About Znapeez
Znapeez geometric tiles which snap together and can be used to create anything from novelty clothing accessories to toys. The official product website is znapeez.com, which was registered in November 2011. Below is a screen capture showing the official website as it appeared in August 2016.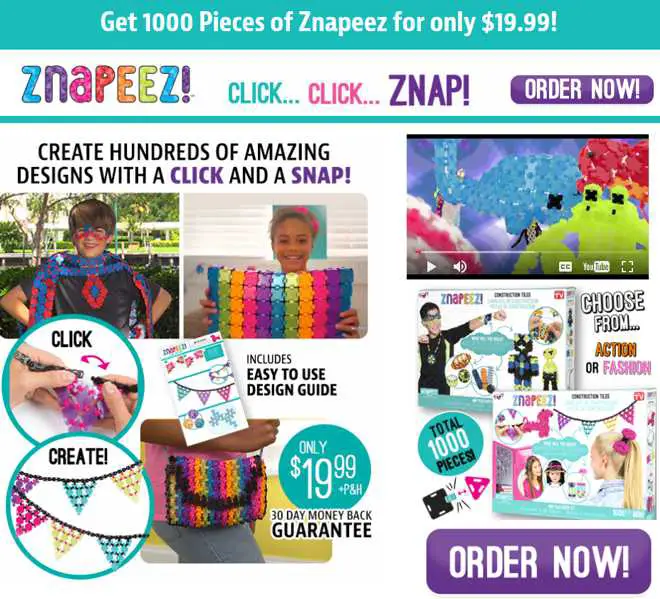 Claims & Features
Create with just a click and snap
Two sets: Action or fashion
Create accessories, toys, games, or decorations
Make creations from geometric tiles and "znap" closures
Cost
You can purchase the Fashion or Action sets for $19.99 + $8.99 P&H. This includes 1000 pieces per set. Purchasing additional sets will get 10% off and free shipping.
As of this writing, we haven't seen Znapeez in stores.
Sponsored Links
Znapeez Review
Znapeez (pronounced "Snap-ease") are geometric tiles for kids that are "znapped" together to form fun and interesting designs. There are two sets, one designed for boys and the other for girls (named "Action" and "Fashion" respectively). Each set includes several different types of tiles and colored connectors. Each tile has notches which the connectors can easily snap into place.
Anyone who has played with Legos or TinkerToys can relate to the fun that can be had with an open-ended creation set like Znapeez. There are a variety of shapes such as triangles, squares, and rectangles, which allow kids to freely create from their imagination.
Each set includes a design guide, but you'll find that most kids will simply enjoy making their own creations on the fly.
It may not be reasonable to expect kids to create final products as impressive as shown in the advertising, but we don't think that will matter to kids who will quickly become absorbed in the creation process. This kind of toy sparks creative thinking and improves manual dexterity.
Znapeez has a familiar feel to it, as it could be categorized alongside other toy building sets (see below), but it is also unique in its own right. Unlike Legos, for example, Znapeez are not bulky, which means you can create flat objects which can be worn, such as a cape or vest.
We like Znapeez, and we're pretty sure your kids will, too. Perhaps the only "con" we can find with the product is that it isn't available in stores as of this writing, meaning you'll have to endure shipping costs and delays.
If your child likes toy building sets, they'll like Znapeez.
Alternatives
There is no shortage of toy building sets, such as K'Nex or TinkerToy. Recent reviews here include ImagiPen, Bendaroos 3D, Gemmies, and Morpheez. While there are all solid products in their own right, they are not quite the same as Znapeez.
Television Commercial
Your Znapeez Reviews
What do you think of Znapeez? Give us your opinion in the comments below and leave a star rating above.