FinalTouch X10 is a kitchen thermometer by ChefsTemp that offers several features not found in many standard kitchen thermometers. Today I offer my review.
Sponsored Links
Where to Purchase
The FinalTouch X10 is only available through the official ChefsTemp website. The price ranges from $69-$99, and the company offered readers of this site a coupon code for $10 off with the discount code "freakinreviews." When I asked the company about availability, I was told that they avoid Amazon due to the questionable quality of many products there.
Claims & Features
1 second reading
Bright backlight
Waterproof
High accuracy
Range from -22F to 572F (-30C to 300C)
Display rotation
Hold button
Magnetic
FinalTouch X10 Review
I've gone through a number of kitchen thermometers over the years, and the issue with most of them tends to be the slow speed at which they take to provide a final reading. Another common issue is that the auto shutoff time on some of these cheaper thermometers tends to be too quick, requiring the unit to be turned back on while measuring temperature. I had a FinalTouch X10 sitting on a stack of mail until I needed a thermometer one day – and decided to try it out. The company later sent me another one, perhaps not realizing they had already sent one months earlier.
My immediate reaction to the FinalTouch X10 was positive. The quickness of the reading is what first impressed me, but I have grown to appreciate the thermometer's "ambidextrous" design in which you can flip it 270 degrees and the readout will adjust to your orientation. This is due to its unique ability to rotate the screen.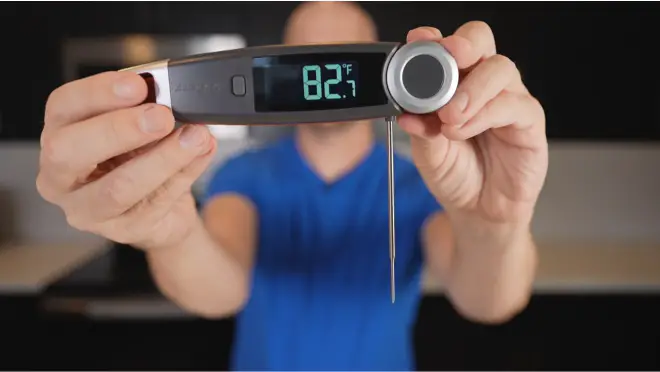 In my official review of the product, I showed it going from boiling water to a bowl of ice water in comparison to a cheap model by Taylor. There was no competition when it came to speed of measurement. The FinalTouch X10 reached both the hot and cold readings far faster than the cheap Taylor thermometer I tested out.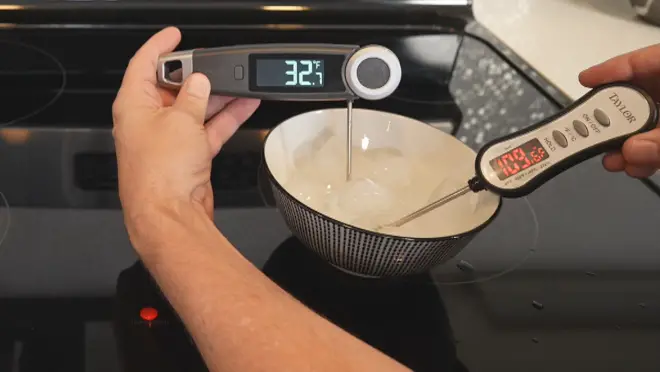 My only complaint about the FinalTouch X10 is that switching between Fahrenheit and Celsius requires removing the back cover to press a button. It seems like they could have integrated that into a long-hold on the thermometer's only button (which is used to hold the temperature reading). That is a minor complaint in an otherwise elegant kitchen thermometer.
The ability for the FinalTouch X10 to magnetically stick to a fridge is an underrated feature, but it is a nice touch.
After just one use, this became my go-to thermometer, and I have been using it for about a month now with no major concerns thus far. It's a bit expensive, but the higher cost is easy to justify when it works so much better than competitors in the $15-$25 range.