Gotham Steel Crisper Tray is a nonstick crisping rack that allows you to create fried foods in the oven. Does it work? Read our Gotham Steel Crisper Tray review.
Sponsored Links
About Gotham Steel Crisper Tray
Gotham Steel Crisper Tray is a crisping basket which can be used to make fried foods in the oven. The official product website is gothamcrisper.com, which was registered in December 2016. The screen shot below was taken of the product website in January 2017.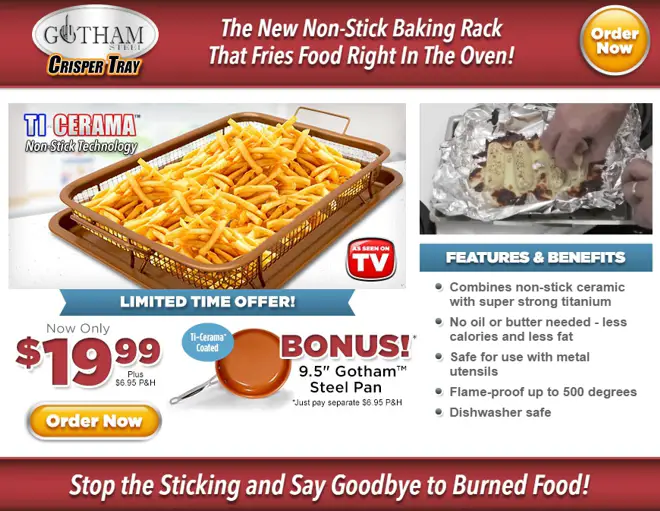 Claims & Features
Made from nonstick ceramic and titanium
No butter or oil necessary
Can be used with metal utensils
Flame-proof up to 500 degrees
Dishwasher safe
Cost
You can get Gotham Steel Crisper Tray for $19.99 + $6.95 P&H. You have the option to add a 9.5″ Gotham Steel Pan for another $6.95 P&H. That brings your total to $26.94 for just the crisper, or $33.89 if you add the bonus pan.
As of this writing, Gotham Steel Crisper Tray isn't available in stores, although it is listed as an online purchase on Walmart's website.
Gotham Steel Crisper Tray Review
The Gotham Steel brand has inundated airwaves in recent months with a variety of kitchen products. Now with Gotham Steel Crisper Tray, we are said to have the ability to create fried foods right in the oven. But does the reality live up to the hype?
Sponsored Links
This crisping basket comes in two parts: A mesh basket and a pan, both of which are nonstick. The mesh basket is designed to let warm air heat food from all directions, creating a more evenly cooked end result. Grease will drip away from the food and onto the pan below, rather than into the oven. This, we are told, helps create healthier foods.
I purchased a Gotham Steel Crisper Tray, and overall I think it does a pretty good job, with a few caveats.
A mesh crisping basket like this is better suited to some foods than others. Pre-cooked items that you'd normally heat in an oven (tater tots or mozzarella sticks, for example) are heated more evenly because of improved airflow. There is also no need to flip foods cooked in the Gotham Steel Crisper Tray because there is no flat surface touching the food. It works fantastic for leftover pizza.
There are, however, some foods that may present other challenges when cooked in this crisper. For example, there are times you want a hot, flat surface touching your food. Meats and raw french fries, for example, could take much longer in the Gotham Steel Crisper Tray because of the lack of direct contact with a heated surface.
Cleaning the basket portion of the Gotham Steel Crisper Tray is somewhat unusual because water passes right through it. It is best to use a large soapy sponge with warm running water in order to remove food debris. It holds up well in the dishwasher, but it seems to be easiest to simply use a sponge.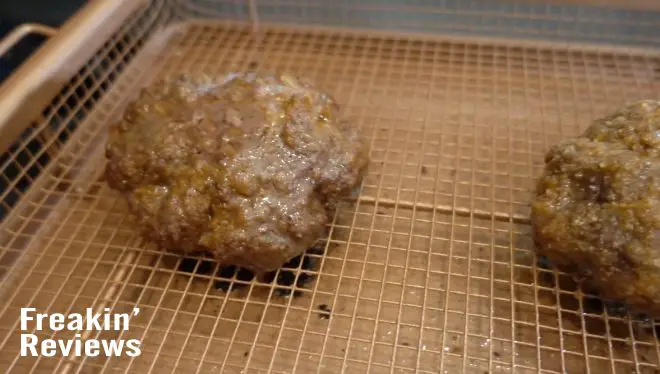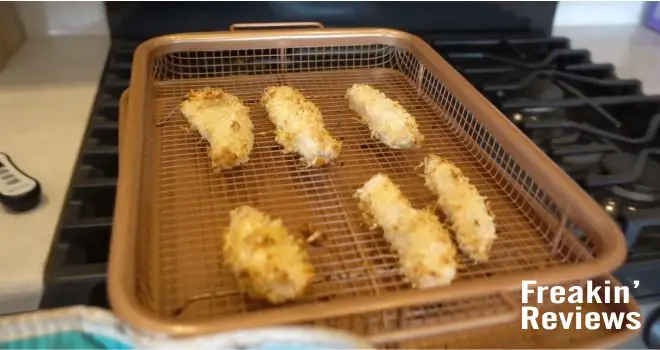 As with most nonstick surfaces, the impressive nonstick properties will probably degrade over time, as has started to happen with my Copper Crisper (seen in the comparison video below). This is less problematic with the mesh basket, as little surface area ever actually touches food.
Size-wise, Gotham Steel Crisper Tray is not very large, and will probably make enough food for two people, depending on the dish you're making.
Overall, I think most consumers will find this to be a decent addition to their kitchen arsenal, although it probably won't replace traditional pans for meats or other items that need a hot, flat surface.
Alternatives
If the advertising for Gotham Steel Crisper Tray looks familiar, you may have seen advertising in recent months for a nearly identical product called Copper Crisper (review). That As Seen on TV product is virtually indistinguishable from Gotham Steel Crisper Tray, and can be found in stores for about $20. You can also watch my hands-on review of Copper Crisper in the video below.
There are similar crispers than can be found online such as this Mesh Basket and Screen, which costs about $14. There are also a number of oven crispers which come in a variety of designs and prices.
Television Commercial
Your Gotham Steel Crisper Tray Reviews
Have you used Gotham Steel Crisper Tray? Let us know what you think by leaving a comment below and a star rating above.
Updated April 2017.