Today I'm taking a look at four random products sent to my PO Box to see how they work. It's been about 9 months since I last did a mail time review, so I perused my stack of mail to find a few items I think you'll like.
Sponsored Links
Where to Purchase
Spina by Dreamfarm
When I saw the Spina by Dreamfarm in my PO Box, I knew I wanted to try it out. Dreamfarm is an Australian-based company that puts out a host of unusual gadgets that typically offer a new spin on traditional inventions.
Spina derives its name from its function as a spin and strain colander. There are two primary parts to Spina, the handle and colander. The handle can be rotated 90 degrees and locked in place to the side or as the spinner (upright). It can be locked or unlocked by a simple twist.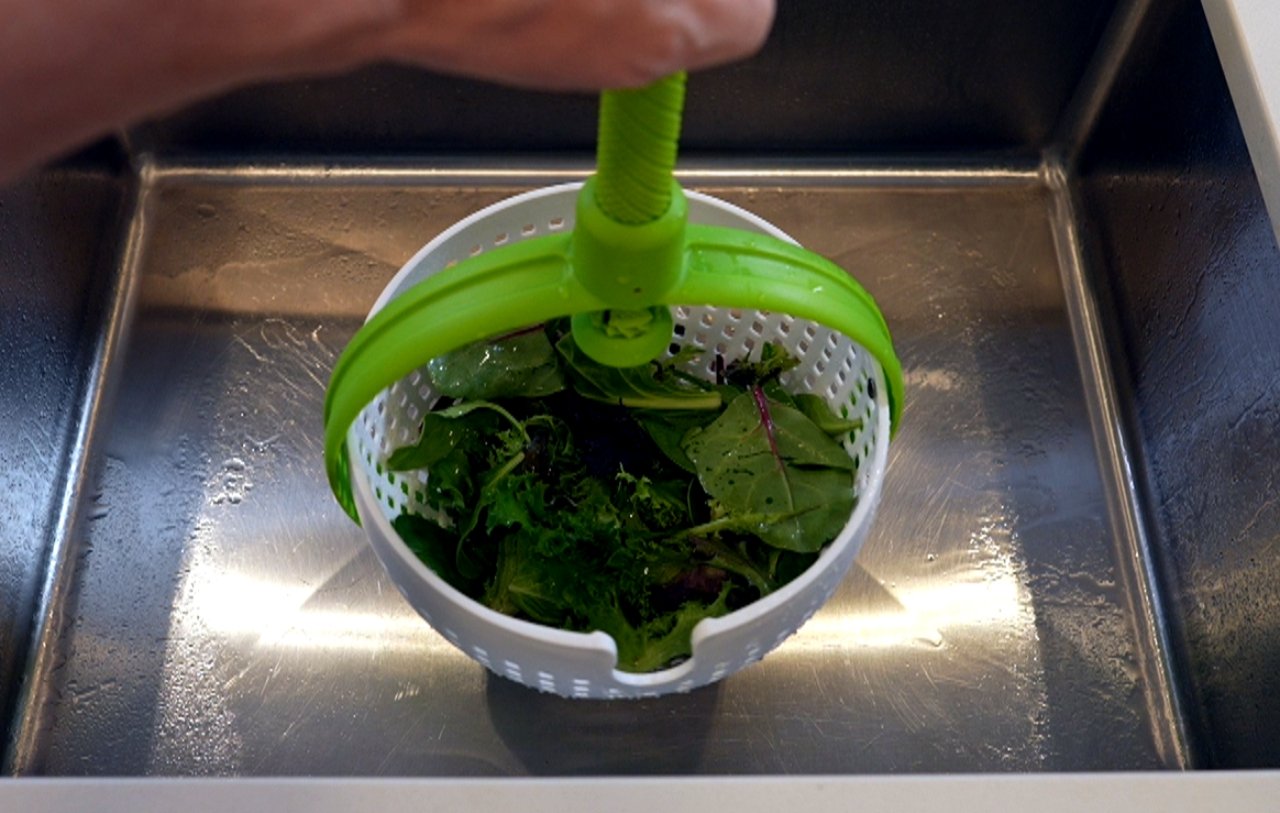 To test out the Spina, I tried several different items, including greens, grapes, and broccoli.  In my first test, I kept the handle locked to the side and loaded up the colander with greens, and cleaned them using my sink's sprayer. I then raised the handle and began pressing downward repeatedly in order for the unit to spin. I was surprised at how easy it was and the fact that none of my greens went flying across the room.
Test number 2 was a portion of grapes. I repeated the process and it worked flawlessly once again, except for a single grape that escaped toward the very end. Finally, I decided to over-fill to the unit with broccoli to see how much would come out during the spinning process. Even though some broccoli did eject, the majority of it stayed within the colander.
My final take on the Spina is that it works exactly as advertised, and those who purchase it will likely be pleased they did so.
Pros: Fun and effective way to spin and strain.
Cons: Lacks a lid you'll find with traditional salad spinners.
Pick up Spina from Amazon here or direct from the Dreamfarm website.
Cup Cozy Pillow
Cup Cozy Pillow is a cup holder and organizer that can hold three or five items (depending on the model). Photos on the packaging show it being used in the bedroom, in a car, at the beach, on a couch, or just about anywhere else you might need to hold a few drinks or other small items. Both models have two holes with cutouts to accommodate cup handles.
The company sent me the three-hole and five-hole versions, which I tested out around the house. First I tried it on my couch to see how it would hold a variety of cups and glasses. Although not every cup fit into every hole, I did find that the Cup Cozy Pillow was able to hold about everything I threw at it. In some cases, I had to rearrange the cups so that the larger items were in the larger holes. Other times I found that some of the holes were too big for smaller items such as a soda can. I didn't find those minor issues to significantly affect the experience using the Cup Cozy Pillow.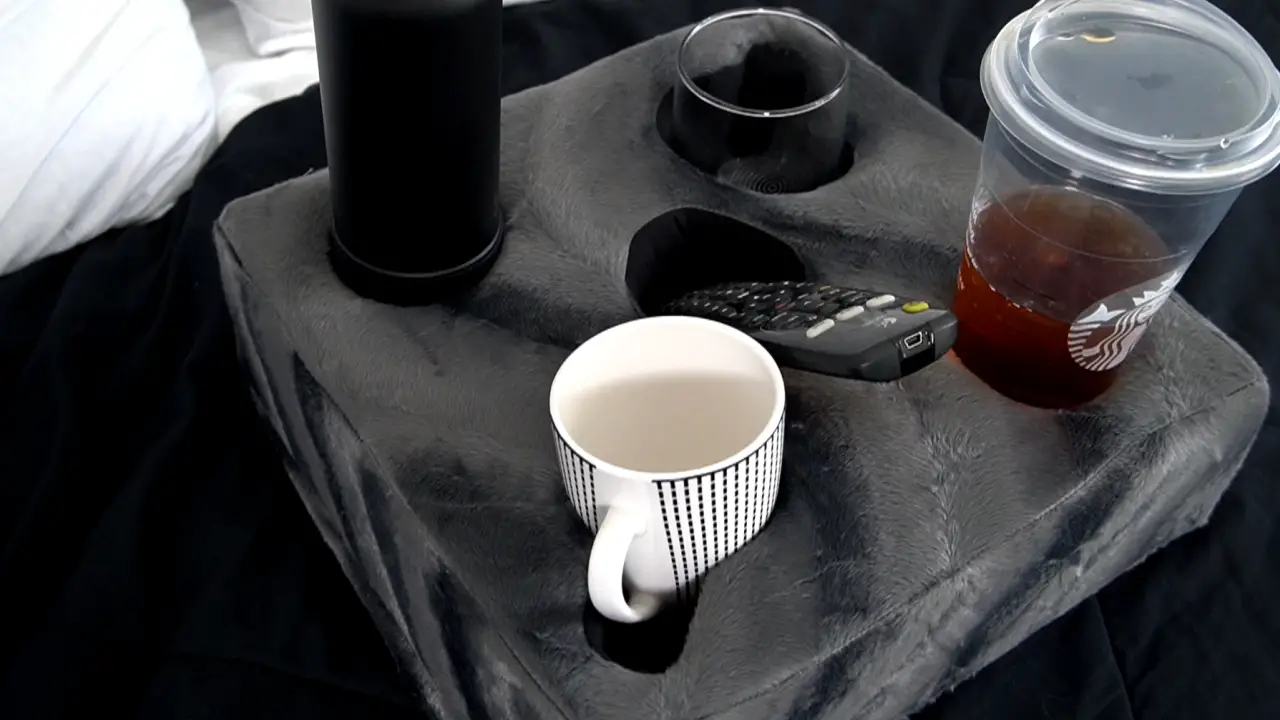 I also tried the Cup Cozy Pillow in the back seat of my car to see how it might replace my built-in cup holder and it did perform well in that setting, offering me one additional cup holder over my existing configuration. It held not only two drinks, but a couple of snacks in the larger center cutout. My final test was in bed, where I tried a few cups with a remote control, and once again it performed as hoped. Even though they make no claims that it will offer any sort of spill protection, it does seem to help prevent spills to some extent.
Pros: Simple but effective way to add cup holders in bed, on the couch, or other places.
Cons: Cost of $30-$35 seems a bit steep for the materials used.
Pick up Cup Cozy Pillow from Amazon or direct from the official product website.
No-Tie Laces
I've reviewed two other no-tie shoe laces in the past: X-Pand Laces and Lock Laces. Both of them I liked very much and have recommended numerous times since reviewing them. So when I received yet another package of no-tie laces in the mail, I wasn't sure if I wanted to review them at all. Instead, I let my son pick out a color he liked and told him to report back to me if they were worth reviewing. A couple months later he mentioned that he was still using them and suggested that I give them a try.
These laces feel like silicone and include 16 per pack, which can accommodate shoes with up to 8 holes each. They come in a variety of colors, but I opted for white in order to show them more clearly on my black shoes. Installation is just a matter of inserting the ends through the holes, although I have to say this process took longer for me than stringing regular shoelaces. Once the shoes were laced up, however, they became slip-on shoes.
I've been using these for well over a month and my son has been using them daily for about 4 months where he works in a shop setting. Not only have they held up, but they have not stretched and haven't even scuffed. It's a simple and inexpensive way to convert almost any pair of shoes into slip-ons.
Pros: Durable. Converts any shoe to a slip-on.
Cons: Installation may be difficult. Not compatible with no-shoes using loops or alternative lacing designs.
You can pick up these no-tie shoe laces here.
Cable Organizer
Cable management has never been one of my strengths, so when this cord organizer arrived in the mail, I thought it might be a good fit for me. "Organizer" is a rather broad term, so in this case we have a device that holds the tips of up to 7 cables to keep them neat and out of the way. Between three cameras, an audio recorder, Ray-Ban Stories, two phones, and a host of other small devices, I constantly find myself switching among different USB cables and other types of connectors, so this seemed like an obvious choice for me.
The organizer has seven slots of varying widths in order to accommodate different thicknesses of cables. I paired it with a 7-port USB hub that was also sent to me in order to get a handle on the numerous cords I shuffle through on a daily basis. It is much heavier than it appears, which helps keep it in place when you pull or push cables through the slots.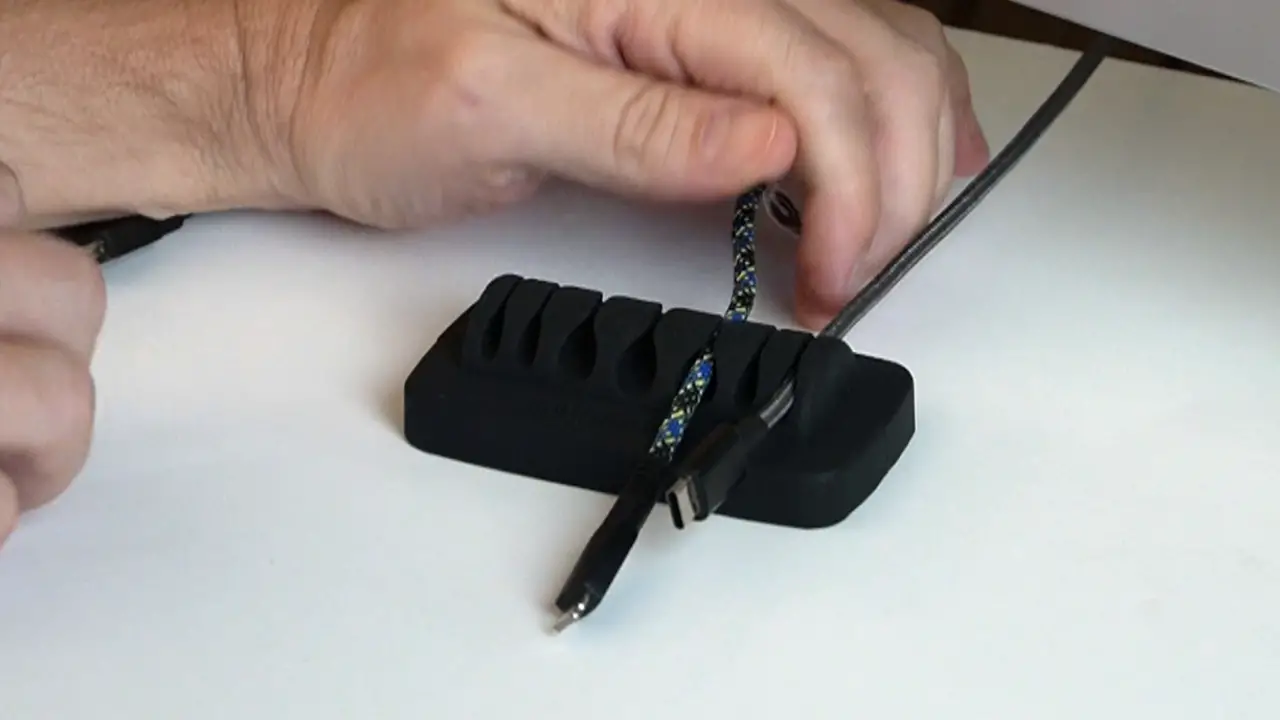 I decided to feed the four most common cables I use through the Cord Organizer which will allow me to connect my cameras, phones, and other common devices without having to swap USB ports and without having them wind up on the floor in a spaghetti mess of wires.
To use the holder, you simply snap your cables into one of the slots, then pull it through when you need to use that connector. When you're done, you simply push it back so that the tip rests against the organizer. It's a simple yet effective way to keep cables in place.
Pros: Simple solution to keeping cords organized and out of the way.
Cons: Still moves around a little despite the weight. Requires long cords to work.
The company that sent me the cable organizer sells it on Amazon at this link.
Conclusion
I only get to review a fraction of the items sent to me, which is unfortunate, but that at least allows me to pick out some of the more interesting items among dozens sent to me every month. I think all of the products featured in this collection are true to their marketing claims and work as advertised.
Be sure to watch the full Mailtime #7 video below!