It was almost exactly a year ago that I compared and ranked five of the most requested pillows at the time. This year I decided to come back with yet another pillow comparison, this time examining five of the top brand names to see how they stack up. Just like last year, I had two others helping me out, and we recently got together to compare notes from our tests. It's probably worth acknowledging that these brands have numerous pillows, but I tried to stick with those that are most common, flagship pillows, or most readily available. I could have chosen any combination of pillows, but this seemed to me to be the best of the popular brands that were available to me at the time.
Sponsored Links
Where to Purchase
Before we get to the details, below are the five pillows in today's review, and where to buy them:
Just like my pillow comparison a year earlier, these five pillows were tested over a period of six weeks, with myself and my two others (Brandon and Jacey) each trying one pillow per week. We did this for five weeks until we had tried all the pillows, and for Week 6 we went back to refresh our memories of any pillows we thought required a second look.
Below are the pillows in alphabetical order, with our individual ranks below each one. You can find our consensus rank at the very end.
Casper Original
Casper is one brand I knew I wanted to include in a comparison of popular pillow brands, as it has also been requested of me many times over the years. This pillow is regularly $65, but I purchased it on sale for $55.25. The company states that it is a down alternative with a pillow-in-pillow design, with each pillow containing different types of fibers. It is also said to be clump resistant. When purchasing this pillow, Casper helps you decide if you want the mid-loft or low-loft design. It was suggested that I go with the low-loft model, although I later wondered if I should have gone with the mid-loft instead, which I'll discuss in a moment.
I've used down pillows on and off throughout my life, so this one was of particular interest to me. I am happy to report that it does in fact feel quite similar to a down pillow, so if that is your preferred pillow style, this may be one to consider. When I first tried out the Casper, I noticed that my head sunk almost completely down to the mattress. As someone who prefers thin pillows, this doesn't seem like much of a problem, however in this case it was not a desired effect. The sides of the pillow fluffed up as my head resided in the middle, creating an almost claustrophobic sensation. I managed to remedy this by sleeping toward the side of the pillow rather than the center, but in the end I decided that this was not a pillow that suited my needs. If you like down pillows and want to try the Casper, I suggest starting with the mid-loft, unless you like very thin pillows.
Among my two other testers, Jacey also shared my opinion, although Brandon reported that he wasn't bothered by the thinness, and felt that the pillow was perfectly fine.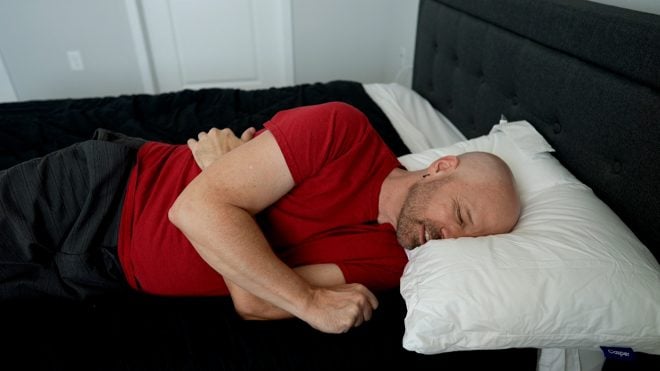 Brandon's Rank: 3rd out of 5
Jacey's Rank: 5th out of 5
James' Rank: 5th out of 5
I bought mine at the official Casper website.
Sealy Memory Foam Gel Standard Pillow
Sealy is another brand that I felt belonged in a comparison of name-brand pillows. When I saw this interesting gel memory foam pillow at a local Big Lots for a mere $35, it seemed like the perfect fit. The packaging states that it includes "Comforting memory foam with a refreshing gel layer for cool comfort."
My experience with solid memory foam has been hit or miss over the years. I would say my favorite pillow of all time is a solid memory foam pillow by Beautyrest (Aquacool), but I also highly disliked an expensive Tempur-Pedic memory foam pillow (see video below), as well as the Nectar Mattress (link to video). In the case of this Sealy, however, this is a thin memory foam that doesn't feel as dense as some of its competitors.
The thickness and denseness of the Sealy felt just right to me, and I felt like I was able to sleep restfully on it without needing an adjustment period that other pillows require. The gel side feels cool to touch although it eventually warms up to the temperature of your skin. I didn't particularly like the texture of the gel side because it felt too "plasticky" for my bald head. My fellow reviewers didn't seem to mind as much, so maybe that was just a "bald thing." Overall, this Sealy pillow is a great offering and I think most people would enjoy this one.
Even though I ranked this as my #2 pillow of this batch, the consensus among the three of us placed the Sealy as the best of them all.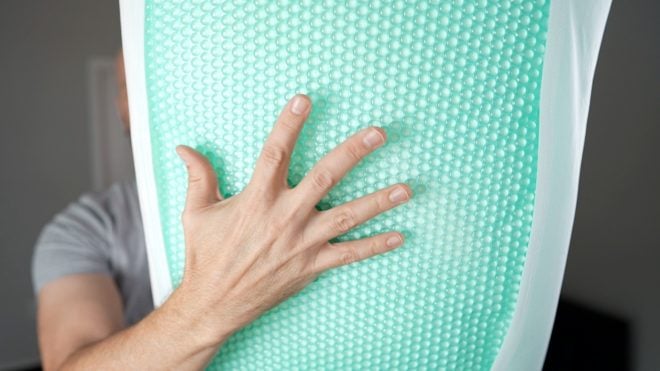 Brandon's Rank: 1st out of 5
Jacey's Rank: 1st out of 5
James' Rank: 2nd out of 5
I bought mine at Big Lots for $35 (although it was $40 the last time I checked). You can find it here on Amazon.
Sleep Number ComfortFit Classic
When choosing which pillows to include in this review, Sleep Number was one of the obvious brands to select. They offer several different pillows, so I decided to go with one of their "classic" models because they are the most well-known among the buying public. Even after deciding on the ComfortFit model, I had to choose among Classic, Curved, and Ultimate versions. Again, I went with "classic" due to public name recognition.
The company claims that this pillow is ideal for any type of sleeper. It contains a blend of memory foam and down alternative fibers, so it could be described as a "hybrid" in that respect (I should point out that the company doesn't use this word). The cover is said to be hypoallergenic and good for allergy sensitive sleepers.
Upon first testing this out, I noticed how unusual the filling felt to my hands. It has a smoother texture than traditional shredded memory foam pillows, perhaps due to the inclusion of down alternative fibers. It's a pleasant feeling that is difficult to describe. Despite how nice it felt to my hands, I was much less impressed with how it functioned as a pillow, however. It didn't seem to conform or "give" as much as some of the other filled pillows. It was the only pillow in this group that gave me a headache after one night. Even though I acclimated to it over a week, it just never felt like a pillow I looked forward to using. An adjustable version of this would probably be a very nice pillow. As is, however, I was only moderately satisfied.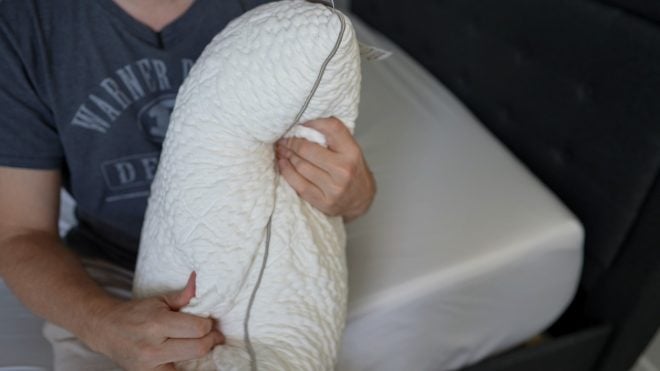 Brandon's Rank: 5th out of 5
Jacey's Rank: 3rd out of 5
James' Rank: 3rd out of 5
I bought mine from the official Sleep Number website.
SnugglePedic Original Bamboo Memory Foam
SnugglePedic's Original Bamboo Memory Foam pillow is the only one in this batch in which I purchased a king-size pillow – because the standard size was sold out everywhere at the time. Is that a sign of this brand's immense popularity? The company states that this pillow is filled with a proprietary mix of shredded memory foam and claims that it is good for all types of sleepers, providing a balance of firmness and support. The "Kool Flow" bamboo cover is said to allow air to flow through the pillow to help keep you sweat-free. The contents of this pillow can be "adjusted" via manipulation (as opposed to adjustable pillows that allow you to add or remove filling).
My first reaction to the SnugglePedic was similar to that of the Casper, with my head sinking far into into the material, farther than I would have preferred. I found that their claim of being able to manipulate the contents to adjust the pillow is accurate, however I also found that the filling tended to move around even without my help. Thus, I often found myself waking up with my head sunken deep into the pillow, with the filling having parted ways for my heavy noggin.
It's a nice pillow overall, and a respectable shredded memory foam offering. I just felt that it wasn't as good as some of the other choices in this batch.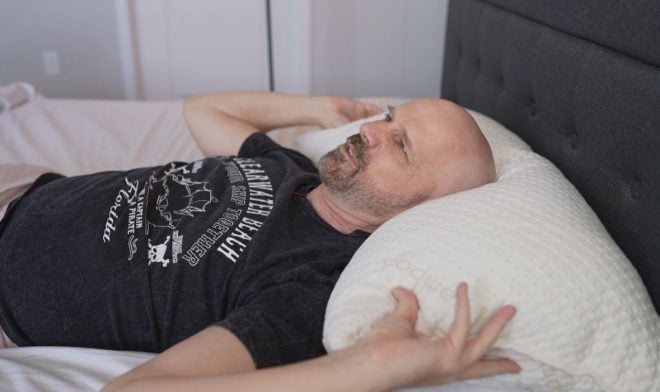 Brandon's Rank: 4th out of 5
Jacey's Rank: 4th out of 5
James' Rank: 4th out of 5
I picked up mine from Amazon, found here.
Tempur-Cloud Adjustable
When planning this comparison, Tempur-Pedic was on my short list of brands to try, so then it was just a matter of which of their pillows to choose. I picked the Tempur-Cloud Adjustable based on past viewer requests and apparent popularity of this model. In addition to being able to fluff or scrunch this pillow, as you can with most shredded memory foam pillows, this one includes a zipper which allows you to remove filling if needed. The company states that this pillow includes a mix of multiple types of foam that create the right balance of support and comfort.
Unlike other adjustable shredded memory foam pillows I've reviewed in the past, this one did not come with extra filling in case the pillow wasn't firm enough. Thus, you can remove filling to make it thinner but you can't add filling to make it thicker. That did not seem to be a problem for the three of us, and none of us felt it wasn't thick enough.
My first test of the Tempur-Cloud Adjustable did not make much of an impact. I was neither highly impressed, nor disappointed. It felt like a pretty standard pillow. Over the course of the next week, however, it became apparent to me that this pillow had just the right blend of softness, support, and comfort to make it my top pick of the bunch. Even though I had the option to remove filling, I never found that I needed to do so. Jacey also did not remove filling, but Brandon took out about a third of the filling to suit his needs. In the end, all three of us ranked this one as one of our favorites.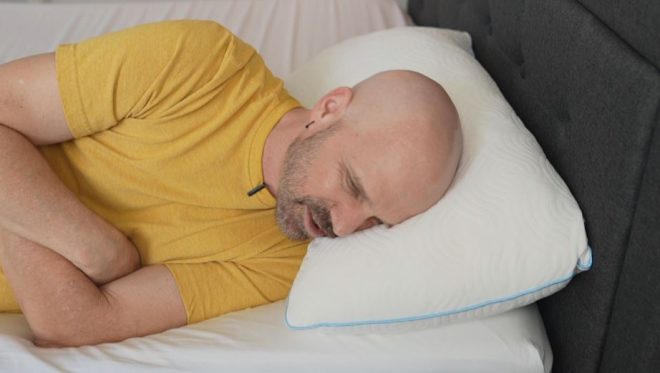 Brandon's Rank: 2nd out of 5
Jacey's Rank: 2nd out of 5
James' Rank: 1st out of 5
The best place to get this pillow is direct from the Tempur-Pedic website.
Final Rankings
All three of us agreed on the top two pillows on this bunch, so I'm pretty confident that most consumers would be happy with either one of them. The other three certainly have their merits, but just weren't a good fit for our small group. Below are the final rankings from all three testers.
Brandon's final ranking:
1. Sealy
2. Tempur-Pedic
3. Casper
4. SnugglePedic
5. Sleep Number
Jacey's final ranking:
1. Sealy
2. Tempur-Pedic
3. Sleep Number
4. SnugglePedic
5. Casper
James' final ranking:
1. Tempur-Pedic
2. Sealy
3. Sleep Number
4. SnugglePedic
5. Casper
When you tally up all of our ranks, the consensus rank is as follows:
1. Sealy
2. Tempur-Pedic
3. Sleep Number
4. SnugglePedic
5. Casper
Watch the videos
Below you can watch the full video and hear our discussion about each of these pillows.
Don't miss out my 2020 pillow comparison below.
Here is an older comparison of what ended up being my favorite and least favorite memory foam pillows.