Today I'm taking a look at a bacon press and griddle by Nostalgia Brands. It can supposedly make an entire breakfast in one compact appliance. Let's see how it works in today's review.
Sponsored Links
Where to Purchase
I purchased my unit on Amazon (link) for $41.98 in July 2022. You may want to check the official Nostalgia listing to see how it compares to Amazon, although the last time I checked it was $70. They also have a yellow Oscar Mayer branded version, also for $70 as of this writing.
I have noticed that this is sold under the Nostalgia brand and also the HomeCraft brand. There doesn't appear to be any difference, and I believe those brands are both owned by Nostalgia Brands.
Nostalgia Bacon Press & Griddle Review
This unique appliance features two small griddles, a center plate for bacon (which is not heated), a drip tray, cool touch handles, indicator lights, kickstand leg supports, and vertical storage. It can be used as a bacon press or a griddle, although it cannot be used as both at the same time – despite photos on the packaging which may lead some consumers to believe you can do it all at once.
To make bacon, you simply plug in the unit and close it to preheat both griddles and the center plate. After preheating the griddle, my thermometer showed the surface around 430 degrees Fahrenheit (221 Celsius). Once the indicator light turns off, you can then open the unit and drape bacon over the center plate.
I tried two different brands of bacon and was able to fit between 4 and 6 strips, depending on the size. From the three rounds in which I tested out this machine, bacon averaged around 4 minutes to complete. Although some online reviewers stated that the bacon needed to be flipped, I did not find this to be the case. I don't know if those other reviewers preheated it per the instructions, however.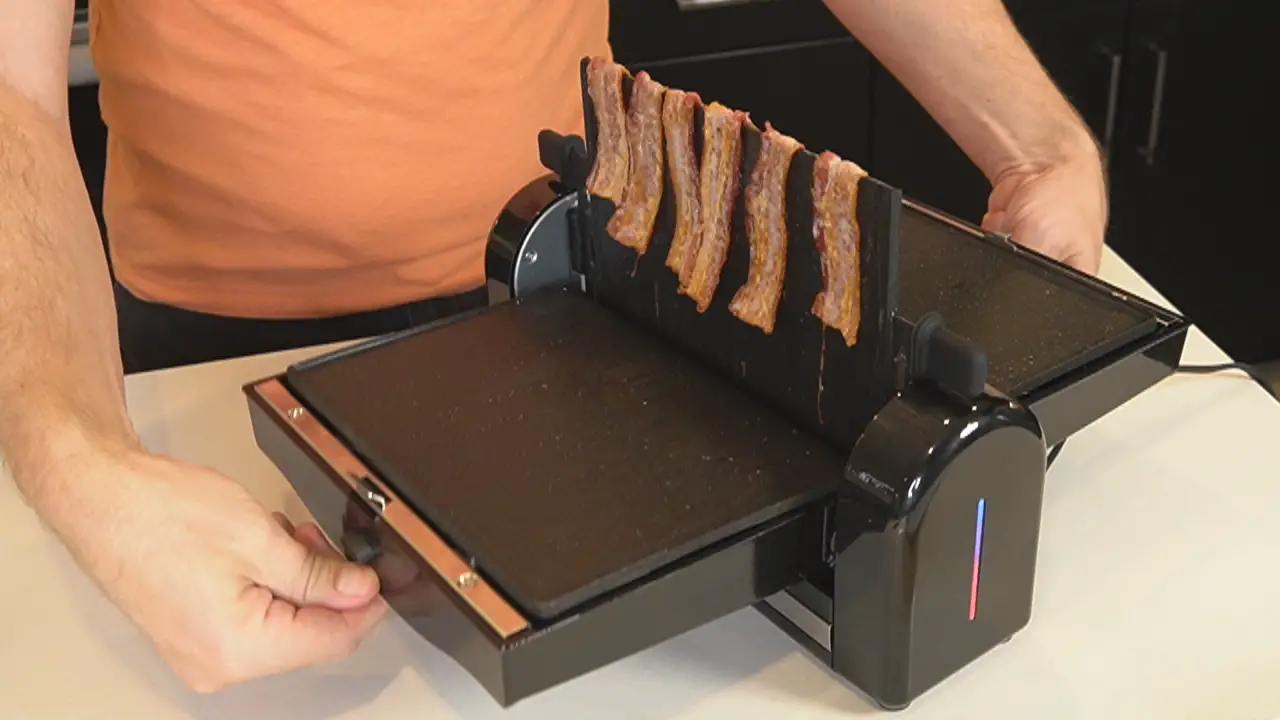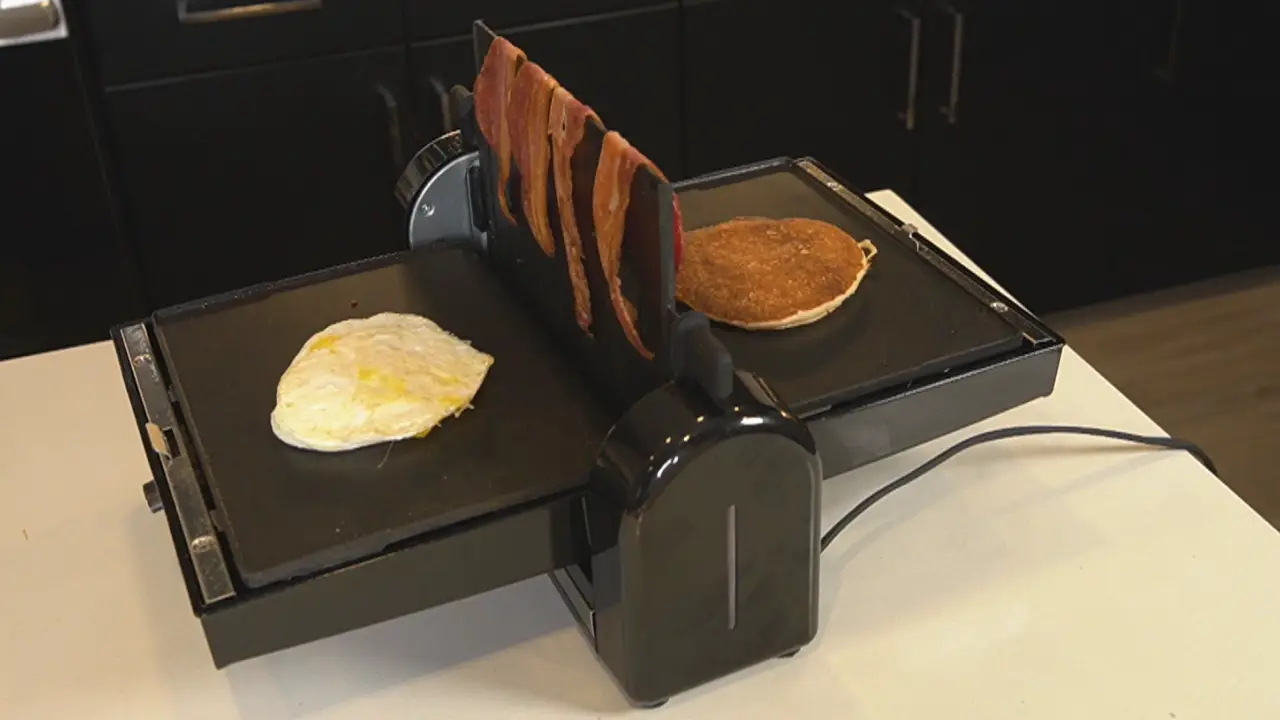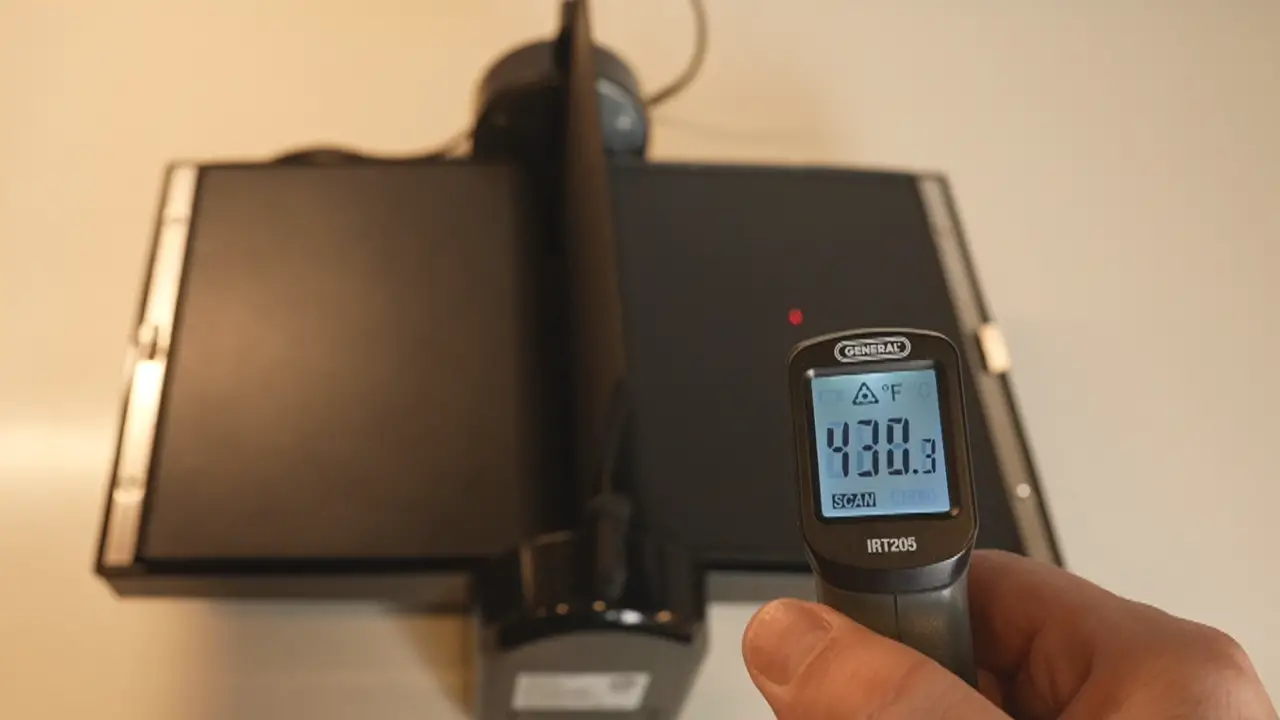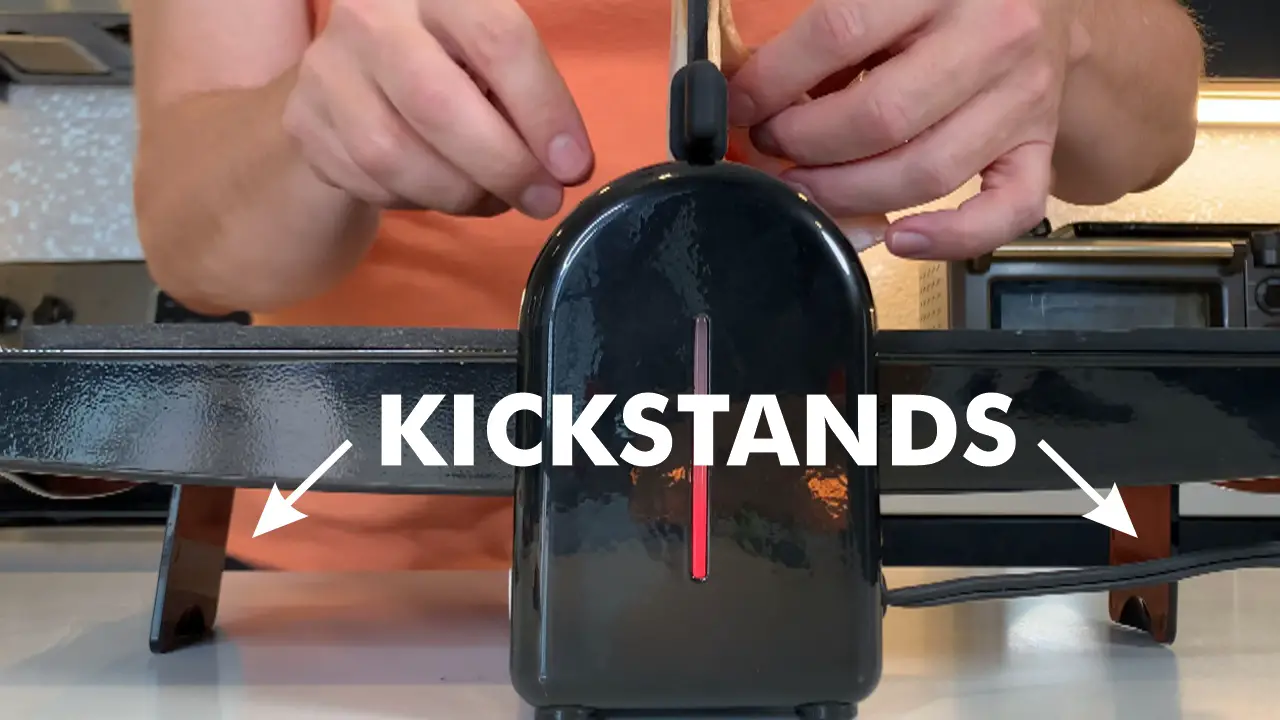 If you want to create a meal that resembles what's shown on the packaging, you'll need to prepare your bacon first and then leave it draped over the center plate to stay warm while using the griddle to prepare the rest.
After bacon is finished, both griddles will have bacon grease on them and will need to be wiped off before moving on to the next step.
The instructions state to use cooking spray on the griddle before using it. I sprayed it with Original Pam for my first two rounds, although I noticed that the spray had a tendency to burn. When I tried a thin layer of avocado oil (with a higher smoke point) for my third round, I did not experience any burning.
One mistake I made in the first two rounds was forgetting to put the kickstand leg supports in place before cracking an egg onto the griddle. Failing to secure the kickstands will allow the egg to flow toward the outside of the griddle. I also realized on my first use that the griddle size was too tight for making two eggs per side, so I went with one egg per griddle after that.
My third attempt at making 4 strips of bacon, 1 egg, and 1 pancake went pretty well. Nothing burned, and the entire process took about 11 minutes.
In the end, I'd say it might take a round or two before you get used to the nuances of using this little device. The packaging may give some people the impression that you can make bacon on the center plate, which is not the case. I didn't find that to be an issue, however, as the 11-minute total cook time felt acceptable to me.
This unit is not for everyone, but I can see there being a use for this in RV's, dorms, or other tight spaces where only one or two people need to be fed.
If you've used the Nostalgia Bacon Press & Griddle, tell me what you think in the comments below.