Today, I'm pitting the two heavyweights of online "deal" shopping against each other: Wish.com and Temu. In recent years, Wish has lost some of its shine, with its logo disappearing from Lakers jerseys, while Temu seems to have taken up the mantle, becoming the new talk of the town. But was our shift in loyalties too hasty? Or was it justified?
To answer these questions, I placed orders for a variety of items from both sites and examined their offerings, shipping, pricing, and overall user experience. This deep-dive is aimed to provide a comprehensive comparison of Wish and Temu, to guide you in making a well-informed choice for your next online shopping spree.
In my quest for answers, I set up side-by-side monitors to compare Wish and Temu. After having used both sites quite extensively, I found that comparing them simultaneously presented some clear differences.
Sponsored Links
TEMU vs WISH
I placed my order from both sites in June 2023. My Temu order arrived 8 days later, while my Wish order arrived after 11 days. Let's first start with the overall user experience, and then move onto the specific products I ordered.
Website Comparison
Starting with Wish, the interface appears quite straightforward. When the site first loads, you are greeted by an array of discounted products. The simple layout, categorized into four-item grids, and affordable prices can be enticing. While the site's design isn't exceptional, it isn't off-putting either. It essentially delivers what it promises: a long list of cheap products, which for some, may suffice.
On the other hand, Temu offers a more captivating experience. Immediately after logging in, I was met with a splash of colorful deals, time-sensitive offers, and clearance sales. I was also able to easily navigate to various product categories. In comparison to Wish, Temu's interface was more visually pleasing and had a modern touch to it. It simply outclassed Wish in terms of aesthetic appeal even before I got down to the specifics of item searching.
Search Function Comparison
Speaking of searching, there were significant differences in the search options offered by Wish and Temu. Wish provides a basic filter that doesn't change regardless of the product category you're exploring. For instance, while looking for men's short sleeve shirts, the filter allowed me to select a star rating and price range. The filter's lack of customizability seemed rather restrictive and could potentially make finding the right product more time-consuming.
On the other hand, Temu offered more tailored options during the search process. For the same "men's short sleeve shirt" search, I could choose between different categories, sizes, and colors, which I found to be very convenient. I was able to zero in on a red t-shirt, for example, by simply selecting the corresponding options.
While I could add these specifications to the search bar on Wish, it seemed a more convoluted process. Furthermore, the search results on Wish weren't as reliable as on Temu. Despite specifying "red" and "medium" for my shirt search, I ended up seeing shirts of different colors and sizes. The problem extended to the pricing as well, where the default prices listed on Wish often pertained to the least expensive options (e.g., extra small sizes), and the cost would increase significantly for more popular choices.
In contrast, my experience on Temu was far smoother. The prices remained consistent across different sizes, thus negating any unwelcome surprises. This wasn't an occasional anomaly either; I found this issue recurring on Wish and non-existent on Temu.
Baseball Hats
Now onto the products I ordered. I began with a couple of low-cost, generic baseball caps. The Temu cap was priced at $2.77, while Wish sold it for $3.60. Both were basic black caps, really simple, but they did differ slightly in the manufacturing details.
Upon arrival, I had to mark the Temu hat with a 'T' to distinguish it from the Wish one. They were quite similar in appearance, and both felt pretty cheap, I must confess. One or both had a somewhat off-putting smell, which was less than ideal. After marking them, I put both caps to the test by wearing them interchangeably during my recent trip to Huntington Beach.
Honestly, I couldn't really tell them apart. They were practically identical and certainly functional. Yes, they're not the highest quality – the material felt somewhat scratchy on my bald head – but considering the price, they did their job. On a sunny day at the beach, both caps were serviceable, though not the most comfortable to wear.
Comparing the two, Temu won in terms of price and shipping speed, while the quality was a draw.
Price: Temu
Shipping: Temu
Quality: Tie
Winner: Temu
Neck Fans
My next purchase was a pair of neck fans. The product images on both websites looked identical, but the fans themselves were far from it. The Temu neck fan was priced at $6.97 and the Wish version at $5.13.
Upon arrival, I immediately noticed differences in their design and color. The Wish fan was slightly taller and darker, while the Temu fan was somewhat fatter and lighter. Despite using the same product image, they were definitely not the same model.
I charged both fans and decided to test them outdoors during a heat wave. The Temu neck fan was quite rigid and smaller compared to the more flexible and bigger Wish neck fan. The Wish neck fan was easier to adjust and I could feel a wider area of airflow, making it more comfortable to wear.
However, the battery life of the Wish fan was disappointing. It died around the 23-minute mark, while the Temu fan lasted up to 52 minutes. So, in this case, although the Wish fan was more comfortable, the Temu fan's battery life was significantly superior. The price went to Wish, shipping to Temu, and quality was a tie.
Price: Wish
Shipping: Temu
Quality: Tie
Winner: Tie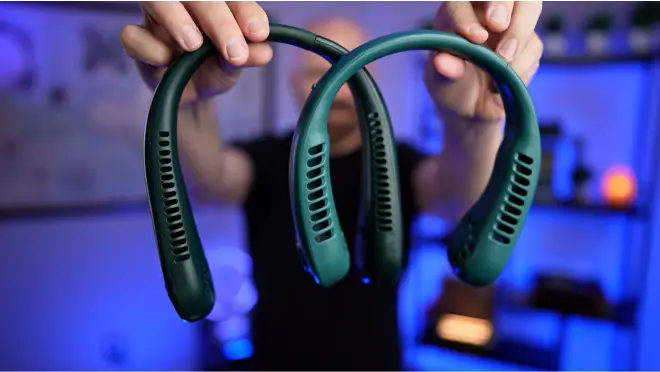 Egg Crackers
I bought an egg cracker from each site. The Temu egg cracker was priced at $9.18, and the one from Wish was $7.11. When they arrived, they were identical.
I compared these with an original egg cracker that I had bought a few years ago for $16. The design was quite similar, with the key difference being the original was made of metal while the ones from Temu and Wish were plastic.
In terms of functionality, the original egg cracker worked flawlessly, cracking the egg perfectly. However, the Temu and Wish versions weren't as smooth in operation, both of them crunching into the egg before pulling it apart, and even breaking the yolk.
In this final comparison, the price went to Wish, shipping to Temu, and quality was a tie. However, I would still prefer the original over both of them. Overall, these comparisons reveal that while there are bargains to be found on both Temu and Wish, it's always important to consider the quality and functionality of the products as well.
Price: Wish
Shipping: Temu
Quality: Tie
Winner: Tie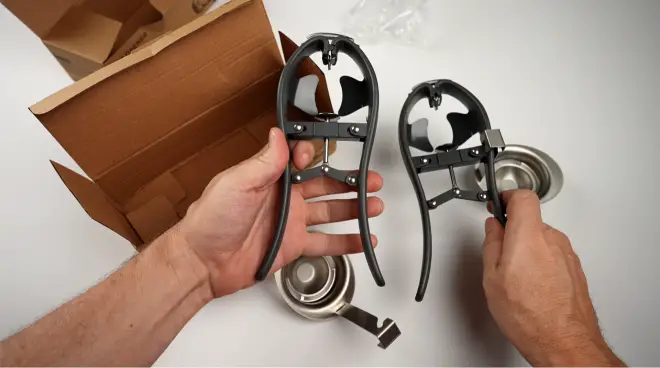 Men's Shirts
The shopping journey for men's shirts from Temu and Wish was an interesting one. Starting with Temu, the site listed an appealing Ace of Spades shirt for only $3.07. Similarly, the least expensive option I found on Wish was a Popeye shirt for $6.46. Although neither explicitly specified the material, upon arrival, both shirts revealed they weren't made of the expected soft cotton.
The Temu shirt, with its minimal design and accurate sizing, was the more satisfactory of the two. It was made from a heavier, slightly stretchy material and bore a tag confirming it was 100% polyester. Conversely, the Wish shirt fell short of expectations in terms of design and comfort. It sported the same Popeye print on both front and back, and the material felt akin to a cheap Halloween costume. Additionally, the shirt was uncomfortably tight for a medium size.
After a wash, the shirts retained their color and didn't shrink, which was a plus. However, the comfort and fit of the Temu shirt still outperformed the Wish shirt. In this case, Temu was victorious across the board, winning in price, shipping, and quality.
Price: Temu
Shipping: Temu
Quality: Temu
Winner: Temu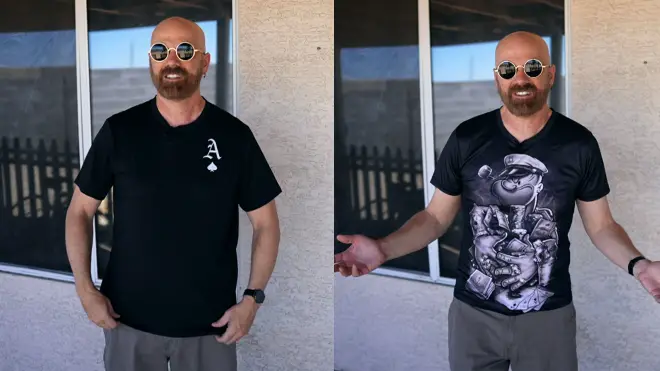 Athletic Shoes
Next, I embarked on a quest for athletic shoes, ultimately choosing a pair from the same brand on both Temu and Wish. Temu listed the shoes for $11.87, while Wish asked $19.42 for a similar pair. Despite their similar appearances, both pairs left much to be desired in terms of comfort.
I wore each pair during a trip to Huntington Beach, and they both felt like walking on a flat piece of wood, offering no cushioning or support. Additionally, the back part of the shoe from Wish poked uncomfortably into my foot with each step. It seems, in this case, neither Temu nor Wish came out on top, both delivering poor quality footwear. If you have flat feet and need support, ordering shoes from either of these platforms could prove disastrous.
Price: Temu
Shipping: Temu
Quality: Tie
Winner: Temu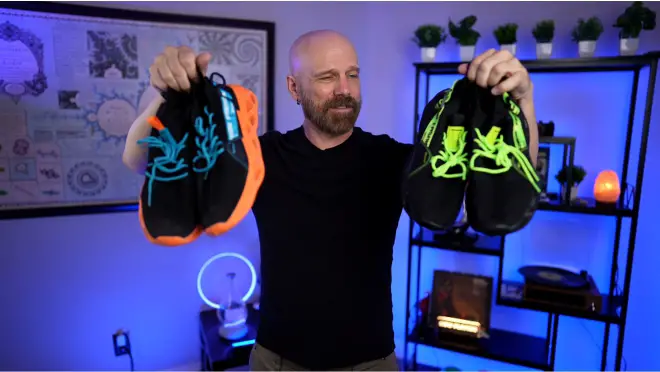 Daily Deal (Under $5)
The final round of this review involved choosing the cheapest deal available from each platform, with no direct comparison between the products. For a mere $1.97, I got a watch from Temu and a laser pointer from Wish for $1.83. The Temu watch, while functional, sported a rather uncomfortable and cheap-looking band, and the watch hands were hard to see. I will say that the watch seemed to keep time accurately. On the other hand, the laser pointer from Wish worked as expected, emitting a decent beam for such a low price. In terms of quality, this round ended in a draw, with the watch's functionality matching the laser pointer's performance.
Price: Tie
Shipping: Temu
Quality: Tie
Winner: Temu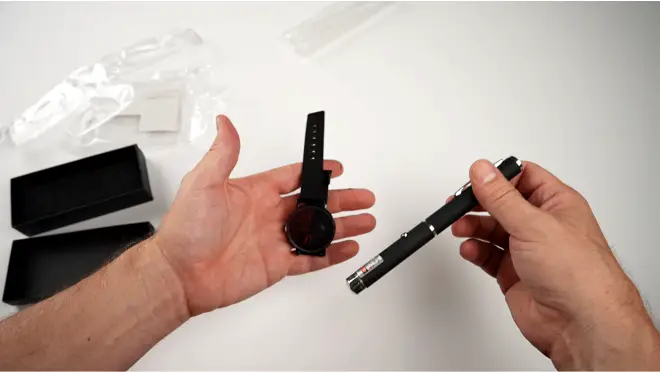 Conclusion
Summing up the experiences from all six products, Temu triumphed over Wish four times, with two instances resulting in a tie. This is not to say that Wish doesn't have its merits, but Temu managed to edge ahead with faster shipping and a more user-friendly website. While both platforms offer a range of products from various third-party vendors, it seems that Temu consistently offers a superior shopping experience. However, as always, individual experiences may vary. If you've used either Wish or Temu, tell me of your experiences in the comments below.