Turbo Scrub is a handheld power scrubber which makes cleaning around the home easier. Read our Turbo Scrub review.
Sponsored Links
About Turbo Scrub
Turbo Scrub is a cordless rechargeable power scrubber which facilitates cleaning around the home. The official product website is turboscrub.com, which was first registered back in 2003, although the current product sold on that domain didn't appear there until very recently. The screen capture below shows the official website as it appeared in July 2016.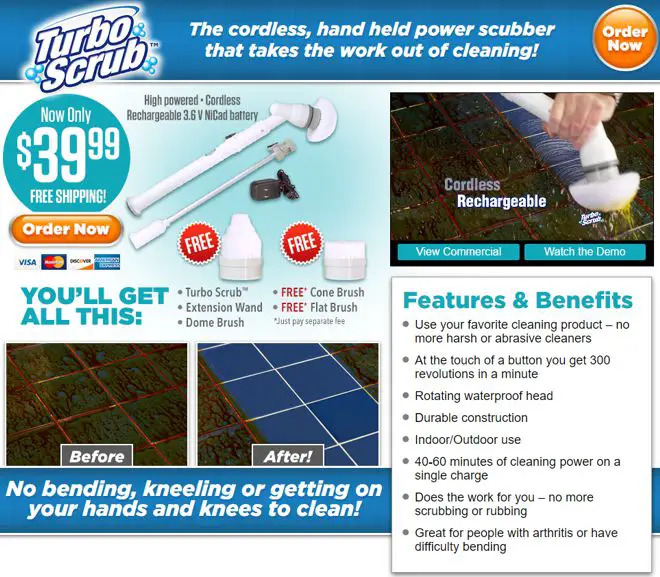 Claims & Features
Can be used with your favorite cleaning products
300 revolutions per minute
Indoors or outdoors
40 to 60 minutes of use per charge
Cost
Turbo Scrub costs $39.98 + $14.99 shipping. This includes the scrubber, three brush heads, and an extension arm.
The original advertised cost was $39.99 with free shipping, but there was an additional $9.99 fee to get the cone and flat brushes. The brushes are now included, but shipping costs have been added. The current double offer gives you a second set of everything for another $14.99. An unexplained $1 "web service fee" is added to all orders.
There is a 60-day money back guarantee. Turbo Scrub began rolling out in stores in November 2016 for about $40.
Turbo Scrub Review
Turbo Scrub has recently graced the airwaves with popular pitchman Anthony Sullivan at the helm. The product is advertised as an easy way to take the work out of household cleaning.
Featuring a 300 rpm head and a dome brush, Turbo Scrub is a power scrubber which allows you to clean and scrub without having to bend or scrub manually. It is powered by a 3.6 volt NiMh battery, so you don't have to worry about cords or wires while cleaning. Note that the screenshot above states that it is a NiCad battery. The website no longer states that it is NiCad, and the manual for Turbo Scrub states that it "uses a Ni-Mh rechargeable and recyclable battery."
The included dome brush should be sufficient for most household uses, although the cone and flat brushes do extend its functionality to additional parts of the home.
Sponsored Links
Most cleaning tasks which require manual scrubbing can be handled by Turbo Scrub's 300 RPM motor. There are, of course, some tough areas where you won't be able to press hard enough to completely clean an area. Performance will be affected by type of stain or dirt along with user technique. We feel that the majority of consumers will find Turbo Scrub to be useful enough to warrant a positive rating.
There is an extension wand that can be used to clean high or hard-to-reach places, which helps extend the functionality of the cleaner. There will be instances when you may need to press in a sideways motion (such as the side of a bathtub) that the extension wand could provide less leverage, and may not be as useful. In those cases, it is best to use Turbo Scrub without the extension. Using the extension handle seems to make the product somewhat less stable, although our testers couldn't agree on whether or not the handle was a pro or con.
Turbo Scrub should last over 40 minutes per charge, but this will be affected by how hard you press the head onto the surface. Pressing harder will require more power, thus affecting how long the battery's charge lasts.
Overall, Turbo Scrub is a solid tool which, with reasonable expectations, should perform well enough to make it a worthy investment. You may also want to investigate other, similar options before making your final decision, as Turbo Scrub isn't the only game in town, although in at least one comparison (below) we found Turbo Scrub to be the superior product.
Alternatives
There are currently two similar scrubbers being advertised on television, both which feature very similar designs and functions. In addition to Turbo Scrub, you will also see commercials for Hurricane Spin Scrubber, which we have reviewed here.
Both of these items are very similar in design to the Tub N' Tile Power Scrubber by Quickie, to the point that they could be referred to as knockoffs of the Quickie product, which has been around for several years.
The Quickie scrubber currently holds a solid 4 star rating on Amazon. It is also available – along with replacement brushes – in stores such as Lowe's or Walmart.
Video Reviews
Below is our hands-on review of Turbo Scrub.
You can also watch a head-to-head comparison of Turbo Scrub vs Hurricane Spin Scrubber.
Your Turbo Scrub Reviews
Have you used Turbo Scrub? Give us your thoughts by leaving a comment below and a star rating above.
Updated November 2016