Air Hawk is a cordless, handheld air compressor which allows you to inflate tires and other items in minutes. Does it work? Read our Air Hawk review.
Sponsored Links:
About Air Hawk
Air Hawk is a handheld tire inflator with a built-in pressure gauge and automatic shut-off feature. The official product website is buyairhawk.com, which was registered in August 2016. You can see a screenshot below of the official website taken in September 2016. Note that the price has changed since this screen shot was taken.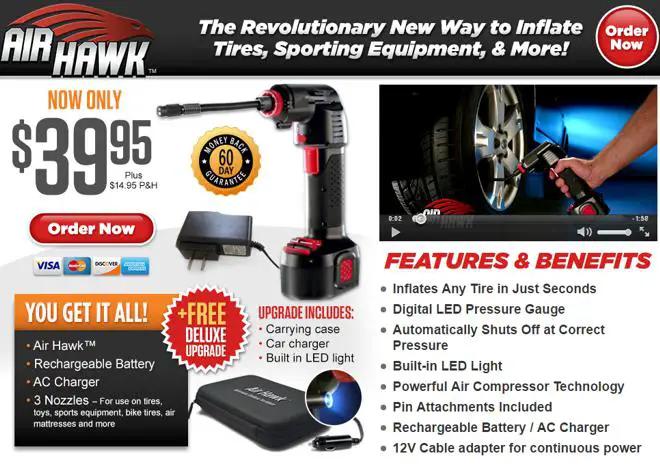 Claims & Features
Inflates any tire in seconds
Digital LED gauge and LED light
Rechargeable battery
12 volt adapter
Can inflate other items
Automatic shut-off
Cost
Note: As the screen shot from September 2016 shows, the original cost of Air Hawk was $39.95 + $4.95 P&H. That has since changed.
You can get Air Hawk from the official website for two payments of $29.95 + $14.95 P&H. This includes the Air Hawk, rechargeable battery, AC charger, and 3 nozzles. A deluxe upgrade is also added, which includes a carrying case, car charger, and built-in LED light.
A $1 "web service fee" is added to all orders. As of this writing, Air Hawk is not available in stores.
Sponsored Links:
Air Hawk Review
Air Hawk (not to be confused with AirHawk seat cushions or Air Hawk tires) is a cordless tire inflator. It is a multipurpose device which can be used to inflate balls, bike tires, car tires, toys, and more. Three nozzles are included in order to adapt the unit to a wide array of items, and these are conveniently stored on the item's base.
To use Air Hawk, you simply attach the nozzle to the item to be inflated, and press the button. A digital readout shows the current pressure, and you can set the device to shut off when a desired pressure is reached.
Air Hawk has the look and feel of a cordless drill, right down to the handle and rechargeable battery in the base of the unit.
Although Air Hawk may not completely replace a standard air compressor, it is certainly more convenient if you need to pump up a bicycle tire, or add some air to your car's tires. Because it is battery-operated, you should not expect it to be as powerful, or as fast, as a regular air compressor. For most consumers, the size, portability, and convenience are probably a worthy trade-off. It may take anywhere from 15 to 25 minutes to inflate a tire, depending on the battery's charge and how much air you need to move.
We think Air Hawk will be highly rated by those who have realistic expectations regarding a battery-operated air compressor. The $15 in processing and handling seems excessive, and we hope this appears in stores soon so shipping delays and charges can be avoided.
Air Hawk is still a relatively new item, with a website that was only created in August 2016. For this reason, you may want to exercise patience with shipping, which is often slower with new As Seen on TV products.
Alternatives
Air Hawk looks quite close in design to this Electric Air Pump by Ideaworks. That item costs about $50 and has a 4 star rating among a small handful of consumers. When you factor in Air Hawk's $15 shipping versus free shipping for Amazon Prime customers, the IdeaWorks version ends up being less expensive. Once Air Hawk becomes available in stores, its price will make it a more compelling alternative.
Air Dragon is BulbHead's portable air compressor, which you can see in the video below.
Related Review
Below is a hands-on review of a competing product called Air Dragon. You may be interested to see how it performed.
Your Air Hawk Reviews
Have you used Air Hawk? Let us know what you think by leaving a comment below and a star rating above.
Updated December 2016 to reflect pricing changes.