Copper Chef Wonder Cooker is a multipurpose roaster with a nonstick surface that has 9 different uses. Does it really work? Here is my Copper Chef Wonder Cooker review.
Sponsored Links
About Copper Chef Wonder Cooker
Copper Chef Wonder Cooker is a versatile roasting pan that can be used in the oven, on a stove top, or on a grill to roast, bake, fry, or grill. The official product website is copperchefwonder.com, which was registered in January 2018. The screenshot below shows how the product website looked in November 2017.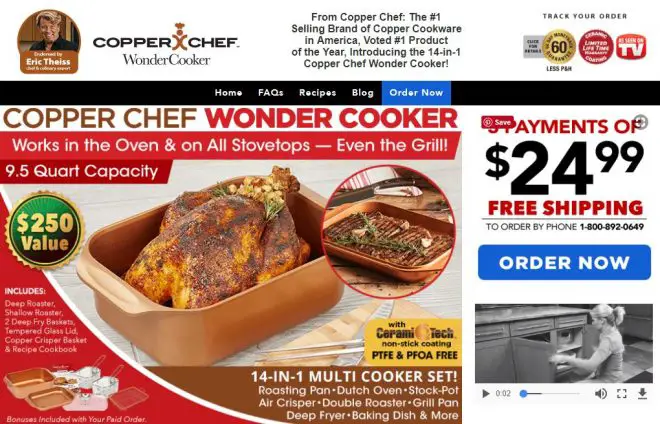 Claims & Features
Nonstick coating
Compatible with oven, stove top, or grill (gas or electric)
Induction plates on the lid and pan
5 uses: Double cooker, shallow roaster, grill pan, roaster, and Dutch oven
Large 9.5-quart capacity (can hold 60 enchiladas or a 15 lb turkey)
Keep food warm and seals in flavor with the dome
Cost
Each Copper Chef Wonder Cooker costs $74.97. Payment can be made in full or split into three monthly installments of $24.99.  Shipping is free. Each order includes a shallow roaster, deep roaster, 2 deep fry baskets, tempered glass lid, a Copper Crisper tray, and a recipe guide.
Copper Chef Wonder Cooker Review
The commercial for Copper Chef Wonder Cooker is compelling: a 14-in-1 roaster that can be configured in multiple ways to cook a wide variety of food. The commercial also features Eric Theiss, who has proven to be an effective pitchman for the entire Copper Chef line. At first glance, Wonder Cooker appears to be an ordinary cooking pot, but upon closer inspection, you'll find that it sports a design that allows it to be used in several different ways.
Sponsored Links
Copper Chef Wonder Cooker's unique feature is that its lid and bottom can be used interchangeably, meaning the "lid" can also be its pot, while its "pot" can also be its lid. So if you want to use the deep 9.5-quart dish with a lid, or a shallow dish with a deep lid, you'll have both options available to you. You can also put the shallow lid upside down and dual-roast multiple dishes at once. For those reasons, I think most consumers will find Wonder Cooker to be an incredibly useful and versatile kitchen item.
The multitude of uses makes this a compelling product to consider, particularly because there aren't many products out there quite like it.
Copper Chef Wonder Cooker features its popular Cerami-Tech nonstick surface. I own several Copper Chef products and this new generation of nonstick cookware can be impressive at first, but you may want to exercise some extra care to ensure the surface doesn't quickly degrade. I have found that avoiding very high heat and abrasives are keys to ensuring your Copper Chef surfaces don't degrade. Your mileage may vary, but that is a common complaint with these newer nonstick items.
Copper Chef Wonder Cooker is marketed by Tristar Products, Inc., a major player in the As Seen on TV industry. You may have seen an older incarnation of this product called Wonder Roaster, which was briefly marketed in 2017. It appears that Tristar has tweaked the original design and re-branded the new model under their popular Copper Chef line, which was probably a wise move, based on how effective Mr. Theiss has been at promoting the Copper Chef line.
Alternatives
If you're just looking for a solid rectangular oven roaster, this $40 model sports a 4.2-star rating among about 600 reviews. If cost is a factor, you could always look at a more basic model, such as this $28 VonShef Cast Iron roasting tray.
Related Videos
Below are a couple of related videos from my YouTube channel. The first is a 4-minute description of how test marketing usually works with the As Seen on TV industry. The second is a playlist of all of the As Seen on TV kitchen products I've reviewed. You may want to peruse that playlist to see how some of these nonstick surfaces have held up under scrutiny.
Your Copper Chef Wonder Cooker Reviews
Have you used Copper Chef Wonder Cooker or something like it? Leave a comment below and a star rating above to let us know your thoughts.