Ninja Foodi Grill is a 5-in-1 indoor grill that uses cyclonic grilling technology. Does it really work? Here is my full review after using it for over six months.
Sponsored Links
Where to Purchase
You can find the Ninja Foodi Grill on Amazon which currently lists at $199, although the price may vary there. On the official website there are two options: $239.40 for the 4-quart grill, or a $299.40 option that includes an integrated smart probe. I've also spotted this item at Bed Bath & Beyond.
About Ninja Foodi Grill
Ninja Foodi Grill is a small indoor grill which is said to deliver char-grilled flavors with the versatility of an air fryer, all inside your home. The official product website is ninjakitchen.com, and this item has been advertising regularly on late-night infomercials since late 2019.
Claims & Features
Versatility of an air fryer
5-in-1 design
Heats up to 500 degrees Fahrenheit
Includes grill grate, crisper basket, and cooking pot for a variety of dishes
Can be used to air crisp, roast, bake, dehydrate, and grill
Ninja Foodi Grill Review
I purchased my Ninja Foodi Grill in late October 2019 in order to film a video review for my YouTube channel, which I will include below. Upon unboxing it, I discovered – in addition to the grill itself – a ceramic coated grill grate, a ceramic coated crisper basket, a ceramic coated cooking pot (which must be used at all times), and a splatter shield which helps reduce smoke and also protects the burner plate.
The front panel includes the options for Air Crisp, Dehydrate, Roast, and Bake, while grill temperature settings range from low to max, and can be adjusted with the temperature setting. The grill comes with a rather useful cheat sheet that provides suggested cooking times and temperatures for a wide variety of food and settings. A step up from that is the rather comprehensive recipe guide that feels more like a mini cookbook, complete with high quality photos. More detailed charts are also included at the back of the guide for everything from vegetables to frozen fish, grilling to air crisp.
Preheating the grill is done by simply inputting your desired settings and hitting the start button. A progress bar appears on the panel so you can see how far along the preheating process is, which I've found to be around 9 minutes from room temperature. As you can see in the video below, I was able to successfully grill steaks, hamburgers, and other items, complete with grill marks. Oftentimes I found the grill to cook faster than their suggested times.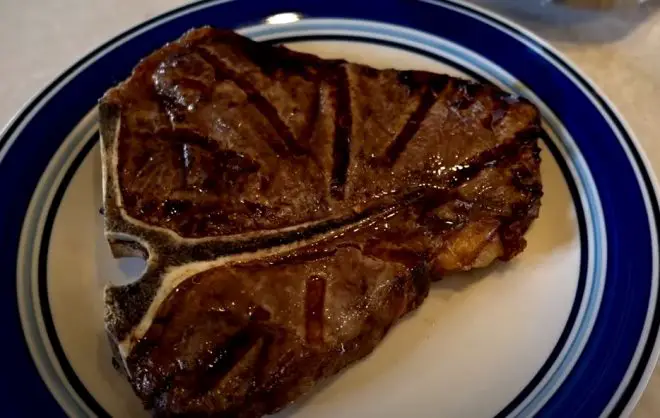 One feature that is touted in the advertising, which I confirmed to pan out, is that you can put frozen meats and poultry in the Foodi Grill and fully cook them in about 20 minutes. Obviously that will vary by cut of meat, but overall their claims did seem to be accurate that you can bypass defrosting altogether and still end up with a fully cooked finished product. It's not something I've done often, but it's nice to know that such an option exists.
For those who are particular about their grill marks, I will say that these are a bit unusual in that they are in a circular pattern, as seen in the photo of the steak above. That small concern aside, however, I found that grilling steaks and chicken yield a similar result as grilling outdoors. Although the unit does include a splash guard to reduce smoke, the unit does still smoke on occasion, particularly while grilling hamburgers. This seems to be because grease eventually accumulates in the bottom and begins to heat up. Thus, your second batch of burgers will likely smoke more than your first.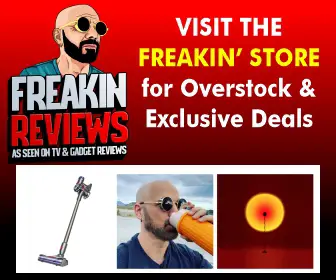 Although the product does feature a robust air crisp system, it is not the feature I utilize nearly as often as the grill itself. I've occasionally used it to heat up frozen fries, and it does a fine job of that, but I've also used the sibling Ninja Foodi Oven for fries and had similar results. Although the Ninja Foodi Grill does perform fine for air crisping, that isn't its strong point, as most of those tasks can be done in any oven.
The dehydration feature is perhaps the least useful when compared to a full-scale dehydrator. Although in my initial tests I was able to successfully dehydrate bananas, I didn't feel like that was the best use for this appliance. There is an optional basket that can be purchased separately which will add more space for dehydration, but even then the volume pales in comparison to a dedicated dehydrator. Perhaps if you only want to occasionally dehydrate a small amount of food, this could work in a pinch, but it certainly can't compete with a full-scale dehydrator, at least in volume. With that said, the bananas I dehydrated were as good as those I typically make in my vintage Magic Aire II.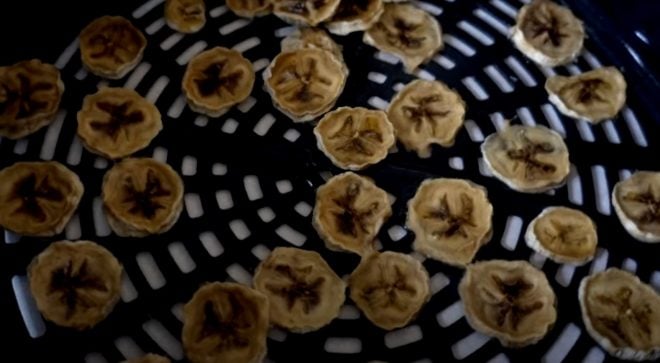 After six full months of using the Ninja Foodi Grill on a weekly basis, or more, I con confidently say that I'm quite satisfied with the unit overall. It has become my go-to grilling appliance over my outdoor grill, which was usually overkill for my small family. Despite my enjoyment of the Ninja Foodi Grill, I would be remiss to omit a few minor cons associated with the unit.
The biggest obstacle I have faced after six months is cleaning of the grill grate. Although a useful brush is provided that can get into the grill grate's crevices, cleaning the grill is still more work than I had originally anticipated. When food and grease get into those cracks and crevices, it takes a considerable amount of care to completely clean it out. I've also tried placing the grate in the dishwasher, which has not yielded satisfactory results. Soaking it helps, but you still have to prod and probe with the brush to ensure all of the surfaces are rid of grease and caked-on food. It is the sole disappointment in an otherwise stellar appliance.
Perhaps related, but to a lesser degree, is the splatter shield, which also does not come very clean in the dishwasher. Due to its function, I haven't obsessed with trying to keep that spotless, but it would be nice if it were a little easier to keep clean.
Despite those two cons, I am quite happy with the Ninja Foodi Grill and I have recommended it to many of my friends. It has become part of the regular rotation of appliances used in my home, and is no small task considering the hundreds of items I've reviewed over the past several years.
Videos
Below you can find my full review of the Ninja Foodi Grill. Below that is my review of the Power Smokeless Grill, which isn't as versatile but does a fine job of indoor grilling, and with less smoke than its Ninja counterpart.
Alternatives
If the cost of the Ninja Foodi Grill is prohibitive, you may want to look at this Hamilton Beach model which is a modest $70. It may not have all the bells and whistles as the Ninja, but it holds a high rating among thousands of reviews for its ability to grill indoors. In a mid-range price, I recommend the Power Smokeless Grill, which you can see in the video above, and typically runs about $115. That was my indoor grill of choice before the Ninja took its rightful place on my counter-top. Like the Hamilton Beach, the Power Smokeless Grill is a single-purpose appliance, but does a nice job of keeping smoke to almost zero and also delivers a solid indoor grilling experience. Be sure to read Amazon comments on the Ninja Food Grill to get a feel for what other consumers are saying.
Your Ninja Foodi Grill Reviews
Have you used the Ninja Foodi Grill or something like it? Tell me what you think in the comments below.
Updated June 2020.