Copper Fit Speed Sleeves are compression calf sleeves which are said to reduce pain and increase athletic performance. Read our Speed Sleeves review here.
Sponsored Links
About Copper Fit Speed Sleeves
Copper Fit Speed Sleeves are compression sleeves to be worn on the calves. This copper-infused sleeve is said to reduce recovery time, maximize performance, and reduce pain.
The product website is speedsleeves.com, which was registered in October 2015. The screen capture below shows the official website in March 2016.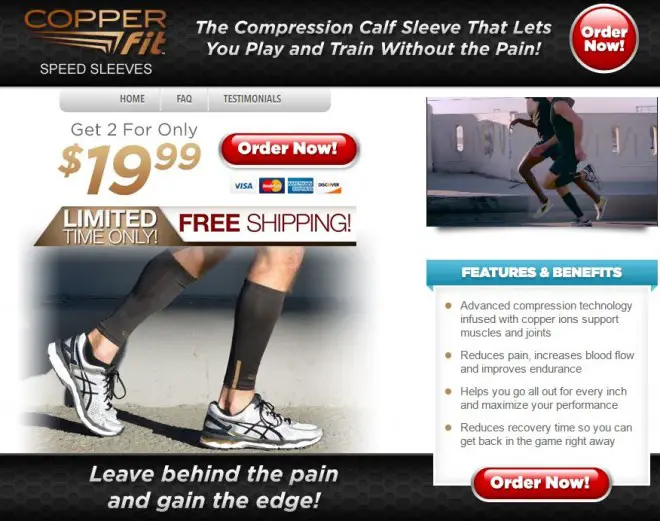 What They Claim
Supports muscles and joints
Compression technology infused with copper ions
Maximizes performance
Reduces pain, increases blood flow, improves endurance
Reduces recovery time
Two sizes: S/M and L/XL
Copper Fit Speed Sleeves Cost
Get two sleeves for $19.99 plus free shipping. There is a 30-day money back guarantee.
Speed Sleeves Review
Speed Sleeves is among a rapidly-expanding products under the Copper Fit brand name. In recent months we have seen Copper Fit products such as Back Pro, Tough Knees, Copper Fit Wrist, and Step FX. Each product targets a specific area, and now with Speed Sleeves, we have a product which targets the calves.
Sponsored Links
As with many of its competitors, Copper Fit combines elements of a compression with copper to form what they say is a superior product over regular sleeves. You can see athletes sporting compression sleeves in virtually every sport, as this has become a big industry in recent years.
Compression sleeves do offer minimal benefits such as comfort and support. In some cases of these advertised compression sleeves, however, the benefits seem somewhat over-hyped. The inclusion of copper in compression sleeves (or any other clothing) has been advertised by various companies with supposed benefits from pain reduction to reducing odor. There is little evidence that wearing copper provides any health benefits, however.
Besides some hyped marketing jargon, Copper Fit offers a quality product, and if you are in the market for calf sleeves, this product is probably a no-brainer. Sleeves by Copper Fit do offer excellent support and compression, and they are well-made and durable.
Keep in mind that wearing a compression sleeve may provide support to a problem area, but will not address any underlying cause. Pushing through pain without checking with your doctor could do more harm than good.
Speed Sleeves may not offer much beyond a good pair of compression socks, but they are certainly more stylish.
Your Copper Fit Speed Sleeves Reviews
Have you used Copper Fit Speed Sleeves? Give us your review by leaving a comment below and a star rating above.