Atomic Beam SunBlast is a sturdy LED light that is powered by a solar-charged Lithium-ion battery. Does it really work? Here is my Atomic Beam SunBlast review. There is a 2022 update at the end of this review.
Sponsored Links
About Atomic Beam SunBlast
Atomic Beam SunBlast is a wide-angle LED light that features a solar-powered battery, a motion sensor, and an industrial-strength adhesive for mounting. The official product website is buysunblast.com, which was registered in November 2017. The screenshot below shows how the product website looked in February 2018.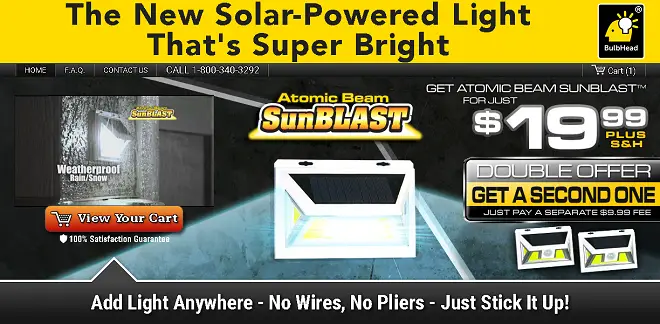 Claims & Features
Lights up the night
Battery powered (solar charged Lithium-ion battery)
180-degree motion sensor with a 25-foot range
Solar powered LED flat-panels
Durable weatherproof manufacturing
High-Low setting
Cost & Purchase Info
You can buy Atomic Beam Sunblast on Amazon or direct at buysunblast.com. Atomic Beam SunBlast costs $19.99 + $7.99 shipping for a total of $27.98. There is an optional double offer that costs $29.98 + $7.99 shipping for a total of $37.97. A deluxe version of Atomic Beam SunBlast with a brighter and clearer light and a lifetime guarantee costs $24.99 + $7.99 shipping for a total of $32.98. Two deluxe units and a bonus Atomic Beam Flashlight can be purchased for a total of $57.97. I found Atomic Beam SunBlast at a local Fry's for about $20.
Atomic Beam SunBlast Review
As Seen on TV marketers have had a long-term love affair with lighted products. In recent years we've seen such offerings as InstaBulb, Click a Color, Light Bulb Bug Zapper, Bulb on a Rope, Underlight, BreezeLite, Motion Brite, Mighty Brite Switch, LyfeLite, ZappLight, Flexi Lites, and Switch Brite. Moreover, there have been numerous products dug out of the attic and re-branded under the Atomic Beam name over the past year. Thus, today we have yet another light-up product under the Atomic Beam name, called Atomic Beam SunBlast.
Atomic Beam SunBlast is a solar-powered motion-activated light. To use Atomic Beam SunBlast, you simply mount it on a south-facing location and allow it to charge in the sunlight. When the sun sets, the Atomic Beam SunBlast will turn on whenever it detects motion. It is ideal for a driveway or an outdoor doorway.
My experience with lights like this has been positive, although I've heard from readers and viewers on YouTube who have expressed varying levels of satisfaction with these types of products. I would expect most consumers to find Atomic Beam SunBlast to withstand rain, snow, cold, and heat. I'm also confident that the motion detection will work up to 25 feet away as advertised. In fact, I've found that it often turns on when cars pass in front of my house far beyond their claimed 25-foot range.
Sponsored Links
I was quite surprised at how bright Atomic Beam SunBlast is in "high" mode. Having placed it in the same spot that I placed EverBrite 18 months earlier, it is clearly brighter, and competes with that of a wired floodlight. For a solar-powered light, its brightness is impressive.
Two potential complaints are placement and mounting. You can't mount this under an eave, inside your home, or anywhere with limited exposure to sunlight. I have a covered patio where such a light would be ideal, but without direct sunlight, it wouldn't work. A south-facing exterior wall is optimal, but not all consumers will necessarily want to be stuck with that option. In my case, the front of my house does face south, so I have had good luck placing a light like this above my driveway. There are two mounting options, screws and tape. If you choose to use the tape – which the instructions recommend – then you won't be able to adjust the high/low setting without removing it completely. I loosely screwed it into place so I could tilt it enough to put my finger behind the unit to change the setting.
Alternatives
You can find numerous solar-powered lights offering a similar design, such as this highly rated alternative in the same price range.
A discussion of Atomic Beam SunBlast would not be complete without mentioning EverBrite, a very similar product which has been on store shelves for well over a year. That item features a similar solar panel, motion detection, and mounting options. I mounted my EverBrite in October 2016 and it performed for 13 months until the internal battery died. You can see my full review of EverBrite in the embedded playlist below.
2022 Update
After more than 4 years, the Atomic Beam Sunblast still works. I had to take it down when my eaves were being painted and I snapped a photo to show how it has held up after 4+ years in the desert sun and heat. Although it has yellowed and the solar panel seems to be peeling, the light itself still works better than I would expect for its age.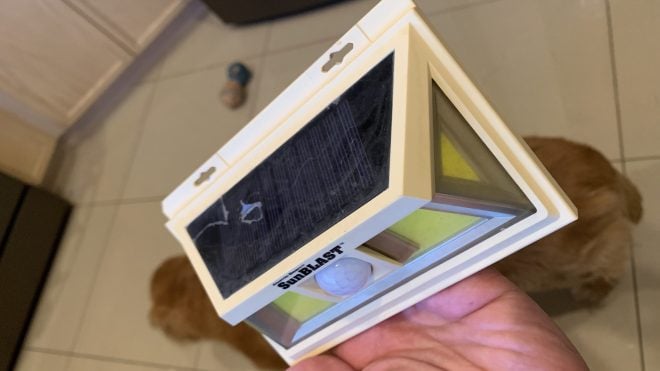 Your Atomic Beam SunBlast Reviews
Have you used Atomic Beam SunBlast or something like it? Let me know what you think in the comments below.
Updated July 2022