Critter Ridder is a pepper-based animal repellent. Does it work? Read our Critter Ridder review.
Sponsored Links
About Critter Ridder
Critter Ridder is a repellent which is said to drive away a wide variety of unwanted pests. The official product website is havahart.com, which was registered in August 1995. You can see a screenshot below of the official website taken in September 2016.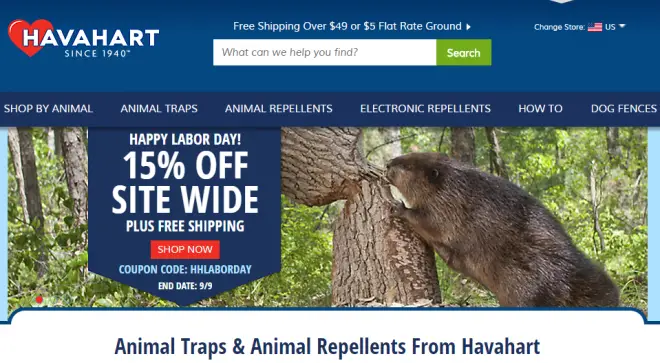 Claims & Features
Repels raccoons, skunks, dogs, cats, groundhogs, squirrels, and chipmunks
Lasts up to 30 days
Repels by smell, taste, and touch
100% organic
Cost
You can purchase Critter Ridder at the official site in three different sized canisters: $10 for a 1.25 lb canister, $18.47 for a 2 lb canister, $28.99 for a 5 lb canister, and $71.99 for a 3-pack of 5 lb canisters. Critter Ridder is also available as a sprayable formula for $19.99.
You can find Critter Ridder at stores such as Lowe's, Home Depot, and Walmart, for prices competitive with those found on the official website.
Critter Ridder Review
Pesky critters are a nuisance in many areas of the country, and a wide variety of natural pest repellents are available online and in stores. Critter Ridder is one such product which seeks to repel rodents from your property with a mixture of pepper which supposedly drives animals away because of the smell, taste, and touch. "These active ingredients irritate animals when they touch or taste the product," the official description reads.
Sponsored Links
Critter Ridder can be found on Amazon, where it currently holds a 2.9 star rating among 800+ customers. If one were to compile a list of pros and cons among existing online reviews, you'll find the following observations:
There are those who believe the product works, and report that pests were driven away and stayed away. Conversely, a number of reviewers stated that it didn't work or that success was limited. Some readers point out that Critter Ridder is essentially a mixture of pepper, which can be made at home.
Perhaps the reason for such mixed reviews is that everyone's experience is unique. The factors are too numerous to apply to every situation. Are you trying to get rid of one pest or several? What type of pest is it? Where are you placing Critter Ridder? Is the climate arid or humid?
A pest control blog notes a few possible problems with natural pest solutions. Knowing where to place repellents and preventing rodents from entering your home or property are key factors, which some users may not consider while using Critter Ridder.
Keep in mind that if you put Critter Ridder in places such as garbage cans, you'll want to use gloves in order to avoid coming into contact with the solution.
Overall, Critter Ridder yields mixed reviews because of the wide number of variables factored into each consumer's experience. This pepper-based natural repellent is certainly worth a try if other solutions have not worked. Remember that the type of pest, humidity, and placement of the product may all factor into the success of this repellent.
When choosing a natural pest repellent, you may want to pick up a small quantity to test out first before making a large investment.
Alternatives
You have probably seen television commercials in recent months for Rodent Sheriff. That product uses peppermint oil rather than pepper to ward off unwanted rodents. Although these products are both natural solutions, we've had more success with peppermint-based rodent repellents than pepper-based solutions.
Television Commercial
This short video was posted in 2012 by Home Depot.
Your Critter Ridder Reviews
Have you used Critter Ridder? Let us know what you think by leaving a comment below and a star rating above.