Handy Can Opener is a one-touch can opener than can quickly and safely open any can. Does it work? Read our Handy Can Opener review.
Sponsored Links
About Handy Can Opener
Handy Can Opener is an electric can opener that works with a single touch. The product website is buyhandycanopener.com, which was registered in December 2014. The screen shot below shows how the product website appeared in December 2016.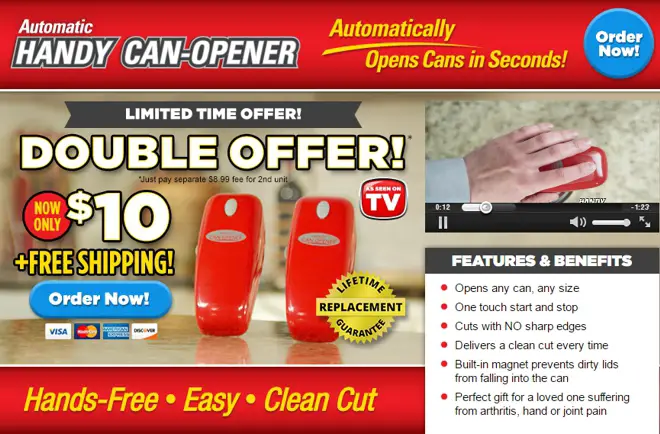 Claims & Features
Opens any size can
One touch start and stop
No sharp edges
Magnet prevents lid from falling into the can
Ideal gift
Requries two AA batteries
Cost
Handy Can Opener costs $10 + free shipping. There is, however, a mandatory second "free" unit that costs a separate $8.99 "fee." This brings your total order to $18.99 for two units.
Sponsored Links
You can also find Handy Can on Amazon for about $10-$18.
Handy Can Opener Review
Handy Can is a hands-free electric can opener. You simply place it on the can of your choice, press the button, and all the work is done for you. But does it actually work?
Although you may have seen recent advertisements for Handy Can, this is not a new item. Fortunately for consumers, the fact that it is an established As Seen on TV product allows you to peruse comments which have been written over the years. With that in mind, here are various Handy Can pros and cons, based on our own experience and a consensus of consumer feedback.
Pros:
Works well on most cans
Keeps lids smooth and safe
Can still open cans during a power outage
Good gift idea
Cons:
Not ideal for some lipped lids, such as ham.
Some users have said that their units stopped working after days or weeks. Purchasing locally or from Amazon may make the returns process easier if that does occur.
Large cans may be problematic for Handy Can
Because the entire lid is cut off, the top of the can may become flimsy.
Battery life appears to be problematic for some people, and if this happens to you, it may be ideal to remove the batteries when not in use, although that may make the item seem less convenient. It has also been suggested to try different battery (alkaline, lithium, etc.) types if you find the battery life to be poor.
Overall, more users seem to like Handy Can than those who don't like it, although it is not an overwhelming majority. It may not be a perfect solution for all types of cans, but for medium sized cans, it should work most of the time.
Alternatives
Perhaps the most well-known hands-free can opener in recent years is Toucan, which works similarly and costs about $10. It has achieved mostly mixed reviews from consumers.
Your Handy Can Opener Reviews
If you've used Handy Can Opener, tell us what you thought by leaving a comment below and a star rating above.